Research article
Open Access
Optimization of somatic cell injection in the perspective of nuclear transfer in goldfish
BMC Developmental Biology
2010
10:64
Received: 18 December 2009
Accepted: 8 June 2010
Published: 8 June 2010
Abstract
Background
Nuclear transfer has the potential to become one strategy for fish genetic resources management, by allowing fish reconstruction from cryopreserved somatic cells. Survival rates after nuclear transfer are still low however. The part played by unsuitable handling conditions is often questioned, but the different steps in the procedure are difficult to address separately. In this work led on goldfish (Carassius auratus), the step of somatic cells injection was explored. Non-enucleated metaphase II oocytes were used as a template to explore the toxicity of the injection medium, to estimate the best location where the cell should be injected, and to assess the delay necessary between cell injection and oocyte activation.
Results
Trout coelomic fluid was the most suitable medium to maintain freshly spawned oocytes at the metaphase II stage during oocyte manipulation. Oocytes were then injected with several media to test their toxicity on embryo development after fertilization. Trout coelomic fluid was the least toxic medium after injection, and the smallest injected volume (10 pL) allowed the same hatching rates as the non injected controls (84.8% ± 23). In somatic cell transfer experiments using non enucleated metaphase II oocytes as recipient, cell plasma membrane was ruptured within one minute after injection. Cell injection at the top of the animal pole in the oocyte allowed higher development rates than cell injection deeper within the oocyte (respectively 59% and 23% at mid-blastula stage). Embryo development rates were also higher when oocyte activation was delayed for 30 min after cell injection than when activation was induced without delay (respectively 72% and 48% at mid-blastula stage).
Conclusions
The best ability of goldfish oocytes to sustain embryo development was obtained when the carrier medium was trout coelomic fluid, when the cell was injected close to the animal pole, and when oocyte activation was induced 30 min after somatic cell injection. Although the experiments were not designed to produce characterized clones, application of these parameters to somatic cell nuclear transfer experiments in enucleated metaphase II oocytes is expected to improve the quality of the reconstructed embryos.
Keywords
Nuclear TransferSomatic Cell Nuclear TransferCell InjectionSoybean Trypsin InhibitorMembrane Rupture
Background
When somatic cells are cryobanked for preservation of valuable genetic resources, somatic cell nuclear transfer is the only technology which can subsequently be used to sustain fish reconstruction. Somatic cells hold both paternal and maternal genome and their fitness towards cryobanking [1, 2] compensates for the inability of oocytes and whole embryo to withstand cryopreservation [3]. Besides, fish ability regarding cross-species nuclear transfer [4] is expected to facilitate reconstruction of rare individuals with eggs from easily farmed species. Nuclear transfer in fish was developed using embryonic cells [4–8] and more differentiated cells including somatic cells [9–12] as nucleus donor. Up to recently however, nuclear transfer in fish was developed only on activated eggs and on eggs which were activated at the onset of nucleus injection [13]. One reason is that for most studied species, egg activation is spontaneously induced either by oocyte dilution in artificial media (cyprinids) or by egg pricking (medaka). In these species as in amphibians, the first mitosis is initiated in the first thirty minutes after fertilization and meiosis resumption. Therefore, nuclear transfer in activated eggs where maturation/mitosis promoting factor (MPF) levels decrease rapidly [14] raises the question of the quality of nuclear reprogramming. It is known in mammals that nuclear transfer outcome is improved when the injected nucleus is incubated into the recipient oocyte several hours prior to activation. The extent to which nucleus incubation in oocyte cytoplasm prior to activation is important for the success of nuclear transfer was only recently addressed in zebrafish [15] and such issue deserves special attention in rapidly developing fish species.
Whatever the species considered for nuclear transfer, donor nucleus is introduced into the recipient oocyte either by electrofusion or by intracytoplasmic injection. Electrofusion is widely used in several mammals (bovine [16], pig [17], sheep [18], goat [19]), but intracytoplasmic injection is preferred in some species (horse [20], and mice [21]). In fish, the oocytes are so much bigger than the donor cell that electrofusion was barely attempted [7] and most groups use intracytoplasmic injections [6, 8–10, 13, 15, 22–24]. Contrarily to fusion, nuclear transfer by intracytoplasmic injection is the procedure the most different from fertilization, but the conditions the most suitable for the resulting embryo development were little explored in vertebrates. Among important factors, the carrier medium may interfere with the subtle cytoplasmic biochemical equilibrium, and the location at which the nucleus is injected inside the highly polarized oocyte [25] may influence chromatin exposure to the required cytoplasmic factors. One reason for such little information in mammals may lay in the difficulty to get enough oocytes of comparable quality which could be used to test several injection conditions in comparable environment. Besides, the survey of many embryo developments after transplantation requires large and costly facilities. Last, maternal effect via placental exchanges is another difficulty to accurately evaluate the consequence of early treatments on development [26]. Such difficulties are not present when nuclear transfer is performed in fish. In goldfish Carassius auratus, females spawn thousands oocytes at the same time, the quality within spawns is homogeneous and can be assessed easily, and embryos develop in water without maternal exchanges. The issue of the injection procedure is therefore much easier to analyze in this species than in mammals.
The objective of this study was to characterize and control the parameters the most likely to interfere with the success of nuclear transfer in fish. We first investigated the conditions which allowed goldfish oocyte manipulation without activation induction. Specific media formulated for carp, zebrafish and goldfish oocyte handling during androgenesis and short term storage were tested. Second, we explored the donor cell injection procedure in oocytes. The media which can be used for cell injection and the injected volume were tested for their toxicity after oocyte fertilization. Nuclear transfer experiments were led with fin cells to test whether the injection depth and the incubation time before oocyte activation in water could affect embryo development. Last, cells injected as a whole were monitored within the oocyte to assess plasma membrane rupture. In these nuclear transfer experiments, oocytes were not enucleated. Although the development rates of the embryos were used to estimate the suitability of the injection procedure, the experiments were not designed for clone production. This is why no genetic analysis of the produced embryos was undergone, and no clone production was claimed from our results.
Conclusions
The present work demonstrated that manipulation of metaphase II oocytes was possible in goldfish using trout coelomic fluid as an inactivating media. The toxicity of the medium injected into the oocyte proved to be a critical factor for oocyte ability to sustain development, and development rates were altered when large volumes were injected. The injection procedure through the micropyle allowed the nucleus to be positioned close to the animal pole, and we showed that deeper location was unsuitable for embryo development. The results were obtained on model systems including fertilized eggs and non enucleated oocytes. Several important steps of the procedure for somatic cell nuclear transfer were standardized in these conditions, and their application to clone production is expected to improve the development rates of the reconstructed embryos.
Methods
Gamete collection
Goldfish were from the U3E strain. Two years old fish raised in outdoor ponds were transferred into 0.3 m3 tanks and reared several weeks in recycled water at 14°C under spring photoperiod. Fish were fed with carp pellets at 1% body weight. Three days before gamete collection, fish were transferred into 20°C water. Gamete release was stimulated by one injection of 0.5 mL/kg Ovaprim™ (synthetic salmonid GnRH with dopaminergic inhibitor, Syndel LTD, Canada) and gametes were collected 16 hours after injection. Spawns with homogeneous eggs displaying a rapid and neat blastodisc formation upon activation in water were kept for experiments. Fish handling and sampling was carried out in strict accordance with the welfare guiding principles of the French regulation on laboratory animals, under the supervision of staff possessing the highest agreement level (level 1 DSV).
Embryo development and calculation of development rate
Spawn quality control was made by fertilizing 200 eggs with 10 μL sperm pool from 2 to 3 males in 10 mL tap water formerly aerated to remove HClO4. In all experiments, embryos obtained after fertilization and after nuclear transfer were incubated in tap water at 20°C. Development rate was recorded at 5 h (mid-blastula stage), 24 h (6-9 somites), and at hatching.
In a sample series of 33 spawns (150-200 eggs per spawn), rates for spawn quality controls (percentage of live embryo number to the total initial egg number) were 100% at 5 h, 88% ± 10 (min 62% - max 98%) at 24 h, and 81.2% ± 11.7 (min 50% - max 95%) at hatching. Because of this variability, development percentages after egg treatments were always expressed as a percentage of the corresponding spawn quality control.
Selection of the medium enabling the prevention of oocyte activation
TCF was collected on spawns from freshly ovulated rainbow trout (Oncorhynchus mykiss) reared at the INRA Peima experimental farm. After sieving from the oocytes, TCF were centrifuged 30 min at 3600 g at 4°C and stored at -20°C before use. Soybean Trypsin Inhibitor (STI, Type II-S) solution with 0.1 mg/mL to 1 mg/mL STI was prepared in goldfish ringer (GFR: NaCl 125 mM, CaCl2 2H2O 2.4 mM, KCl 2.4 mM, MgSO4 7H2O 0.3 mM, MgCl2 6 H2O 0.9 mM, D glucose 6 mM, Hepes 4 mM, pH 7.3, 256 mOsm/kg). BSA (fraction V) solution at 5 mg/mL final concentration was prepared with STI 0.1 mg/mL in GFR. Synthetic ovarian fluid (SOF) was prepared according to [43]. For each spawn, fractions of 150-200 oocytes were incubated in 2 mL of the tested medium at 20°C for 30 min in plastic dish.
Prevention of oocyte activation in the tested medium meant that no cortical reaction was induced. Efficiency of the incubation medium was then deduced from the maintenance of oocyte ability to be fertilized. After incubation, the medium was removed by aspiration and oocytes were fertilized in tap water. The fertilization rate of the treated oocytes was recorded after 24 h development at 20°C. This stage cumulated most of the early developmental defects.
Selection of the carrier medium
Toxicity of the medium injected into the oocyte with the donor cell during nuclear transfer was estimated in fertilization experiments. Oocytes were treated as in the nuclear transfer procedure, except that no donor cell was injected with the medium and that the treated oocytes were fertilized afterwards. Injected medium toxicity was deduced from the reduced ability of fertilized embryos to develop after medium injection into the oocytes. Twenty five to 50 oocytes were treated in each test, and the experiment was repeated on 3 to 6 different spawns. The media tested were cell culture medium (L-15 with Hepes 25 mM, NaHCO3 5 mM, 2 mM L-Glutamine, 2.5 μg/mL, and 5% fetal calf serum), phosphate buffer saline (PBS, Sigma France), SOF, goldfish coelomic fluid (GCF prepared as TCF), TCF, and TCF with 1 U/mL penicillin and 1 μg/mL streptomycin. All media contained 10% (v) phenol red 5 mg/mL (0.5 mg/mL final) to control that some medium is present in the oocytes after injection. The injected volume was about 50 pL. In control experiments, oocytes were punctured but no medium was injected.
Donor cell and nuclear transfer
Donor epithelial cells [
44
] were obtained from caudal fin explant culture [
2
] and used after cell cryopreservation [
1
]. After thawing, cells were washed with cell culture medium with antibiotics (2.5 μg/mL amphotericin B, 50 μg/mL gentamicin) and stored on ice for up to 2 hours. Nuclear transfer was performed at 20°C using a Cell Tram Vario injector (Eppendorf, France) connected to a micromanipulator (Transferman NK2, Eppendorf, France) under a stereomicroscope (Olympus SZX 12). Recipient oocytes at the metaphase II stage were layered in a drop (1 mL) of TCF in a 10-cm plastic dish. Donor cells (30 μL) were spread in the TCF drop around the oocytes. Prior to donor cell injection, one recipient oocyte was positioned against a holding microcapillary (iD 100 μm). A single donor cell was aspirated in a glass microcapillary (iD 15 μm, Custom Tip Type IV, Eppendorf, France). Cell was transferred into the recipient oocyte through the micropyle at the animal pole (Figure
6
) according to [
6
,
8
,
15
]. After the 20 oocytes were injected (15-20 min), oocytes were activated with tap water and incubated at 20°C for embryo development. Control oocytes maintained in TCF but not injected were fertilized and assessed for development control.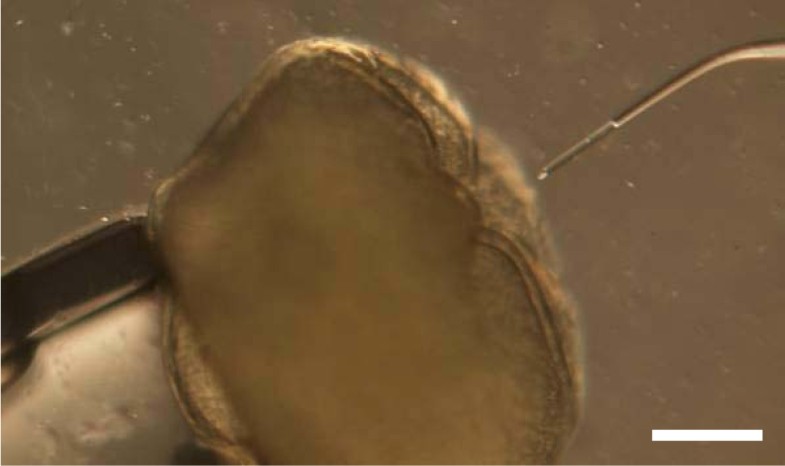 Optimization of the injection procedure
Two depths at which donor cell was injected were tested. Oocytes were treated as in the nuclear transfer procedure. In one case, the opening of the microcapillary containing donor cell was pushed up to center of the oocyte and the donor cell was injected. In the second case, the opening of the microcapillary was positioned inside the oocyte close to the plasma membrane by a slight outward movement after capillary penetration into the oocyte, and the donor cell was injected. Forty oocytes were treated in each case, and the experiment was repeated on 7 different spawns.
The incubation time before oocytes were activated after nuclear transfer was tested. Oocytes were treated as in the nuclear transfer procedure. After injection, oocytes were immediately activated, or incubated in TCF at 20°C for 30 and 60 min before activation. Forty oocytes were treated in each case, and the experiment was repeated on 4 to 6 different spawns.
Recording of membrane rupture upon injection
Membrane rupture of donor cells prior to injection was not possible with fin cultured cells in our conditions. Mechanical forces (several aspiration and expulsion through the microcapillary) and osmotic shocks (up to 0 mOsm/Kg) were tested, but unsuccessfully. No other treatments such as nitrogen cavitation or mild digestion by trypsin, lysolecithin, or triton improved membrane rupture protocol either. Therefore, the whole cell was injected into the oocyte. The behavior of the cell once injected in the oocyte was assessed in two nuclear transfer experiments. Prior to transfer, donor cells were labeled in Calcein AM 2 μM (Molecular Probes) in PBS for 30 min at room temperature. Labeled cell were then transferred in TCF on the nuclear transfer stage and transferred into the oocytes as described above. The delay between cell injection and membrane rupture was assessed under fluorescence with the stereomicroscope used for nuclear transfer.
Statistics
Results are expressed as the mean percentages ± SE. Statistical significance of differences between development percentages was determined by the distribution-free U test of Mann-Whitney using STATISTICA® software (StatSoft®).
Declarations
Acknowledgements
The authors wish to thank the INRA U3E experimental unit in Rennes and Alphonse Quemeneur who provided for goldfish broodstock. Jean-Luc Thomas and the IE colleagues at INRA SCRIBE took care of goldfish rearing. We thank the INRA PEIMA experimental unit at Sizun for providing the TCF. Dr Xavier Vignon from INRA UMR BDR in Jouy en Josas is gratefully acknowledged for his sound and very supportive involvement in this work. We also warmly thank Vincent Brochard from INRA UMR BDR for his help with chorion penetration when we thought it was technically impossible. We also thank Dr Julien Bobe (Inra SCRIBE) and Dr Z. Zhu (Wuhan University) for the helpful methodological exchanges during the Sino-French workshop in 2004. This work benefited from the financial support of the INRA PHASE department. We thank Dr Philippe Chemineau, head of PHASE, for having faithfully supported the development of this work.
Authors' Affiliations
(1)
INRA, Cryopreservation and Regeneration of Fish, UR1037 SCRIBE, Rennes, France
(2)
AFSSA-LEREPP, Unité de Virologie Immunologie Porcines, Ploufragan, France
Copyright
© Bail et al; licensee BioMed Central Ltd. 2010
This article is published under license to BioMed Central Ltd. This is an Open Access article distributed under the terms of the Creative Commons Attribution License (http://creativecommons.org/licenses/by/2.0), which permits unrestricted use, distribution, and reproduction in any medium, provided the original work is properly cited.