Research article

Open Access
Fertilization in C. elegans requires an intact C-terminal RING finger in sperm protein SPE-42
BMC Developmental Biology
2011
11:10
Received: 10 November 2010
Accepted: 23 February 2011
Published: 23 February 2011
Abstract
Background
The C. elegans sperm protein SPE-42, a membrane protein of unknown structure and molecular function, is required for fertilization. Sperm from worms with spe-42 mutations appear normal but are unable to fertilize eggs. Sequence analysis revealed the presence of 8 conserved cysteine residues in the C-terminal cytoplasmic domain of this protein suggesting these residues form a zinc-coordinating RING finger structure.
Results
We made an in silico structural model of the SPE-42 RING finger domain based on primary sequence analysis and previously reported RING structures. To test the model, we created spe-42 transgenes coding for mutations in each of the 8 cysteine residues predicted to coordinate Zn++ ions in the RING finger motif. Transgenes were crossed into a spe-42 null background and protein function was measured by counting progeny. We found that all 8 cysteines are required for protein function. We also showed that sequence differences between the C-terminal 29 and 30 amino acids in C. elegans and C. briggsae SPE-42 following the RING finger domain are not responsible for the failure of the C. briggsae SPE-42 homolog to rescue C. elegans spe-42 mutants.
Conclusions
The results suggest that a bona fide RING domain is present at the C-terminus of the SPE-42 protein and that this motif is required for sperm-egg interactions during C. elegans fertilization. Our structural model of the RING domain provides a starting point for further structure-function analysis of this critical region of the protein. The C-terminal domain swap experiment suggests that the incompatibility between the C. elegans and C. briggsae SPE-42 proteins is caused by small amino acid differences outside the C-terminal domain.
Keywords
Ring Finger
Ring Domain
Ring Finger Protein
Ring Finger Domain
Large Extracellular Domain
Background
The union of sperm and egg pronuclei to form a new organism is the endpoint of a carefully choreographed process that includes gamete recognition, binding, and fusion of plasma membranes. Our understanding of the molecular processes underlying these phenomena has been shaped by studies in sea urchins [1], Chlamydomonas [2–4], Drosophila [5], mice [6–8] and, within the last decade, the nematode Caenorhabditis elegans [9–12]. C. elegans is particularly suited to the discovery of molecules necessary for spermatogenesis or fertilization because its hermaphroditic mode of reproduction is unique among genetic model organisms. Spermatogenesis defective (spe) mutants discovered in genetic screens using hermaphrodites can be easily recovered by mating wild type males into the sterile hermaphrodites.
Mutations in the C. elegans spe-42 gene result in the production of morphologically normal spermatozoa that are fertilization defective despite making direct contact with eggs in the spermatheca, the site of fertilization [13]. Six other C. elegans genes that have the same mutant phenotype as spe-42 constitute the spe-9 class [9–12, 14], named for the first of these genes to be cloned [15]. The five cloned genes in this class have been shown, or are predicted, to be sperm plasma membrane proteins [13, 16–19]. The phenotype of these mutants suggests that spe-42 and the other spe-9 class genes function at the moment that sperm and egg plasma membranes meet.
The consensus of 11 topology prediction algorithms [
20
–
30
] suggests that SPE-42 is a six-pass transmembrane protein with its N- and C-termini facing the cytosol (Figure
1A
). Amino acid sequence analysis showed 3 domains of potential importance for SPE-42 protein function: (1) a large extracellular domain between transmembrane helices 3 and 4 containing six conserved cysteines separated by 9-13 amino acids, (2) a DC-STAMP domain [
31
] that includes transmembrane helices 5 and 6 and (3) a predicted RING finger [
32
,
33
] formed by 8 conserved cysteines in the C-terminal cytoplasmic domain. These 3 features are conserved in each of the 2 SPE-42 homologs that are present in many metazoan genomes including
Drosophila
, mice and humans [5, our unpublished data]. One of the two
Drosophila
SPE-42 homologs, Sneaky, is necessary for the plasma membrane breakdown (PMBD) event that occurs after a spermatozoon is engulfed by the egg during fertilization [
5
]. Mutation of the second cysteine in the large extracellular domain disrupts PMBD, indicating its importance for Sneaky function. Because it is predicted to be extracellular, this domain could potentially interact with proteins on the egg surface. The presence of a DC-STAMP domain, in both Sneaky and SPE-42, suggests SPE-42 may be involved in a membrane fusion event because the canonical DC-STAMP protein is required for cell fusion events in the mammalian monocyte cell lineage [
34
–
36
]. The mechanism through which DC-STAMP mediates membrane fusion is not presently clear.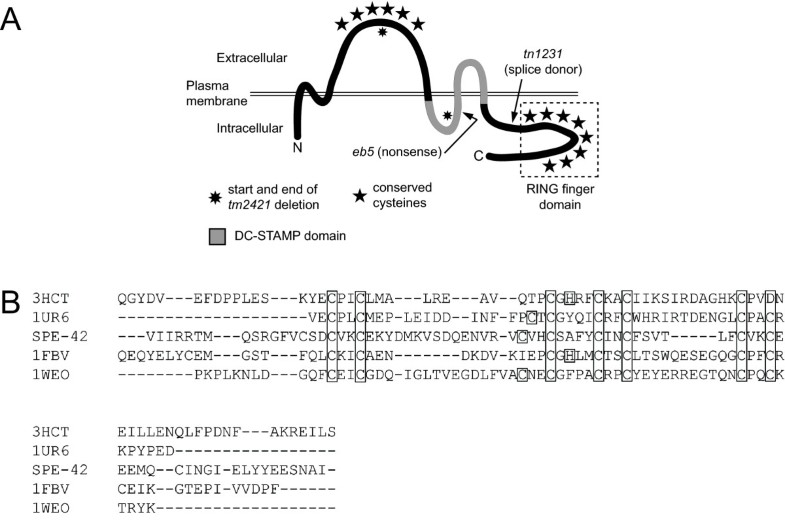 SPE-42 homologs in all species examined to date possess a predicted RING finger motif near the C-terminus. RING fingers are structural domains, held together by the coordination of two Zn++ ions by the side chains of nearby cysteine, histidine or aspartic acid side chains [32, 37]. These motifs are most commonly found in E3 ubiquitin protein ligases [38, 39] where they facilitate ubiquitination of target proteins [40]. E3 RING finger proteins simultaneously interact with a substrate and a ubiquitin-conjugated E2 enzyme, allowing transfer of ubiquitin to the substrate by the E2. Unlike HECT domain E3 s that covalently bind ubiquitin and transfer it to the substrate directly [41], RING domain E3 s lack catalytic activity. Although the SPE-42 protein does not show significant sequence homology to E3 ligases outside the RING finger, this domain is the chief unifying feature in an otherwise diverse E3 ligase family. Therefore, we cannot confirm or rule out an E3 ligase-like function for SPE-42. Sequence analysis of SPE-42 family members predicts that in all cases the Zn++ ions are coordinated by eight cysteines (C4C4 pattern), unlike most E3 RING fingers, which include a histidine in a C3HC4 arrangement [39].
In the experiments described here, we used a systematic mutagenesis approach to characterize the cytoplasmic C-terminal region of SPE-42 containing the putative RING finger. The ability of spe-42 transgenes bearing single amino acid substitutions or larger scale changes to produce progeny in an otherwise self-sterile spe-42 null mutant strain allowed us to determine the importance of individual amino acids for SPE-42 function. Our results showed that the 8 cysteine residues predicted to form a RING finger are critical for SPE-42 function in vivo. We used these data along with previously solved RING finger structures to develop a structural model of the SPE-42 RING domain including predictions of the specific amino acids that are most likely to participate in protein-protein interactions.
Conclusions
We built a structural model of the SPE-42 RING finger domain based on solved structures of other RING domain proteins. Our experimental results demonstrate that 8 cysteine residues predicted to form a RING finger in the C-terminal domain of SPE-42 by the model are critical for protein function during fertilization. We also showed that incompatibility of the C. elegans and C. briggsae SPE-42 homologs does not result from evolutionary divergence in amino acid sequence at the C-terminus of the proteins. Our data provide a starting point for further investigation of SPE-42 function during C. elegans fertilization and elucidation of the potential roles of SPE-42 homologs in other species.
Declarations
Acknowledgements
We thank Matt Andrews and Shannon Stevenson for critical comments on the manuscript. We also thank Julia Curry and Kayla York for performing preliminary analysis of some mutant transgenes. Some worm strains were provided by the Caenorhabditis Genetics Center, which is funded by the NIH National Center for Research Resources. The spe-42(tm2421) allele was provided by S. Mitani at the Japanese National BioResource Project http://www.shigen.nig.ac.jp/c.elegans/index.jsp. Funding to TLK was from the National Science Foundation (IOS-0918464) under the American Recovery and Reinvestment Act of 2009 (Public Law 111-5), University of Minnesota Startup Funds, and a University of Minnesota Faculty Grant-in-Aid.
Authors' Affiliations
(1)
Department of Biology, Swenson College of Science and Engineering, University of Minnesota Duluth, Duluth, USA
(2)
Department of Biology, College of St. Scholastica, Duluth, USA
(3)
Department of Pharmacy Practice and Pharmaceutical Sciences, College of Pharmacy, University of Minnesota Duluth, Duluth, USA
Copyright
© Wilson et al; licensee BioMed Central Ltd. 2011
This article is published under license to BioMed Central Ltd. This is an Open Access article distributed under the terms of the Creative Commons Attribution License (http://creativecommons.org/licenses/by/2.0), which permits unrestricted use, distribution, and reproduction in any medium, provided the original work is properly cited.