Research article
Open Access
Apontic regulates somatic stem cell numbers in Drosophila testes
BMC Developmental Biology
BMC series – open, inclusive and trusted
2016
16:5
Received: 7 August 2015
Accepted: 10 February 2016
Published: 18 March 2016
Abstract
Background
Microenvironments called niches maintain resident stem cell populations by balancing self-renewal with differentiation, but the genetic regulation of this process is unclear. The niche of the Drosophila testis is well-characterized and genetically tractable, making it ideal for investigating the molecular regulation of stem cell biology. The JAK/STAT pathway, activated by signals from a niche component called the hub, maintains both germline and somatic stem cells.
Results
This study investigated the molecular regulation of the JAK/STAT pathway in the stem cells of the Drosophila testis. We determined that the transcriptional regulator Apontic (Apt) acts in the somatic (cyst) stem cells (CySCs) to balance differentiation and maintenance. We found Apt functions as a negative feedback inhibitor of STAT activity, which enables cyst cell maturation. Simultaneous loss of the STAT regulators apt and Socs36E, or the Stat92E-targeting microRNA miR-279, expanded the somatic stem cell-like population.
Conclusions
Genetic analysis revealed that a conserved genetic regulatory network limits JAK/STAT activity in the somatic stem cells of Drosophila testis. In these cells, we determined JAK/STAT signaling promotes apt expression. Then, Apt functions through Socs36E and miR-279 to attenuate pathway activation, which is required for timely CySC differentiation. We propose that Apt acts as a core component of a STAT-regulatory circuit to prevent stem cell overpopulation and allow stem cell maturation.
Keywords
Stem cellsAponticDrosophilaTestes somatic stem cellsJAK/STAT signaling
Background
Adult stem cell maintenance is crucial for tissue homeostasis. Tissues with a high turnover rate, such as intestinal epithelium, sperm, and hematopoietic cells, rely on stem cells for constant replenishment of cellular populations [1, 2]. Further, damage to these and other tissue types require heightened proliferation of resident stem cells to facilitate tissue regeneration. However, this proliferation must be tightly regulated: stem cells must respond appropriately to growth demands while limiting the potential for tumorigenesis [3, 4]. Precise control of stem cell dynamics is governed by a specialized microenvironment called the niche [1, 5–9]. Short-range cues from the niche sustain the stem cell population, while allowing the production of differentiated daughters further away. Many niches are now known to regulate more than one stem cell type, and stem cells themselves or their direct progeny can sometimes function as a signaling component [5, 10].
The testis of Drosophila melanogaster provides a robust and genetically tractable system to study adult stem cells in their natural environment, and it has been well-characterized [11–15]. A cluster of 8–10 post-mitotic somatic cells comprises a major component of the niche, called the hub [16–18]. The hub supports germline stem cells (GSCs) and somatic cyst stem cells (CySCs). GSCs divide asymmetrically to self-renew and generate a gonialblast, which will give rise to mature sperm [13–15]. CySCs can divide to self-renew or generate cyst cells, which exit mitosis and, in pairs, encase each developing germ cell [15, 19, 20]. Mature cyst cells are required for GSC differentiation, which suggests CySCs can act as a signaling component of the niche [21–26].
The hub provides signals and structural organization to the niche, acting as a stem cell docking site. During development, hub cells undergo a change in gene expression, which includes the up-regulation of growth factors and cytokine-like molecules of the unpaired (upd) family [12, 16, 27, 28]. In Drosophila, Upd (also known as Outstretched/Os) is a secreted signaling molecule that activates the highly conserved Janus Kinase/Signal Transducer and Activator of Transcription (JAK/STAT) pathway [29, 30]. Upd released from the hub turns on JAK/STAT signaling in neighboring stem cells, which is required for them to stay undifferentiated [23, 24, 31–33].
JAK/STAT signaling is essential in a variety of organisms for normal development and stem cell maintenance [11, 12, 34, 35]. For example, mammalian hematopoeisis and inflammatory responses require cytokine signaling via JAK/STAT activation. The pathway must be tightly regulated as excessive STAT signaling correlates with tumorigenesis [36–39], and in Drosophila adult testis hyperactivation or loss of function of STAT (encoded by Stat92E) disrupts stem cell maintenance [23, 24, 31–33]. STAT activation promotes E-cadherin (E-cad)-directed adhesion of the GSCs to the hub, necessary for maintaining stem-cell properties [24]. In CySCs, STAT activity facilitates integrin-based adhesion to the hub and signals for self-renewal [31–33]. Two downstream targets of STAT, zinc finger homeodomain-1 (zfh-1) [23] and chronologically inappropriate morphogenesis (chinmo) [21, 40] maintain CySC fate, in part by preventing the CySC-to-cyst cell transition. Ectopic STAT activation or Zfh-1 expression in the testis expands the CySC population, which prevents differentiation of both CySCs and GSCs [23, 24, 32, 33]. Since STAT activity must be finely tuned in stem cell populations to balance self-renewal and differentiation, it is important to understand how STAT regulation is genetically controlled.
The transcriptional regulator Apontic (Apt) is a key regulator of JAK/STAT signaling in the Drosophila ovary [41, 42]. During Drosophila oogenesis, a subset of germline-encasing, somatic epithelial (follicle) cells form an invasive cluster, called the border cells (recently reviewed in [43]). Border cell specification and migration require JAK/STAT signaling [44–46]. However, excessive pathway activation leads to additional invasive cells and a delay in cluster migration [41, 47, 48]. Apt restricts JAK/STAT activation in anterior follicle cells and limits migration to an optimal number of cells [41]. We, and others, have determined that Apt functions as a feedback inhibitor of STAT activity by regulating the expression of two direct STAT pathway inhibitors: Suppressor of Cytokine Signaling at 36E (Socs36E) and the STAT-targeting microRNA miR-279 [47, 48]. This led us to investigate a role for Apt in other contexts.
Here, we report that Apt functions in the CySCs of adult testes to attenuate STAT signaling and limit stem cell numbers. As in ovaries, Apt expression in CySCs partially depends on STAT activity, and its feedback inhibition of STAT signaling functions through a regulatory network including Socs36E and miR-279. While other known STAT targets in CySCs promote self-renewal, Apt cell-autonomously permits timely stem cell differentiation. Our data demonstrate that Apt facilitates robust regulation of STAT activity to regulate stem cell numbers in Drosophila testes.
Methods
Fly stocks and husbandry
Flies were raised on standard cornmeal-molasses food; all crosses were performed at 25 °C. The following fly stocks were utilized: Canton S and w 1118 (for wild type), tubP-Gal80 ts [49], upd-Gal4 (expressed in hub [22]), c587-Gal4 (expressed in CySCs and early cyst cells [50]), Tj-Gal4 (expressed in hub, CySCs, and early cyst cells [51, 52]), UAS-tdf/MKRS (for over-expression of apt; tdf is an alternative name for apt [53]), protein trap line PTT-GC apt CC01186 [54, 55], Stat92E 397 /TM3 (a null allele of Stat92E) [46], two independent null miR-279 alleles (miR-279 Δ1.2 and miR-279 Δ1.9 [56]), miR-279sponge [48], UAS-Hop TUM-L /CyO [57], and UAS-mCD8-GFP [58]. The apt loss-of-function mutant alleles used were: apt KG05830 [41, 59], apt tdf-PΔ4 /CyO [53], and apt 167 /CyO [60]. The TRiP collection provided: UAS-aptRNAi (TRiP.JF02134), UAS-updRNAi (TRiP.JF03149), and two UAS-Stat92E-RNAi lines (TRiP.JF01265 = stat RNAi 31317 and TRiP.GL00437 = stat RNAi 35600 ) [61, 62].
Inverse PCR was utilized to confirm and map the P-element insertion site of the protein trap PTT-GC apt CC01186 . Genomic DNA was isolated from apt CC01186 flies. DNA was subsequently digested with PvuII (Fermentas) or Msp1 (Fermentas) overnight at 37 °C. An overnight ligation reaction (T4 DNA Ligase – Thermo Scientific) was performed at 4 °C on the digested DNA to promote self-ligation of the fragments. Ligation products were amplified with Pry1 (5' CCT TAG CAT GTC CGT GGG GTT TGA AT 3') and Pry4 (5' CAA TCA TAT CGC TGT CTC ACT CA 3') primers at an annealing temperature of 55 °C. Purified PCR products were sequenced with the PEP1 (5'TAC GAC ACT CAG AAT ACT ATT C 3') primer by Genewiz. Blastn (http://blast.ncbi.nlm.nih.gov/Blast.cgi) and Flybase (www.flybase.org) were utilized to analyze sequences.
To rescue the aptRNAi phenotype, c587-Gal4; UAS-aptRNAi/CyO flies were crossed to UAS-tdf(apt)/MKRS [53]; offspring and controls were incubated at 29 °C for 2 days prior to dissection. To generate Socs36E deficient flies Socs36E EY06665 and Socs36E 178 were crossed to produce transheterozygotes [47]. To test for a Socs36E, apt genetic interaction, two independently derived stocks of the genotype Socs36E EY06665 , apt 167 /CyO were crossed to Socs36E 178 . To create Socs36E, apt double mutants, two Socs36E EY06665 , apt 167 /CyO lines were crossed with a single recombinant stock Socs36E 178 , apt KG05830 [47].
Flies bearing mutant alleles were kept at 25 °C for 0–2 days prior to dissection. Gal4 containing males were incubated at 29 °C for 2 days before dissection for effective RNAi expression. For genotypes in which c587-Gal4 or upd-Gal4 was combined with tubP-Gal80 ts and for the temperature matched controls, 0–2 day old experimental and temperature matched control males were shifted to 30 °C for 4 days. Age-and-genotype-matched control males were kept unshifted at 25 °C for 4 days. Males generated for experimental analysis were maintained at less than 20 males per vial and were transferred onto fresh food every 2–3 days until dissection.
Testes dissections and immunofluorescence
Males were dissected in Schneider's media containing 10 % Fetal Bovine Serum (FBS) and 0.3X Pen/Strep antibiotics (50 mg/mL, ThermoFisher). Testes were fixed for 10 min at room temperature (RT) in 4 % paraformaldehyde in PBX (PBS with 0.1 % Triton-X), washed at RT with PBX, and blocked for 1 h at RT (PBX with 2 % goat serum and 3 % bovine serum albumin (BSA)). Antibodies were diluted in block and incubated with testes overnight at 4 °C. Testes were washed with PBX prior to addition of Molecular Probes AlexaFluor secondary antibodies (488 nm and 568 nm), which were diluted at 1:200 in PBX and incubated overnight at 4 °C. DAPI was applied at 1:1000 (in PBX) for 10 min at RT; testes were washed with PBX, and stored in 50 % glycerol at 4 °C until mounted for imaging.
The following primary antibodies were utilized for analysis: rabbit anti-Apontic (1:500, provided by Dr. S. Hirose [63]), rabbit anti-STAT (1:100, provided by Dr. Denise Montell [64]), rabbit anti-Zfh-1 (1:5000; provided by Dr. Ruth Lehmann [65]), rabbit anti-Vasa (1:1000, provided by Dr. Ruth Lehmann [65]), guinea pig anti-Traffic jam (1:5000, provided by Dr. Dorthea Godt [66], mouse anti-GFP (1:1000, Molecular Probes), and mouse anti-BrdU conjugated with fluorophore Alexa 488 (1:40; Molecular Probes). The following antibodies were obtained from the Developmental Studies Hybridoma Bank, developed under the auspices of the NICHD, and maintained by the University of Iowa, Department of Biology, Iowa City, IA 52242: mouse anti-Fasciclin 3 (Fas3, 1:50, 7G10: Goodman, C. [67]); rat anti-DCad2 (for E-cadherin, 1:25, DCAD2: Uemura, T. [68]), rat anti-N-Cadherin (N-Cad, 1:25, DN-EX #8 Uemura, T. [69, 70]); mouse anti-Eyes Absent (1:100, EYA10H6: [71]).
Images were obtained with a Zeiss AxioImager Z.1 microscope equipped with AxioVision software and ApoTome structural interference system for optical sectioning or a Leica TCS 4D Scanning Confocal Light Microscope. Images of testes stained with anti-Zfh-1 (except Fig. 2a-b and Additional file 3: Figure S3A, C, E) are 3D reconstructions projected into 2D, generated by FIJI software [72]. All other images are a representative optical section of a Z-stack. Adobe Photoshop CS6 and FIJI software were utilized to process and format images.
Analysis and quantification of GSCs and total Zfh-1-positive cell population
To determine the number of CySCs or GSCs in the testis, we used Zeiss AxioVision or Leica LAS software to generate Z-stacks of optical sections of the apex in 0.5–1.0 μm steps. To be considered a GSC, a single Vasa-positive cell had to be in direct contact with the hub. FIJI or Zeiss AxioVision software was utilized to step through the Z-stack to quantify all GSCs in a single testis. For Zfh-1 expression analysis, we counted all cells except hub cells that stained positively with a rabbit antibody directed against Zfh-1, either stepwise through a Z-stack with Zeiss AxioVision software or through generation of a 3D reconstruction of the testis with Zeiss AxioVision or PerkinElmer Volocity software. We capped Zfh-1+ cell counts at 100 per single testis, since if there were more cells they were very far from the niche. When testes were co-stained with anti-Zfh-1 and anti-Eya antibodies, Zeiss AxioVision and FIJI software were utilized to assess co-expression of markers.
Quantification of relative expression levels via fluorescent analysis
To obtain relative levels of Apt or STAT protein expression, all dissections and antibody stainings for a single experiment were performed together on the same day. Images for each experiment were also acquired in a single day, with the same exposure times. For analysis, we used FIJI software to circle nuclei with the freeform selector, and then used the measure tool to obtain average pixel intensity of several stem cells per testis in both the anti-Apt or anti-STAT and DAPI positive channels [72]. For this study, we defined CySCs as the first tier of Zfh-1 or Tj-positive cells around the hub. DAPI was used as an internal control to obtain a relative level of Apt expression by generating an Apt/DAPI ratio. To acquire a normalized expression level of Apt relative to the control, we set the control to one and derived an Experimental/Control ratio to calculate a relative fold-change in our experimental genotype(s).
Analysis of E-cadherin expression levels
To assess E-cad expression, testes from w 1118 and apt KG05830 homozygous males were dissected and stained with antibodies on the same day. Images for each experiment were also acquired on a single day, with the same exposure times. Images were analyzed as single optical sections and as a stack of optical sections projected in the 2D by FIJI/Image J. Projections for both genotypes were constructed from a similar number of optical sections and represent a similar depth of tissue.
In vivo BrdU labeling
Testes were labeled with BrdU (Invitrogen/Life Sciences B23151) as previously described [73]. Age-matched males of control and experimental genotypes were incubated for 2 days at 29 °C, for effective RNAi expression. During this incubation, males were starved for 4 h. Starved males were then fed 2.5 mM BrdU (diluted in PBS-apple juice to encourage eating, and 6 % green food coloring) for the final 20–24 h of the 29 °C incubation. Only males with green abdomens were dissected. The same protocol described above for dissections was then utilized.
Statistical analysis
All statistical analyses on cell count and expression data were executed via a two-tailed t-test. Two-tailed Fisher's Exact test (http://www.graphpad.com/quickcalcs/contingency1.cfm) were utilized for statistical analysis of phenotypic penetrance. Cell count data are displayed via non-parametric box and whisker plots. In these plots, the second (lower) and third (upper) quartile bars are separated by the median value. The diamond specifies the mean for each genotype. The upper whisker indicates the upper quartile through the maximum, while the lower whisker shows the minimum value observed through the first quartile. The standard deviation is provided (+/-) for all quantitative data not presented in graphs. For all statistical analysis, we maintained a significance requirement of at least p < 0.05.
Discussion
Here, we show that the transcriptional regulator Apt is required for maintaining a wild-type number of stem cells in the testis apex. Within CySCs, this function is dependent on Apt's inhibition of STAT activity, which promotes stem cell differentiation cell-autonomously. We found that a high level of conservation exists in a STAT-feedback genetic regulatory network that limits this stem cell population as well as cell invasion in ovarian follicle cells [41, 47, 48]. Despite obvious distinctions between these processes, each requires a correct number of different cell types to be allocated to the tissue. Pathways essential for each process, such as JAK/STAT, are often aberrantly activated in pathogenesis, such as cancer development, and thus require intense regulation [12, 36, 88].
A conserved genetic regulatory circuit is essential for stem cell differentiation
Apt is expressed in the adult testes somatic population (hub, CySCs, and cyst cells) and GSCs and gonialblasts. We verified that apt is expressed downstream of STAT in the CySCs. However, mature cyst cells do not have detectable STAT activation, which suggests that, like in the egg chamber, apt is regulated in STAT-dependent and independent manners [41, 42]. While Apt is expressed in all anterior follicle cells of the egg chamber, STAT signaling in the anterior epithelium is more restricted [41, 45–47]. Eya, which is expressed in a similar pattern as Apt in follicle cells, is required to activate apt expression broadly [41, 42]. In wild-type somatic cells of the testes, STAT activity and Eya expression have complementary patterns – Eya is not expressed until cyst cell maturation, when STAT is turned off [15, 80]. Thus, in CySCs and early cyst cells Apt is regulated by STAT, then akin to the ovary, Eya may maintain Apt expression in the mature cyst cells.
We found that in the Drosophila testis Apt is a keystone in a STAT genetic regulatory network, acting as a feedback inhibitor in somatic stem cells (Fig.
7
). Of the three previously described STAT downstream targets in CySCs –
zfh-1, chinmo,
and
Socs36E
– two prevent CySC differentiation [
21
,
23
], while Socs36E affects CySC adhesion, but not fate [
31
]. Our data suggest
apt
is distinct in that it permits the transition from CySC-to-mature cyst cell. While self-renewal of stem cell populations is essential, the ability to differentiate is also critical for tissue repair and regeneration [
1
,
2
,
8
]. For differentiation to occur in CySCs, STAT signaling must be shut down in the daughter dividing away from the hub [
19
,
23
]. Loss of
apt
in CySCs delays this transition, reflected in a significant expansion of the Zfh-1+ (and Eya(-)) population that maintains the potential to undergo cell division away from the hub. While clonal mutant analysis using a null allele of
apt
in the CySCs might help clarify Apt's distinct roles, we have been unsuccessful in obtaining males of the necessary genotype for this experiment, despite multiple attempts. Nevertheless, the results from viable mutants as well as temperature-regulated knockdown in overlapping expression domains consistently and strongly suggest Apt is a feedback inhibitor of the JAK/STAT pathway that is required for CySC maturation.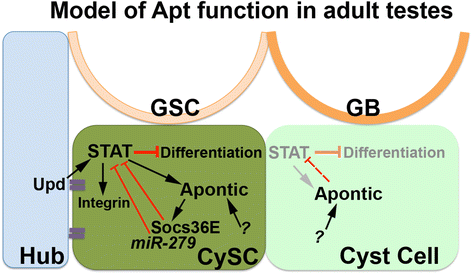 STAT regulates CySC adhesion to the hub [31]. It is, therefore, conceivable to think that the expansion of the Zfh-1+ population in apt mutants is partially due to increased adhesion of the CySCs and early cyst cells to the niche area. This would enable these cells to continue to receive the self-renewal cues. Furthermore, the amount of CySC division did not appear altered between control and loss of apt testes, which suggests that Apt does not work through Cyclin E regulation in this tissue [81]. Instead, we discovered a significant increase in nuclear STAT levels in CySCs with reduced apt. Thus, Apt is required in CySCs to attenuate STAT, which allows efficient and correct spatiotemporal somatic cell maturation in adults.
Loss of the STAT feedback inhibitor Socs36E increases STAT activity without affecting CySC numbers [31]. However, when we removed a single copy of apt in a Socs36E mutant background, the Zfh-1+ population significantly increased. Although Apt can activate Socs36E expression [47], the inability of Socs36E reduction to alter the number of CySCs led us to hypothesize Apt may inhibit STAT through another regulator, as well. A genetic interaction between apt and the Stat92E targeting miR-279 [48] supports this idea. Unlike loss of Socs36E, reduction of miR-279 in the CySC and early cyst cell populations significantly expanded the Zfh-1+ population. While we cannot rule out any direct regulation of STAT by Apt, our data strongly suggest a conserved genetic circuit attenuates STAT activity in CySCs, which is required to allocate an appropriate balance of cells that will self-renew and differentiate (Fig. 7 and [47, 48]).
Similarly when apt was lost in the germline, we observed a significant accumulation of GSCs at the hub interface. STAT has been shown to promote the expression of E-cad in GSCs [24], and integrin expression in CySCs [31–33], in both cases facilitating interaction with the hub. Loss of Apt in the germline resulted in heightened E-cad expression in the GSCs. These data support a model in which Apt negatively regulates STAT activity in the GSCs and that the loss of apt may increase the adhesiveness of GSCs to the hub. The mild reduction of Apt expression in the CySCs in these experiments may suggest that the relative levels of apt between the two stem cell populations mediates a balance between the stem cell populations - possibly through adhesion molecule expression, since adherence to the hub is important for maintaining stem-ness in both cell types. Collectively, our data suggest apt is essential in both stem cell populations of the Drosophila testes to ensure appropriate maintenance and differentiation.
Conclusions
In summary, we postulate that Apt functions as a feedback inhibitor of JAK/STAT activation in the CySCs via its regulation of Socs36E and miR-279 (Fig. 7). This genetic regulatory network is essential to prevent stem cell over-population by enabling CySC maturation. Our data also suggest that appropriate expression levels of apt between the CySCs and GSCs are important to maintain a balance of the stem cell populations at the hub interface. Collectively, this work shows that Apt is an important regulator of stem cell dynamics in the Drosophila testis.
Abbreviations
Apt:

Apontic
CySC:

Cyst stem cell
E-cad:

E-cadherin
Eya:

Eyes absent
GSC:

Germline stem cell
JAK/STAT:

Janus Kinase/Signal Transducer and Activator of Transcription
Socs36E:

Suppressor of cytokine signaling at 36E
Zfh-1:

Zinc finger homeodomain-1
Declarations
Acknowledgements
We are grateful for the generosity of the fly community, particularly Drs. Ruth Lehmann, Erika Matunis, Denise Montell, Dorthea Godt, Susumu Hirose, and Reinhard Schuh, for providing reagents. We thank the Bloomington Drosophila Stock Center, TRiP at Harvard Medical School (NIH/NIGMS R01-GM084947), the Developmental Studies Hybridoma Bank, and FlyBase for reagents and information. We would also like to thank Drs. Mark Van Doren, Erika Matunis, and Xin Chen and members of the Van Doren laboratory for helpful feedback on the project and Dr. Nicholas Gaiano for discussion of the manuscript. We acknowledge Kathryn Bus and Archana Murali for initial assistance. Confocal imaging was supported by a NSF MRI grant (DBI-0722569) to the Keith Porter Imaging Facility at UMBC. This work was supported in part by a Ruth L. Kirschstein NRSA (T32-GM-0667-06) to AJM and a NSF Career Award (IOS-1054422) and a Basil O'Connor Starter Scholar Award from the March of Dimes awarded to MSG. The authors declare no conflicts of interest.
Open AccessThis article is distributed under the terms of the Creative Commons Attribution 4.0 International License (http://creativecommons.org/licenses/by/4.0/), which permits unrestricted use, distribution, and reproduction in any medium, provided you give appropriate credit to the original author(s) and the source, provide a link to the Creative Commons license, and indicate if changes were made. The Creative Commons Public Domain Dedication waiver (http://creativecommons.org/publicdomain/zero/1.0/) applies to the data made available in this article, unless otherwise stated.
Authors' Affiliations
(1)
Department of Biological Sciences, University of Maryland Baltimore County, Baltimore, USA
(2)
Present Address: Department of Medicine, Division of Infectious Disease, University of Massachusetts Medical School, Worcester, USA
Copyright
© Monahan and Starz-Gaiano. 2016