Methodology article

Open Access
Novel monoclonal antibodies to study tissue regeneration in planarians
BMC Developmental Biology
2015
15:2
Received: 10 August 2014
Accepted: 22 December 2014
Published: 21 January 2015
Abstract
Background
Planarians are an attractive model organism for studying stem cell-based regeneration due to their ability to replace all of their tissues from a population of adult stem cells. The molecular toolkit for planarian studies currently includes the ability to study gene function using RNA interference (RNAi) and observe gene expression via in situ hybridizations. However, there are few antibodies available to visualize protein expression, which would greatly enhance analysis of RNAi experiments as well as allow further characterization of planarian cell populations using immunocytochemistry and other immunological techniques. Thus, additional, easy-to-use, and widely available monoclonal antibodies would be advantageous to study regeneration in planarians.
Results
We have created seven monoclonal antibodies by inoculating mice with formaldehyde-fixed cells isolated from dissociated 3-day regeneration blastemas. These monoclonal antibodies can be used to label muscle fibers, axonal projections in the central and peripheral nervous systems, two populations of intestinal cells, ciliated cells, a subset of neoblast progeny, and discrete cells within the central nervous system as well as the regeneration blastema. We have tested these antibodies using eight variations of a formaldehyde-based fixation protocol and determined reliable protocols for immunolabeling whole planarians with each antibody. We found that labeling efficiency for each antibody varies greatly depending on the addition or removal of tissue processing steps that are used for in situ hybridization or immunolabeling techniques. Our experiments show that a subset of the antibodies can be used alongside markers commonly used in planarian research, including anti-SYNAPSIN and anti-SMEDWI, or following whole-mount in situ hybridization experiments.
Conclusions
The monoclonal antibodies described in this paper will be a valuable resource for planarian research. These antibodies have the potential to be used to better understand planarian biology and to characterize phenotypes following RNAi experiments. In addition, we present alterations to fixation protocols and demonstrate how these changes can increase the labeling efficiencies of antibodies used to stain whole planarians.
Keywords
Planaria
Regeneration
Schmidtea mediterranea
Monoclonal antibodies
Immunostaining
Immunohistochemistry
Background
Planarians, free-living flatworms with an extraordinary ability to regenerate, are regarded as an excellent model system for regenerative studies. These animals possess the ability to regenerate an entire organism from small body fragments from a population of adult stem cells (neoblasts) [1-3]. Recently, single neoblast transplantation experiments demonstrated that a subset of these cells (clonogenic neoblasts) are truly pluripotent and can differentiate into any planarian cell type or tissue lost by amputation, injury, or normal physiological turnover [4].
Planarians have several distinct major organ systems (illustrated in Figure
1
A). They possess a centralized nervous system (CNS), consisting of bi-lobed cephalic ganglia, a brain-like structure located at the anterior end of the animal, connected to two longitudinal ventral nerve cords (VNC) that project posteriorly along the length of the worm [
5
-
7
]. The majority of planarians' light detection is achieved by their photoreceptors, which are rich in photosensitive pigment cells and photoreceptor neurons that are located on the anterior dorsal surface of the head [
8
]. Planarians possess a blind digestive system (also referred to as the gastrovascular system) that consists of a pharynx, through which they ingest food and defecate, connected to three primary intestinal branches that distribute nutrients [
9
-
12
]. They excrete soluble waste and maintain osmoregularity with their protonephridial systems, tubular structures that extend to the exterior of the animals and are analogous to the vertebrate kidney [
13
-
15
]. Thus, we can use planarians to study how defined organ systems are regenerated from adult stem cells.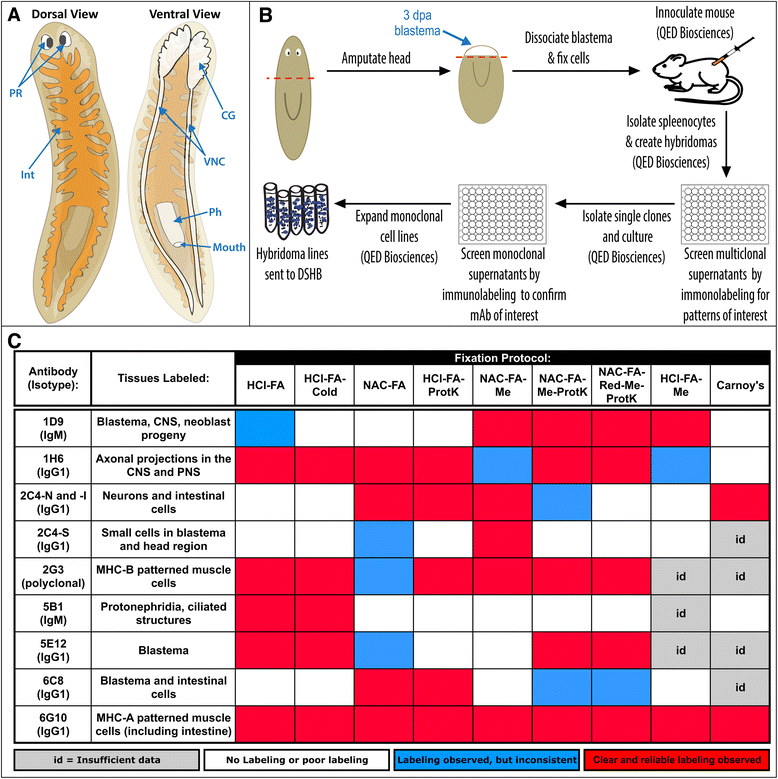 There have been many great advances in the past decade in identifying and optimizing tools to study the molecular basis of planarian regeneration. Gene expression can be inhibited using RNA interference (RNAi), which allows the study of gene function [16]. Genomic sequencing of Schmidtea mediterranea and the availability of multiple transcriptomes combined with custom microarrays or mRNA sequencing have facilitated identification of genes involved in the regeneration of planarian organ systems (recently reviewed in [17]). Whole-mount in situ hybridization protocols have been developed and optimized for the visualization of gene expression in planarians [16,18,19]; this information can be coupled with functional analyses to determine the role specific genes play in tissue regeneration. Further, fluorescent lectins have been utilized to label several cell types in planarians, including secretory cells and the reproductive organs of hermaphroditic strains [20,21]. However, there is a dearth of cell-type and tissue-specific antibodies to examine the effects of experimental manipulation in planarians. Available antibodies known to label tissues in S. mediterranea include a handful of antibodies created against well-conserved antigens in other species, such as anti-Phospho-Tyrosine (used in planarian studies to label the gut and central nervous system) [22,23], anti-Tubulin, which recognizes ciliated epithelium and neurons [24], and anti-Acetylated Tubulin can be used to visualize ciliated structures, including protonephridia [16,25]. Cebrià et al. [6] identified five antibodies (anti-SYNAPSIN, anti-5HT, anti-allatostatin, anti-GYRFamide, and anti-neuropeptide F) that cross-react with neurons in the CNS of S. mediterranea [6]. A small selection of monoclonal and polyclonal antibodies have been created against S. mediterranea antigens such as anti-SMEDWI, which labels planarian stem cells and their progeny [23]. TMUS-13, originally generated against Dugesia tigrina [26], has since been used to label the musculature in S. mediterranea [16], and monoclonal antibodies that recognize plasma membrane proteins on subsets of cells within X-ray sensitive and insensitive populations have also been created [27].
Additional antibodies will be useful to further characterize the cellular diversity found within planarian tissues, to track differentiation of planarian cell types, and to expand our understanding of the distribution and dynamics of tissue repair and replacement following wounding events. Discovery of cell surface markers would allow for sorting of specific cell populations, enabling the analysis of gene expression profiles for defined cell populations like the transcriptional profiles available for the heterogeneous irradiation sensitive populations, X1 (highly enriched for cycling neoblasts) and X2 (enriched for progenitor cells) [28,29]. Finally, it would be advantageous to have additional markers available for analyzing regeneration phenotypes following RNAi experiments.
Here, we report on the generation of monoclonal antibodies that recognize tissues in S. mediterranea. These antibodies were created by inoculating mice with formaldehyde-fixed cells derived from 3-day head blastemas. We tested the utility of these reagents for immunocytochemistry using multiple fixation protocols on intact and regenerating planarians and determined the optimal conditions for each antibody in asexual S. mediterranea. We describe this new set of markers and their staining patterns in muscle, neural structures, ciliated structures (including protonephridia), intestinal cells, and stem cell progeny. These antibodies are currently available to the community through the Developmental Studies Hybridoma Bank (DSHB).
Results and discussion
To generate monoclonal antibodies (mAbs) that label planarian neoblast progeny and differentiated cell populations, we isolated cells from regeneration blastemas. Planarians were amputated pre-pharyngeally, and trunk fragments were allowed to initiate regeneration of a new head. At 3 days post-amputation (dpa), regeneration blastemas were isolated by transverse cutting, dissociated into single cells, fixed with formaldehyde, and used to inoculate mice to create hybridoma lines (see
Methods
and Figure
1
B). We tested supernatants from 576 hybridoma lines by immunostaining intact and regenerating planarians; 236 supernatants were positive for staining in 3 dpa regeneration blastemas, discrete cell populations, or tissues in formaldehyde-fixed planarians. We selected 126 hybridomas for expansion and re-testing. The majority (80%) of these 126 hybridomas were positive for immunostaining in 3 dpa blastemas. Based on the staining patterns, signal and background intensities, 42 lines were chosen for additional expansion and re-screened in planarians, using eight different fixation protocols (Figure
1
C; Additional file
1
). When re-tested, 33 of 42 were positive, and 17 were selected for hybridoma sub-cloning. Seven monoclonal hybridoma cell-lines and one polyclonal antibody were successfully generated (Table
1
). Below, we describe the labeling patterns of these antibodies.
Table 1
Summary of monoclonal antibodies generated from selected hybridoma cell lines
| Parental hybridoma | Clone at DSHB | Isotype | Dilution factor | Concentration of DSHB supernatant tested (μg/ml) | Tissues labeled |
| --- | --- | --- | --- | --- | --- |
| 1D9 | E11 | IgM kappa | 500 | 34 | Blastema, brain primordia, neoblast progeny |
| 1H6 | E9 | IgG1 kappa | 1000 | 54 | Axonal projections in CNS and PNS |
| 2C4 | C2 | IgG1 kappa | 1000 | 26 | Blastema, neurons, intestinal cells, anterior cells |
| 2G3 (polyclonal) | N/A | N/A | Undiluted | N/A | Muscle fibers |
| 5B1 | E6 | IgM kappa | 1000 | 18 | Protonephria, ciliated structures |
| 5E12 | E3 | IgG1 kappa | 1000 | 35 | Blastema |
| 6C8 | A2 | IgG1 kappa | 1000 | 26 | Blastema, intestinal cells |
| 6G10 | 2C7 | IgG1 kappa | 1000 | 59 | Muscle fibers |
Conclusions
We have produced new monoclonal antibodies that can be used to study tissue regeneration, structure, and function in planarians. With the exception of polyclonal Smed-2G3, these antibodies were deposited to the Developmental Studies Hybridoma Bank. We have demonstrated that these antibodies label diverse tissues in planarians and can be useful for examining phenotypes following RNAi. In addition, we determined that the labeling efficiency of antibodies used for whole-mount staining of planarians greatly depends on the fixation protocols. Many of the mAbs that we generated did not display any discernable staining pattern when treated with subsets of the reagents used in the eight formaldehyde fixation protocols we tested (Figure 1C). The observation that most of the antibodies do not work well with Carnoy's fixative is likely due to the fact that these antibodies were generated against cells fixed with formaldehyde. Further optimization of these protocols could prove helpful for future experiments that warrant co-labeling with currently incompatible antibodies.
Future studies will examine the epitopes detected by these mAbs, which could potentially increase their usefulness as markers for phenotypic analysis or other applications. It will be interesting to determine if these antibodies label other species of planarians and the hermaphroditic strain of S. mediterranea. As an initial test, we performed labeling experiments with three of these antibodies (1H6, 2C4, 6G10) in hermaphrodites. As expected, we found that these mAbs produced the same staining patterns observed in the asexual strain, but with limited penetrance throughout the body and increased background signal (data not shown). Additional modifications to the fixation protocols will be necessary to use the mAbs with larger animals as in previous studies [21,40,56]. In conclusion, these antibodies should help to expand the molecular toolkit available for studies using planarians.
Methods
All experiments involving mice were performed at QED Bioscience Inc. (San Diego, CA) in strict accordance with the policies and guidelines of the Public Health Service Policy on Humane Care and Use of Laboratory Animals and the Institutional Animal Care and Use Committee (IACUC) of QED Bioscience Inc. (San Diego, CA). Immunizations were performed in accordance with QED Bioscience's IACUC-approved protocol (SOP #22).
Planarian culture
Asexual Schmidtea mediterranea (CIW4) were maintained in ultrapure water containing either Instant Ocean (Spectrum brands) at 0.21 g/l, 0.83 mM MgSO4, 0.9 mM CaCl2, 0.04 mM KHCO3, and 0.9 mM NaHCO3, or Montjuïc salts as previously described [22]. Unless otherwise noted, planarians 3–5 mm in length that were starved for at least 5 days were used for all experiments.
Dissociation of cells for immunization
Three days prior to the initial amputation, animals were fed to increase cell proliferation [57]. Animals were amputated anterior to the pharynx, and fragments containing the tail were allowed to regenerate for approximately 3 days and then washed in Calcium Magnesium Free media (CMF) [58], followed by a second wash in CMF with 30 μg/ml trypsin inhibitor (CMF+TI [T9253, Sigma]) prior to amputation immediately posterior to the blastema. The blastemas were collected and incubated in CMF+TI at 4°C for 10 minutes. After removing the CMF+TI, blastemas were diced and transferred into a tube with CMF plus 2 U/ml trypsin (T0303, Sigma) and incubated, while rocking, at 4°C for 1–3 hours (triturated every 30–45 minutes with a transfer pipette). Once the tissues neared complete dissociation, the samples were triturated with a 1000 ml micropipette tip. The cell suspension was spun down at 300 × g at 4°C for 5 minutes, and the pellet was re-suspended in CMF and passed through a 50 μm mesh filter. The cell suspension was centrifuged as above and re-suspended in 4% formaldehyde (FA) for 10 minutes at room temperature, after which the cells were centrifuged at 300 × g for 5 minutes and re-suspended in Phosphate Buffered Saline (PBS). Cell counts were performed on a Petroff-Hausser counter to determine cell density.
Mouse immunizations
Five Balb/c mice were injected a total of 5 times over the course of 7 weeks. The initial immunization and first boost contained a mixture of 5 × 105 fixed cells suspended in 250 μl mixed with 250 μl of a propriety adjuvant (QED Bioscience). All subsequent boost injections contained 5 × 105 cells in PBS. Following all injections, one mouse was selected and its spleen was harvested. Blood sera were collected and tested for cross-reactivity to planarian epitopes after each booster administration using FA-fixed planarians. For these tests, planarians were killed in 2% HCl in PBS for 3 minutes followed by a 4 hour incubation at 4°C in 4% FA in PBSTx (PBS + 0.3% Triton X-100) and bleached overnight in a 6% H2O2 solution in PBS. Prior to overnight incubation in blood sera, the worms were blocked for 4 hours in PBSTB (PBSTx + 1% Bovine Serum Albumin [Jackson ImmunoResearch Laboratories]). After extensive washing with PBSTx, worms were blocked again for 1 hour in PBSTB and incubated in Alexa Fluor 488 goat-anti-mouse IgG (1:400 in PBSTB, [A11029, Life Technologies]) overnight at 4°C and then washed again with PBSTx the next day.
Hybridoma screen and antibody production
At QED Bioscience Inc. (San Diego, CA), spleenocytes from the immunized mice were fused with myeloma cells, Species F0 or P3X63Ag8U.1. The resulting hybridomas were expanded and screened to generate a library of polyclonal parental hybridomas. From these parental lines, further expansion and screening allowed generation of monoclonal hybridoma lines producing antibody. Cells were cultured in high glucose-DMEM with sodium pyruvate, supplemented with 2% L-glutamine, 10% FBS and 1% penicillin-streptomycin. For selected monoclonal lines, additional purification of the antibody was carried out. In vitro production was performed for the following antibodies: 1D9, 1H6, 2C4, 5E12, and 6G10. The 1D9 and 2C4 antibodies were affinity purified. After the initial testing, the monoclonal cell lines were submitted to the DSHB.
Immunostaining
For all images shown, we performed labeling experiments with at least three worms and visualized similar staining patterns using an optimal fixation protocol for each antibody (see Additional file 1 and summary in Figure 1C) unless variations were made for co-labeling experiments (described below). Fixations for whole-mount immunostaining were optimized using eight modifications to a formaldehyde fixation protocol developed for in situ hybridizations [19]. Briefly, animals were killed in either cold 2% HCl or 5% N-acetyl cysteine in PBS for 5 minutes. Animals were then fixed for either 15 minutes at room temperature or 6 hours at 4°C in 4% FA in PBSTx. To enhance possible presentation of epitopes, some protocols added a reducing step (50 mM DTT, 1% NP-40, 0.5% SDS for 5 to 10 minutes at 37°C). Animals were bleached overnight in 6% H2O2 diluted either in PBSTx (aqueous) or methanol (anhydrous after stepping through 50% methanol) under direct light. The next morning, if bleaching was performed in methanol, animals were re-introduced into PBSTx through a 50% methanol intermediate and washed with PBSTx. Some protocols included a Proteinase K treatment (2 μg/ml Proteinase K, 0.1% SDS in PBSTx for 10 minutes at room temperature) followed by a post-fix step in 4% FA for 10 minutes at room temperature. Animals were washed twice with PBSTx before blocking for 4 hours at room temperature in PBSTB. Hybridoma supernatant was either added directly to the samples or diluted in PBSTB and incubated overnight at 4°C. The following day, animals were washed extensively with PBSTx, then blocked in PBSTB for 1 hour before an overnight incubation at 4°C in either goat-anti-mouse IgG+IgM-horse radish peroxidase (HRP) (1:1000 [Life Technologies]) or goat-anti-mouse IgG-HRP (1:1000 [Life Technologies]) in PBSTB. The following day, animals were washed extensively and then incubated in FITC-tyramide (1:1000 in PBSTI [PBSTx + 10 mM imidazole]) for 30 minutes and developed in FITC-tyramide in PBSTI containing 0.015% H2O2 for 5 minutes. Alternatively, animals were developed as previously described [18], with the following modifications: animals were incubated for 5 minutes at room temperature in 0.1 M borate buffer, pH 8.5, with 0.1% Tween-20 and then for 10 minutes at room temperature in 0.1 M borate buffer, pH 8.5, with 0.1% Tween-20, 0.003% H2O2, 2% dextran sulfate, 1:250 FITC-tyramide. An additional 0.003% H2O2 was added and incubated for 10 minutes at room temperature. Animals were then washed extensively with PBSTx. Where indicated in the Results section, worms were counterstained with DAPI (0.05 μg/ml) by including it with the secondary antibody incubation step or subsequent overnight incubation at 4°C.
Double-immunostaining experiments
Immunostaining was carried out as described above, except for the following modifications. To double label planarians with 1H6 and 6G10, the antibodies were detected using either Zenon Alexa Fluor 488, 568, or Zenon HRP IgG1 Labeling Kits (Z-25002, Z-25006, Z-25054, Life Technologies). The ratios of the antibody, kit component A, and kit component B used were 2:1:1; samples were incubated according to manufacturer's instructions. Labeled antibodies were then diluted to 1:250 in PBSTB. Double-labeling with 2C4 and 6C8 was performed as described above for 2C4; then TSA signaling was quenched with 10 μg/ml Proteinase K in PBSTx with 0.1% SDS for 10 minutes at room temperature. Animals were post-fixed in 4% FA for 10 minutes at room temperature, followed by another quenching step performed in 1% H2O2 (diluted in PBSTx) for 1 hour at room temperature. Following quenching, worms were rinsed and 6C8 labeling proceeded as described above.
Another modified fix was used to label planarians with anti-Acetylated Tubulin (1:1000 [clone 6-11B-1, Sigma]). Incubation times were shortened to 3 minutes in HCl for the initial kill and 2 hours at 4°C for the FA fixation. Animals were bleached and stained as described above for 5B1 antibody. After development, animals were quenched in Proteinase K and washed, blocked, and incubated in anti-Acetylated Tubulin (1:1000 [Sigma]) overnight at 4°C. The following day, worms were washed extensively and incubated overnight at 4°C in goat-anti-mouse AlexaFluor 568 (1:400 in PBSTB, [A11031, Life Technologies]) followed by additional washes.
For co-labelings with anti-SYNAPSIN (1:400 3C10, DSHB), fixations and bleaching were aqueous and had no Proteinase K treatment. SYNAPSIN labeling was always performed first using goat-anti-mouse AlexaFluor488 secondary antibodies. Following anti-SYNAPSIN labeling, samples were quenched with the Proteinase K and post-fix (as described above) before washing, blocking, and proceeding with immunostainings using the monoclonal antibodies.
Two anti-rabbit primary antibodies were used: anti-CRMP2 (1:50 [9393, Cell Signaling]) and anti-SMEDWI-1 (1:1000 [a kind gift from P. Reddien]); both were visualized with the goat-anti-rabbit Alexa Fluor 568 secondary antibodies. These were combined with the anti-mouse monoclonal primaries during the initial incubation. The secondary antibodies were also combined for incubation; development proceeded as described above.
Co-labeling experiments with Fluorescein labeled wheat germ agglutinin (WGA) or Rhodamine labeled Lens culinaris agglutinin (LCA) (Vector Labs) [20] were performed on intact planarians killed in N-acetyl cysteine and fixed in FA (as described in Additional file 1) with the following change: for LCA co-labeling, worms were incubated with either 6C8 or 2C4 at 1:100 dilution and subsequently labeled with goat anti-mouse AF488 at 1:500. Following secondary labeling, the worms were re-blocked for 1 hour in PBSTx with 0.6% BSA and 0.45% fish gelatin (PBSTB+FG) and incubated with WGA ([1 μg/ml [FL-1021, Vector Laboratories, Inc.]) or LCA (5 μg/ml [RL-1042, Vector Laboratories, Inc.]) and diluted in PBSTB+FG overnight at 4°C.
Fluorescent in situ hybridization
Riboprobes were synthesized as previously described [19]. Animals were processed using a protocol developed for in situ hybridization [18]. Some modifications were made to the protocol: MABTw (Maleic Acid Buffer + 0.1% Tween-20) was used instead of TNTx for washes, and peroxidase inactivation for double-labeling was performed with 1% H2O2 in PBSTx for 1 hour instead of azide solution. After peroxidase-inactivation, animals were washed in PBSTx extensively, blocked in PBSTB for 1 hour at room temperature, and then incubated in the antibody overnight. Immunostaining proceeded as described above.
Imaging
Single channel whole animal images were acquired with an Axiocam MRm camera mounted on a Zeiss SteREO Lumar.V12 stereomicroscope equipped with a NeoLumar S 1.5X objective running AxioVision v4.8. Higher magnification images and the whole animal image in Figure 3B were obtained on either a Zeiss Axio Observer.Z1 inverted microscope using an ApoTome for optical sectioning running AxioVision v4.8 or on a Carl Zeiss LSM710 confocal microscope running ZEN 2011 or 2012. Objectives used on the Axio Observer.Z1 were: 40 × 1.3 NA oil immersion objective, 20 × 0.8 NA objective, and 10 × 0.3 NA objective. Objectives used on the LSM710 were: 40 × 1.2 NA water immersion objective, 20 × 0.8 NA objective, or 10 × 0.3 NA objective. Images were processed in Adobe Photoshop CS4, CS6, or ImageJ 1.47f to normalize levels, color, and brightness. 3D reconstruction images were performed using ZEN 2012 software with a Z-stack containing 48 sections at 1 μm intervals.
Cell size measurements
For cell size measurements of 2C4-labeled cells, maximum intensity projections of 20–36 × 0.54 μm slices were collected for analysis in ImageJ. The thickest diameter across the cell body was measured. A minimum of 58 cells was counted from 9 animals for each cell type analyzed.
RNA interference
Animals were fed bacterially-expressed gfp or Smed-slit [55] double stranded RNA, as previously described [52], 8 times over a 2.5 week period. One day following the final RNAi feeding, animals were bisected along the sagittal plane and allowed to regenerate for 15 days before fixation.
Abbreviations
CMF:

Calcium magnesium free media
CMF+TI:

Calcium magnesium free media plus trypsin inhibitor
CNS:

Central nervous system
DMEM:

Dulbecco's modified Eagle's medium
dpa:

Days post-amputation
DSHB:

Developmental Studies Hybridoma Bank
DTT:

Dithiothreitol
FA:

Formaldehyde
FBS:

Fetal bovine serum
FISH:

Fluorescent in situ hybridization
gpas :

G protein α-subunit
HRP:

Horseradish peroxidase
LCA:

Lens culinaris agglutinin
mAb:

Monoclonal antibody
MHC:

Myosin heavy chain
NP-40:

Nonidet P-40
PBS:

Phosphate buffered saline
PBSTB:

Phosphate buffered saline plus Triton X-100 and BSA
PBSTB+FG:

Phosphate buffered saline plus Triton X-100, BSA, and fish gelatin
PBSTx:

Phosphate buffered saline + Triton-X 100
pc-2 :

Prohormone convertase 2
PNS:

Peripheral nervous system
RNAi:

RNA interference
SDS:

Sodium dodecyl sulfate
T:

Trypsin
TI:

Trypsin inhibitor
VNC:

Ventral nerve cords
WGA:

Wheat germ agglutinin
Declarations
Acknowledgements
We thank Ionit Iberkleid and Joi Weeks for helpful comments on the manuscript; David Forsthoefel for helpful discussions about this project and sharing unpublished results; Zayas laboratory members for insights and discussions on this work; Eileen Skaletsky and Mary Sumner from QED Bioscience, Inc., for advice and antibody production services; Peter Reddien for his kind gift of the anti-SMEDWI antibody; and Phil Newmark in whose laboratory Ryan King performed experiments with Smed-5B1. We thank Karla Daniels and Brian Berger for their assistance with the submission of hybridoma lines to the DSHB; for the final tests described here, the monoclonal antibody supernatants were obtained from the DSHB, created by the NICHD and maintained at The University of Iowa, Department of Biology, Iowa City, IA 52242. This work was supported by California Institute for Regenerative Medicine Grant RN2-00940-1 to RMZ.
Authors' Affiliations
(1)
Department of Biology, San Diego State University, San Diego, USA
(2)
Howard Hughes Medical Institute, Department of Cell and Developmental Biology, University of Illinois at Urbana-Champaign, Urbana, USA
(3)
Present address: Department of Biological Sciences, Southern Illinois University Edwardsville, Edwardsville, USA
(4)
Present address: Department of Biology, St. Norbert College, De Pere, USA
Copyright
© Ross et al.; licensee BioMed Central. 2015
This is an Open Access article distributed under the terms of the Creative Commons Attribution License (http://creativecommons.org/licenses/by/4.0), which permits unrestricted use, distribution, and reproduction in any medium, provided the original work is properly credited. The Creative Commons Public Domain Dedication waiver (http://creativecommons.org/publicdomain/zero/1.0/) applies to the data made available in this article, unless otherwise stated.