Research article
Open Access
Identification of known and novel pancreas genes expressed downstream of Nkx2.2 during development
BMC Developmental Biology
2009
9:65
Received: 27 May 2009
Accepted: 10 December 2009
Published: 10 December 2009
Abstract
Background
The homeodomain containing transcription factor Nkx2.2 is essential for the differentiation of pancreatic endocrine cells. Deletion of Nkx2.2 in mice leads to misspecification of islet cell types; insulin-expressing β cells and glucagon-expressing α cells are replaced by ghrelin-expressing cells. Additional studies have suggested that Nkx2.2 functions both as a transcriptional repressor and activator to regulate islet cell formation and function. To identify genes that are potentially regulated by Nkx2.2 during the major wave of endocrine and exocrine cell differentiation, we assessed gene expression changes that occur in the absence of Nkx2.2 at the onset of the secondary transition in the developing pancreas.
Results
Microarray analysis identified 80 genes that were differentially expressed in e12.5 and/or e13.5 Nkx2.2-/- embryos. Some of these genes encode transcription factors that have been previously identified in the pancreas, clarifying the position of Nkx2.2 within the islet transcriptional regulatory pathway. We also identified signaling factors and transmembrane proteins that function downstream of Nkx2.2, including several that have not previously been described in the pancreas. Interestingly, a number of known exocrine genes are also misexpressed in the Nkx2.2-/- pancreas.
Conclusions
Expression profiling of Nkx2.2-/- mice during embryogenesis has allowed us to identify known and novel pancreatic genes that function downstream of Nkx2.2 to regulate pancreas development. Several of the newly identified signaling factors and transmembrane proteins may function to influence islet cell fate decisions. These studies have also revealed a novel function for Nkx2.2 in maintaining appropriate exocrine gene expression. Most importantly, Nkx2.2 appears to function within a complex regulatory loop with Ngn3 at a key endocrine differentiation step.
Keywords
Islet CellExocrine CellSecondary TransitionPancreas DevelopmentPancreatic Progenitor
Background
The pancreas is a multifunctional organ that is critical for maintaining glucose homeostasis and for producing many of the enzymes required for digestion of carbohydrates, lipids and proteins. To carry out these diverse functions, the pancreas contains three major tissue types: the exocrine acinar cells, the endocrine cells that comprise the islet of Langerhans, and the ductal epithelial cells. Although each of these pancreatic components performs unique functions, all are derived from a defined set of endodermally-derived progenitors [1]. Subsequent pancreatic morphogenesis and differentiation of these progenitor populations is dependent on the concerted action of multiple transcriptional regulators. Early during pancreatic bud evagination, Pancreatic duodenal homeobox 1 (Pdx1) and Pancreatic transcription factor 1a (Ptf1a) are co-expressed in the pancreatic progenitor population [1, 2]. Ptf1a, a basic helix-loop-helix (bHLH) transcription factor, becomes restricted to the exocrine cell population, where it is essential for exocrine cell formation and function [2, 3]. Pdx1 expression is maintained throughout the early pancreatic epithelium and becomes mostly restricted to β and δ cells after the secondary transition, although low levels of Pdx1 persist in some acinar cells into adulthood [4–6]. Pdx1 has distinct functions at each developmental stage and in each of the cell types where it is expressed, and itself is critically dependent on the winged helix transcription factors Foxa1 and Foxa2 [7–9]. Ngn3, a bHLH transcription factor, is required downstream of Pdx1 to activate the endocrine differentiation program [10–13]. Further islet cell fate determination in the Ngn3+ cells then depends on a number of additional transcription factors including Pdx1, Nkx2.2, Pax4, Pax6, Isl1, NeuroD1, Arx, and Nkx6.1, each of which has been identified and characterized through genetic deletion or overexpression studies [14–19]. These and other transcription factors are then necessary for appropriate neogenesis, differentiation, and maturation of the five islet cell types (recently reviewed in [5, 20–22]).
Although much is known about the identity, expression and function of many of the intrinsic regulatory proteins involved in pancreatic development and differentiation, the identification of downstream targets of these transcription factors to mediate these developmental events has proven to be more challenging. In efforts to identify downstream functional players during pancreagenesis, multiple groups have determined pancreatic gene expression profiles of wild type and transcription factor knockout models, including Pdx1, Ngn3, NeuroD1, and FoxA2 [23–30]. Alternatively, temporal comparisons between transcription factor positive cell populations, such as Pdx1+ or Ngn3+ [31, 32], by microarray analysis have also uncovered important downstream factors. Here we present the first study comparing gene expression alterations between wild type and Nkx2.2-/- mouse pancreata at e12.5 and e13.5, the stages marking the onset of the secondary transition when the major wave of islet cell type specification events occur for both endocrine and exocrine pancreas.
Nkx2.2 is a homeodomain containing transcription factor critical for endocrine pancreas specification [19]. Prior to e15.5, the pancreas of Nkx2.2-/- mice appears overtly normal and contains wild type numbers of undifferentiated Pdx1+ pancreatic epithelium and Ngn3+ endocrine progenitor cells [12, 19, 33]. As development proceeds, the Nkx2.2-/- mice form the normal numbers of total endocrine and exocrine cells; however, within the endocrine compartment all β cells, most α cells and a subset of PP cells fail to differentiate and are replaced by a ghrelin-producing cell population, which persists to comprise the majority of a misshapen islet. Nkx2.2-/- mice die within days after birth with severe hyperglycemia [19, 34]. Nkx2.2 expression is initiated at e8.75 in the dorsal pancreas and e9.5 in the ventral pancreas, shortly after the activation of Pdx1 in each anlage [5]. High level Nkx2.2 expression subsequently becomes restricted to the centralized epithelium at e11.5, where it is upregulated in a large number of the Ngn3+ endocrine progenitor cells [5, 12]. Cells expressing low levels of Nkx2.2 are also apparent throughout the undifferentiated pancreatic epithelial population until after the secondary transition [5]. Multiple in vitro and in vivo studies suggest that Nkx2.2 mediates early islet cell fate decisions by functioning both as a transcriptional repressor and activator, depending on temporal and cellular context [35–39]. To date, however, MafA and insulin (Ins2) are the only two verified direct targets identified downstream of Nkx2.2 in the pancreas [35, 38]. MafA and Ins2 both represent mature β cell genes; the molecular mechanisms by which Nkx2.2 controls early endocrine specification remain largely unknown. In an effort to identify downstream direct and indirect targets of Nkx2.2 that promote or inhibit appropriate islet cell differentiation, we performed microarray analyses at e12.5 and e13.5 during pancreas development. This analysis has resulted in the identification and characterization of expression differences for several known and previously uncharacterized pancreatic genes. These studies clarify the position of Nkx2.2 within the known transcription factor network that regulates islet specification. Furthermore, we have identified a novel role for Nkx2.2 in the regulation of several exocrine-specific genes, suggesting that Nkx2.2 may also function to influence gene expression in the early Pdx1+ Ptf1a+ pancreatic progenitor cell.
Conclusion
Although the Nkx2.2
-/-
mice display a severe islet cell misspecification phenotype, our microarray studies identified very few altered transcription factor changes that contribute to these changes during the secondary transition. What the global gene expression profiling suggests, however, is that Nkx2.2 plays a predominant role in regulating islet cell fate choices within the Ngn3 regulatory circuit. Nkx2.2 is not likely to function upstream of this regulatory junction, since the loss of Nkx2.2 does not affect the expression of Pdx1, Ptfl1a or Sox9 (Figure
1
and data not shown). We do, however, demonstrate that Ngn3 and its functional partners, Myt1 and NeuroD1, all have reduced expression in Nkx2.2
-/-
mice. The reduction of Myt1 and NeuroD1 may be secondary to the reduction of Ngn3; however, there are several lines of evidence to suggest that the regulatory and functional inter-relationships between these proteins are more complex, as summarized in Figure
5
. It has been demonstrated that Nkx2.2 expression is reduced in Ngn3
-/-
mice indicating that these proteins function in a feedback loop [
5
]. Furthermore, Myt1 expression is decreased in Ngn3
-/-
mice, but Myt1 has also been shown to induce Ngn3 activation, and Myt1 and Ngn3 apparently cooperate in their regulation of islet differentiation [
40
,
41
]. Additional studies have demonstrated that ectopic expression of NeuroD1 activates Nkx2.2 and it has been suggested that Ngn3 and Nkx2.2 autoregulate their own transcription [
80
]. These complex regulatory interactions are likely necessary to fine tune this critical juncture in islet cell specification. Precise regulation of the expression levels and activity of each of these essential factors may be necessary for the appropriate initiation of the critical developmental events that function downstream of the Ngn3 progenitor, including the regulation and co-regulation of downstream targets, such as MafB, Isl1 and Etv1. Rather than the simple linear regulatory pathway that is often invoked, an intricate web of feedback and feedforward regulation must be necessary to induce appropriate islet cell specification.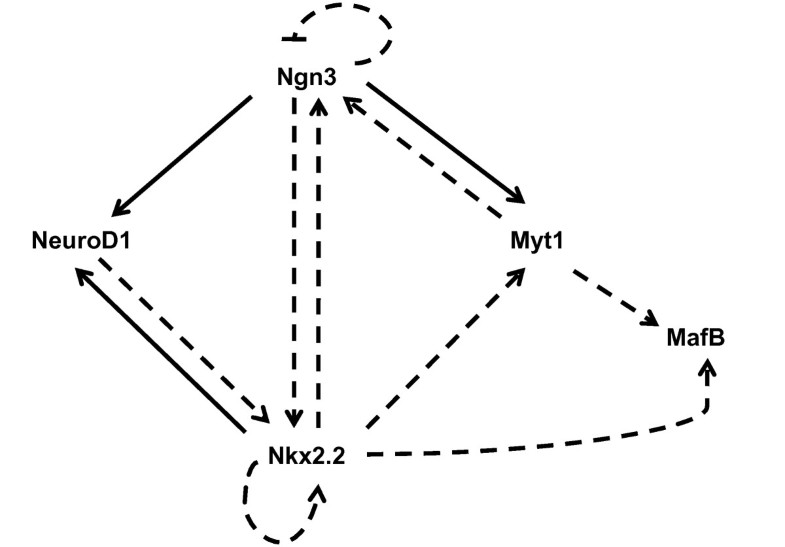 In this study, we have identified several known and novel secreted and transmembrane proteins that may function downstream of Nkx2.2 to mediate differentiation events. Transmembrane proteins such as Tm4sf4 or signaling molecules such as nephrocan may function in or on the endocrine progenitor cells to translate the cell's intrinsic signals to the environment or vice versa. The identification and characterization of transmembrane and secreted molecules that influence islet cell formation will provide critical information about the extrinsic signals that are necessary to manipulate pancreatic development and cell differentiation. In support of this, a recent study demonstrated the tetraspanin Tm4sf3 mediates fusion of the dorsal and ventral buds, as well as acinar cell differentiation during Xenopus pancreatic development [81].
Finally, these studies demonstrate for the first time that Nkx2.2 indirectly or directly regulates the expression of several exocrine genes. The functional impact caused by misregulation of these exocrine genes is not clear; however, it suggests that Nkx2.2 also plays a minor role in non-endocrine lineages. It is possible that the regulation of exocrine gene expression occurs in the "Nkx2.2 low" expressing cells that are present in the Pdx1+, Ngn3- pancreatic progenitors [5]. This is similar to the finding that deletion of Nkx6.1, a β cell transcription factor that is co-expressed with Nkx2.2 in the early pancreatic epithelium, transiently upregulates the expression of the exocrine factor Nkx6.2 in Pdx1+ pancreatic progenitor cells [82]. Misregulation of additional exocrine genes was not reported in the Henseleit study. However, we have determined that Nkx6.2 is also upregulated in the Nkx2.2-/- pancreas (data not shown; note: Nkx6.2 was not present on PancChip6.1).
In summary, the results of our comparative expression analysis of Nkx2.2-/- and wild type pancreata begins to illustrate the cell type specific requirements for Nkx2.2 in the regulation of endocrine and exocrine gene expression and will ultimately help to dissect out the molecular functions of Nkx2.2 in regulating important pancreatic cell fate decisions.
Methods
Mice
Nkx2.2+/- heterozygous mice were previously generated by homologous recombination [19] and were maintained on a Swiss Black (Taconic) background. Genotyping of mice and embryos was performed by PCR analysis as previously described [19, 42]. Mice were housed and treated according to Columbia University and UCDHSC IACUC approval protocols.
RNA isolation
Nkx2.2+/- heterozygous males and females were mated and plugged in order to know specific embryonic stage. An n = 5 for e12.5 and e13.5 pancreata was collected for each experimental group (wt and Nkx2.2-/-). Pancreata were dissected from embryos and stored in RNAlater (Ambion/ABI, TX) at 4°C until genotyping could be completed. Once genotyped, two pancreata were pooled for each e12.5 experimental group and the following numbers of wild type and Nkx2.2-/- pancreata were pooled for e13.5 experimental groups: n1 = 5wt, 6ko; n2 = 4wt, 5ko; n3 = 4wt, 7ko; n4 = 4wt, 6ko; n5 = 3wt, 3ko. For each pooled set, RNA was isolated using an RNeasy Micro Kit (Qiagen, CA) without the DNase incubation step. The concentration of the RNA samples was determined using the NanoDrop® ND-1000 UV-Vis Spectrophotometer. RNA samples were analyzed using an Agilent 2100 Bioanalyzer Lab-On-A-Chip Agilent 6000 Series II chip to determine the integrity of the samples. The RNA was of high quality with an RNA integrity number > 8.
RNA Amplification, Labeling, and Hybridization
For e12.5 RNA, approximately 200 ng of total RNA was amplified using the MessageAmpTM II aRNA Amplification Kit (Ambion/ABI, TX). After amplification 2.5 μg of aRNA was indirectly labeled using amino-allyl dUTP and anchored oligo(d)T prime reverse transcription. For e13.5 RNA, approximately 50 ng of total RNA was amplified using the Ovation™ Aminoallyl RNA Amplification and Labeling System (Nugen Inc, CA). The amplification process resulted in a yield of 6-10 μg of amplified cDNA, which was purified using the QIAquick PCR Purification Kit (Qiagen, CA) and then eluted in coupling buffer (0.1 M Sodium Bicarbonate, pH 9). 2 μg of each cDNA was coupled with the appropriate Cy3 or Cy5 fluorescent label (Cy™ Dye, Amersham Pharmacia Biotech Ltd, NJ), combined and purified using the MinElute PCR Purification Kit (Qiagen, CA). After coupling, the Cy3 and Cy5 samples were combined and purified using the MinElute PCR Purification Kit (Qiagen, CA). After purification, 2.5 μg of Mouse Cot1 DNA (Invitrogen Life Technologies) and 2.5 μg Oligo-dT were added to each sample and denatured at 95°C for 5 min. The samples were then cooled to 42°C and an equal volume of 2× hybridization buffer (50% formamide, 10× SSC, and 0.2% SDS) was added, mixed, and applied to the Mouse PancChip 6.1 cDNA microarray slide.
Microarray
The Mouse PancChip 6 contains 13,059 mouse cDNAs chosen for their expression in various stages of pancreatic development, many of which are not found on commercially available arrays [83]. Stringent quality control measures resulted in the sequence verification of all probes on the array. The results are presented as downloadable gene lists, available at: https://www.cbil.upenn.edu/RADQuerier/php/displayStudy.php?study_id=3061
Scanning and Image Analysis
Microarray slides were hybridized overnight, then washed and scanned with an Agilent G2565BA Microarray Scanner. Images were analyzed with GenePix 5.0 software (Axon Instruments). Median foreground intensities were obtained for each spot and imported into the mathematical software package "R", which was used for all data input, diagnostic plots, normalization and quality checking steps of the analysis process using scripts developed in-house by PW. The ratio of expression for each element on the array was calculated in terms of M (log2(Red/Green)) and A ((log2(Red) + log2(Green))/2)). The dataset was filtered to remove positive control elements (Cy3 anchors and SpotReport elements) and any elements that had been manually flagged as bad. The M values were then normalized by the print tip loess method using the "marray" microarray processing package in "R". Statistical analysis was performed in "R" using both the LIMMA and SAM packages. For the e12.5 study, 4 out of the 5 hybridizations passed quality control specifications and were subsequently used for analysis. For the e13.5 study all 5 hybridizations were analyzed.
Quantitative Real-Time PCR
Total RNA was harvested from e12.5, e13.5, e15.5, and e18.5 whole pancreata using the RNeasy Micro or Mini Kit (Qiagen). Experimental n = 3 for each embryonic age. For each age group 1 μg total RNA was converted to cDNA using the Superscript III Kit (Invitrogen). qRTPCR was performed using custom primers and SYBR green (Applied Biosystems) or Taqman (Applied Biosystems) primer and probe sets. Refer to Additional File 3: Table S2 for all primer/probe sets used. Gene of interest relative mRNA expression levels were determined by using the standard curve method (User Bulletin #2, ABI Prism 7700 Sequence Detection System, Applied Biosystems) for each sample and was subsequently normalized to relative Cyclophilin B mRNA levels. All qRTPCR single-plex reactions were performed on an ABI PRISM 7000 Sequence Detection System.
In situhybridization
RNA in situ hybridization was performed as previously described [34] on e12.5, e14.5, and e17.5 whole embryo frozen 8 μm sections that were fixed overnight with 4% paraformaldehyde. The following cDNA clones were ordered from Open Biosystems: Adra2a (EMM1002-22629), Ela1 (MMM1013-65444), MafB (MMM1013-7514203), Myt1 (MMM1013-9334659), Spink3 (EMM1002-6296766), Tmem27 (MMM1013-9200171), Tm4sf4 (MMM1013-65619). Nepn cDNA was cloned from isolated kidney total RNA with the following primers: forward 5'-GCAATGCACCCGCTTTGGGCTTTTC, reverse 5'-ATCTATTTCATAATCGTCATCGTCGTC. The cDNA clones encoding full-length Nkx2.2 and Ngn3 were described previously [19, 84]. cDNA plasmids were linearized and in situ antisense probes were transcribed with the following restriction enzymes and polymerases: Adra2a (EcoRI, T7), Ela1 (EcoRI, T7), MafB (EcoRI, T7), Myt1 (SalI, T3), Nepn (XhoI, Sp6), Ngn3 (BamHI, T7), Nkx2.2 (NotI, T7), Spink3 (EcoRI, Sp6), Tmem27 (EcoRI, T7), and Tm4sf4 (SmaI, T7). Sense probes were also tested for each gene without any evidence of non-specific staining. In situ hybridizations were performed on wild type and Nkx2.2-/- littermate embryos. Pictures were acquired on a Leica CTR 5000 with 20× magnification.
Immunofluorescence
Immunofluorescence was performed on e12.5, e14.5, and e17.5 whole embryo frozen 8 μm sections that were fixed overnight with 4% paraformaldehyde. Rabbit α-Elastase1 antibody (Abcam, ab21593) was used at 1:1000. Rabbit α-ghrelin (Phoenix Pharmaceuticals, CA) was used at 1:200. Rabbit α-Tmem27 (M. Stoffel, ETH Zurich) was used at 1:200. Rabbit a-MafB (Bethyl Laboratories, TX) was used at 1:1000. Donkey a-rabbit-Cy5 or α-rabbit-Cy2 (Jackson ImmunoResearch, PA) were used at 1:300. DAPI (Invitrogen, CA) was used at 1:1000 and incubated for 30 min. Confocal images were taken on a Zeiss META LSM 510.
Declarations
Acknowledgements
We are greatly indebted to Dr. Lee Niswander for the use of her confocal microscope and allowing KRA to work in her lab space. We thank Dr. Markus Stoffel for providing the Tmem27 antibody, Angela D. Minic for her assistance with the RNA in situs, and Randall Wong and the UCHSC Barbara Davis Center DERC Molecular Core for the use of the ABI real-time PCR machine. We thank members of the Sussel lab for critical reading of the manuscript. This work was supported by ADA RRG, JDRF RRG 1-2009-188, NIH U01 DK072504 and the Naomi Berrie Diabetes Center (L.S.). A Collaborative Bridging Project, NIH beta-cell biology consortium grant (5U01DK072473) provided support to LS, KRA and KHK. We also acknowledge support of the Columbia DERC histology core.
Authors' Affiliations
(1)
Department of Biochemistry and Program in Molecular Biology, University of Colorado Health Science Center, Denver, USA
(2)
Department of Genetics and Development, Columbia University, New York, USA
(3)
Department of Genetics and Institute for Diabetes, Obesity and Metabolism, University of Pennsylvania, Philadelphia, USA
(4)
The Research Institute at Nationwide Children's Hospital, Columbus, USA
Copyright
© Anderson et al; licensee BioMed Central Ltd. 2009
This article is published under license to BioMed Central Ltd. This is an Open Access article distributed under the terms of the Creative Commons Attribution License (http://creativecommons.org/licenses/by/2.0), which permits unrestricted use, distribution, and reproduction in any medium, provided the original work is properly cited.