Research article

Open Access
Regeneration of the radial nerve cord in the sea cucumber Holothuria glaberrima
José E San Miguel-Ruiz

1,

Angel R Maldonado-Soto

1 and

José E García-Arrarás

1

Email author
BMC Developmental Biology
2009
9:3
Received: 17 June 2008
Accepted: 06 January 2009
Published: 06 January 2009
Abstract
Background
Regeneration of neurons and fibers in the mammalian spinal cord has not been plausible, even though extensive studies have been made to understand the restrictive factors involved. New experimental models and strategies are necessary to determine how new nerve cells are generated and how fibers regrow and connect with their targets in adult animals. Non-vertebrate deuterostomes might provide some answers to these questions. Echinoderms, with their amazing regenerative capacities could serve as model systems; however, very few studies have been done to study the regeneration of their nervous system.
Results
We have studied nerve cord regeneration in the echinoderm Holothuria glaberrima. These are sea cucumbers or holothurians members of the class Holothuroidea. One radial nerve cord, part of the echinoderm CNS, was completely transected using a scalpel blade. Animals were allowed to heal for up to four weeks (2, 6, 12, 20, and 28 days post-injury) before sacrificed. Tissues were sectioned in a cryostat and changes in the radial nerve cord were analyzed using classical dyes and immmuohistochemistry. In addition, the temporal and spatial distribution of cell proliferation and apoptosis was assayed using BrdU incorporation and the TUNEL assay, respectively.
We found that H. glaberrima can regenerate its radial nerve cord within a month following transection. The regenerated cord looks amazingly similar in overall morphology and cellular composition to the uninjured cord. The cellular events associated to radial cord regeneration include: (1) outgrowth of nerve fibers from the injured radial cord stumps, (2) intense cellular division in the cord stumps and in the regenerating radial nerve cords, (3) high levels of apoptosis in the RNC adjacent to the injury and within the regenerating cord and (4) an increase in the number of spherule-containing cells. These events are similar to those that occur in other body wall tissues during wound healing and during regeneration of the intestine.
Conclusion
Our data indicate that holothurians are capable of rapid and complete regeneration of the main component of their CNS. Regeneration involves both the outgrowth of nerve fibers and the formation of neurons. Moreover, the cellular events employed during regeneration are similar to those involved in other regenerative processes, namely wound healing and intestinal regeneration. Thus, holothurians should be viewed as an alternative model where many of the questions regarding nervous system regeneration in deuterostomes could be answered.
Keywords
Body Wall
Injury Site
Nerve Cord
Central Nervous System Injury
Nerve Stump
Background
Post-traumatic nervous regeneration is a rarely seen phenomenon in the central nervous system (CNS) of adult higher vertebrate animals. Organisms with CNS injuries can suffer the loss of motor activity and sensory perception and, as a result, develop limitations or disabilities. Some animal species, on the other hand, are capable of functional regeneration after an injury to their CNS. In these cases, severed neuronal fibers can find their targets through axonal path finding and neurogenesis can be activated. Efforts in different fields have generated a large amount of information as to what directs or limits the potential of neuronal cells to achieve proper functional regeneration. However, continued research and new approaches are still needed before we fully understand what governs the dynamics of injured nervous tissues and its regeneration.
One of the approaches that have been used to study nerve regeneration is the comparative analysis to determine the differences between those species that readily regenerate their CNS and those where regeneration is more limited [1–4]. The regeneration capabilities of the CNS have been said to decrease as we move higher in the phylogenetic tree [4, 5]. Thus, relatively simple organisms such as Hydra and Planaria, can regenerate their neuronal network after amputation of a body part [6]. Similarly, studies with mollusks and annelids (including leeches) have shown that they are capable of regeneration after a crush-type injury to one of the CNS tracts [5]. However, the assumption that organisms in the lower phylogenetic scale are more able to regenerate their nervous system is not always true. This is highlighted by the fact that crustaceans, as well as two of the most studied invertebrate model animals, C. elegans and Drosophila, show limited CNS regeneration [5, 7, 8].
Among deuterosotomes, most of the studies on CNS regeneration have been done on the spinal cord of vertebrates. Here again, organisms can be grouped into good regenerators and poor regenerators. Among the former are lampreys, fishes, and urodele amphibians, the latter include most amphibians, reptiles, birds and mammals [4, 9–11]. Some fish species have served as models to study axonal regeneration in the CNS of vertebrates, as these animals are capable of functional regeneration after a CNS injury [2, 11, 12]. Urodeles are among the most gifted to regenerate their CNS; following an injury they can regenerate a spinal cord with some functional recovery at any recovery time during their life cycle [3, 13, 14]. Other amphibians are also capable of regrowing spinal nerves after amputation of the tail, but only in an immature state [15, 16]. Even though these models have provided detailed descriptions of the problems and limitations that neuronal tissues must overcome before functional regeneration, still a great deal of basic knowledge is missing to understand how this phenomenon could be regulated and neuronal regeneration enhanced.
CNS regeneration has been little studied in lower deuterostomes. In ascidians, the regeneration of the neural complex has been shown to occur after complete ablation [17, 18], but no study of nerve transection or partial injury is available. There is no information on CNS regeneration in hemichordates or cephalochordates. In echinoderms, organisms with an amazing regenerative capacity, a few publications provide some information on CNS regeneration, mainly describing what occurs following arm amputation in asteroids and crinoids [19–22]. However, these experiments provide a brief description of nerve regeneration that is part of an overall description of how the new arm forms or focus on some specific processes such as cell proliferation during regeneration. Only recently has a study on CNS regeneration in echinoderms been done, but it is limited to transmission electron microscopy [23]. Our work confirms some of their findings and greatly expands the analysis of CNS regeneration in echinoderms.
In this study we use the sea cucumber Holothuria glaberrima to study nervous system regeneration. H. glaberrima, is an echinoderm of the class Holothuroidea, and as such, is an invertebrate deuterostome, placing this organism in close evolutionary relationship with vertebrates. Moreover, these organisms have been known for a long time to possess tremendous capabilities to functionally regenerate most of their organs and tissues in a very short time [24, 25]. We have previously used this model system to study intestinal regeneration [26], the regeneration of the enteric nervous system [27] and the wound healing of the body wall [28].
The holothurian CNS main component is an anterior nerve ring, at the base of the tentacles, from which 5 radial nerve cords (RNCs) exit and travel within the bodywall, spanning the length of the animal and ending blindly at the posterior end [
24
,
29
,
30
]. RNCs are subdivided into two components, the ectoneural (EN) or hyponeural (HN) band which are separated by a band of connective tissue (see Fig.
1A
). In general terms the HN component is thought to be primarily motor, while the EN has both sensory and motor functions. RNCs are ganglionated nerves, meaning that they have neurons throughout their length. The neurons can be found in the periphery of both HN and EN components with the central portion, or neuropile, made up of nerve fibers. Innervation of organs occurs by peripheral nerves that emerge from the RNCs. We have developed a technique that allows for an accurate injury to be made to the RNC and are now able to study the regenerative potential of the holothurian CNS. We report here that following transection, re-construction of the nerve stumps occurs by 12 dpi, as a result of axonal growth; afterwards the RNC goes through a remodeling phase to achieve its original morphology. Other events associated with tissue development and regeneration were also observed, including cell division, migration and apoptosis. With this work we set the foundations for further studies on nervous regeneration by showing that this animal model carries out the two most important processes for CNS regeneration, explicitly neurogenesis and axonal pathfinding. More importantly, these occur as a natural response to the injury, allowing for future characterization of a permissive environment for possible therapy-related studies.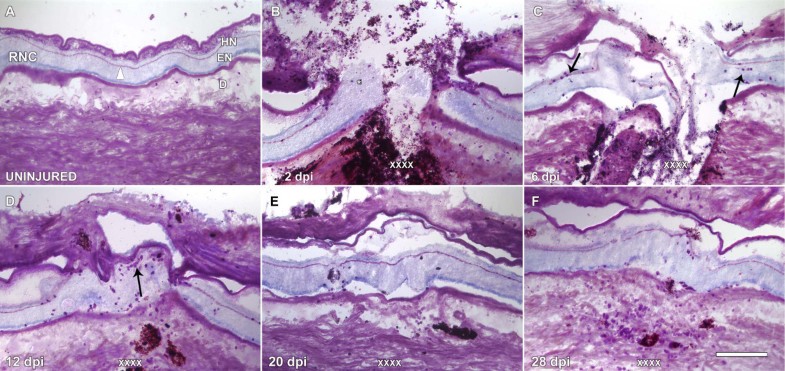 Methods
Animals
Holothuria glaberrima specimens, 10–16 cm long, were collected from the northeastern rocky shores of Puerto Rico and kept in an aquarium at 22–24°C with circulating seawater and constant oxygenation. All experiments conform to the regulations on animal research at the University of Puerto Rico.
Surgical procedures
The technique used to injure the RNC has been described elsewhere [28]. Briefly, evisceration was induced by intracoelomic injection of 0.35 M KCl (3–5 ml). One hour following evisceration, animals were anesthetized by placing them for 10 min in 0.1% 1,1,1-Trichloro-2-methyl-2-propanol hydrate (chlorobutanol) diluted in seawater. Severing of the RNC was done by pushing the dorsal bodywall through the cloaca with a blunt rod, thus exposing the coelomic surface of the bodywall. A transection-type injury was made perpendicularly to the nerve using a scalpel, after which animals were reverted to their normal orientation and returned to their aquarium. By transecting the radial nerve from the inside we could obtain a reliable injury to the RNC with minimal damage to the surrounding tissues. Control animals were taken through the same protocol, except that no transection was made.
Tissue harvesting and Histology
During the regeneration period, animals were sacrificed at different days post-injury (2, 6, 12, 20, and 28 dpi). Animals were anesthetized with chlorobutanol as before, slit open and pinned to a dissecting tray. Initially, they were directly fixed within the tray with 4% paraformaldehyde for 30 min and then the nerve-muscle complex, along with the bodywall, was excised. The tissue block was refixed overnight, washed in PBS and left in 30% sucrose until used.
Tissue blocks were embedded in OCT (Tissue Tek OCT; Miles Inc.), frozen at -35°C and longitudinally sectioned (20 μm) in a cryostat (Leica CM 1900). Sections were mounted on poly-L-lysine coated slides, left to dry for 1 hr at room temperature and stored in a dry chamber until needed. Since the RNCs are localized within the body wall, the tissue sections contained the regenerating RNC, the proximal regions that were 0.5 mm from the injury site, and the distal regions that were approximately 5 mm away.
Histological analyses
Chemical Dyes – Toluidine blue
To obtain a comprehensive view of the temporal modifications that the RNCs go through after an injury, longitudinal tissue sections were stained with toluidine blue, as described by Presnell and Schreibman [31]. In brief, sections were rinsed in PBS for 2 min, and then immersed in dye solution for 2 min. They were then rinsed with tap water, mounted in PBS-buffered glycerol and viewed under the microscope. Occasionally, staining was also done on tissue sections previously processed for immunohistochemistry (see below).
Morphometric analysis
To evaluate changes in the RNCs following injury, tissue sections stained with toluidine blue were studied under light microscopy and the shortest distance between nerve stumps of injured animals was recorded. At least ten tissue sections were measured per animal and three to five animals were used for each stage. Sections were examined and photographed using a Nikon E600 microscope. Images were collected digitally with an RT Color Spot camera (Diagnostic Inst. Inc.) with 1520 × 1080 pixel resolution, and analyzed using the MetaVue software (version 6.0; Universal Imaging, Inc.) and Image J (version 1.37;NIH, USA).
Immunohistochemistry
Protocols for the immunohistochemical procedures performed for this study have been described elsewhere [28]. Tissue sections were permeabilized with 0.5% Triton X-100 in PBS, blocked with goat serum (1:50), and incubated at room temp overnight with the corresponding primary antibody: α-Bromodeoxyuridine (BrdU, 1:5, Amersham), Sph2 supernatant [32], α-GFSKLYFamide (α-GFS, 1:1000, [33]), α-Galanin (1:500, [34]), α-Nurr1 (1:1000, Sigma) or RN1 (1:50,000, [35]) in a humid chamber. The following day, sections were rinsed in PBS and treated with the FITC-labeled goat-anti-mouse secondary antibody (1:50, BioSource Int.). When double labeling was performed, the Cy3-labeled goat-anti-rabbit antibody (1:2,000) was used along with the FITC labeled antibody. Sections were rinsed again in PBS and mounted in buffered glycerol. Double or triple labeling with Hoechst nuclear dye (Sigma) was done by immersing slides in 1 μM Hoescht for 15 min after the secondary antibody [28]. Sections were examined and photographed using the Nikon E600 microscope equipped with FITC, R/DII and DAPI filters. Images were recorded using the MetaVue software as mentioned previously.
Cell counts
Various cellular populations were labeled and quantified. These include (1) the overall number of cells within the RNC using Hoescht nuclear dye, (2) spherulocytes, cells that contained a large number of spherules within their cytoplasm and were labeled with monoclonal antibody Sph2, (see [32]), (3) morulas, cells that also contain vesicles or spherules and that are strongly stained with Toluidine blue (see [32]), (4) neuropeptide-containing neurons labeled with anti-GFS and (5) a neuronal population labeled with an antibody against the transcription factor NURR1. The number of cells was quantified by counting labeled cells in a 280 mm2 area of the longitudinal RNC (this is the equivalent of the microscope field of view-FOW using the 40× objective). In order to be counted, cells had to be within the nerve or in close apposition with the somas in the nerve periphery, or with the fibers that had exited the nerve stumps. Cell counts were done in two fields of view chosen at random for each corresponding area in every animal and in at least five animals per regeneration stage.
TUNEL assay
The TUNEL method was used to label apoptotic cells within the RNC. For this purpose we used the TdT-FragEl DNA Fragmentation Detection kit (Calbiochem QIA33) and followed the manufacturer specifications with only minor modifications. Tissue sections were washed for 3 min in PBS to remove the embedding medium; afterwards they were refixed in 4% formaldehyde (diluted in 1× PBS) and washed in TBS for 15 min. Tissue sections were permeabilized with 50 μl proteinase K (5 μg/ml) for 15 min and then washed in TBS. Prior to labeling apoptotic cells, tissue sections were bathed with 1× TdT Equilibration Buffer (80 μl per section) for 30 min. For the labeling reaction, 60 μl of the mixture (57 μl Labeling Reaction Mix: 3 μl TdT enzyme) were applied to each section and incubated for 1 hr at room temperature. Slides were then washed 2× for 2 min in TBS, counterstained with the nuclear dye Hoescht for 10 min, washed for 5 min in TBS, and mounted with phosphate buffered glycerol.
Proliferation Assays
Pulse-chase experiments
Incorporation of BrdU into cell nuclei was used to study the spatio-temporal distribution of proliferating cells in regenerating animals. Animals were injected intracoelomically at 2, 6, 12, 20 and 28 dpi with 100 μl of a 1 mg/ml BrdU solution (approximately 0.01 mg/g wet weight) and sacrificed 24 hrs after. Tissues were fixed and treated as described above for immunohistochemistry. Cells undergoing replication were identified with an antibody against BrdU (Amersham). Prior to the incubation with the antibody, tissue sections were bathed with 0.05 N HCl for 1 h. This was done to improve the accessibility of the antibody to the BrdU epitope, followed by an additional 15 min PBS wash. Cell division index was obtained by dividing the number of BrdU-positive cells against the total number of Hoescht-labeled nuclei within a longitudinal section of the RNC in the microscope field of view. At least two measurements of corresponding areas chosen at random from each of at least five different animals were used for each stage.
Cellular birth-dating
To determine if dividing cells were giving rise to the neurons in the regenerating RNC, we injected animals with BrdU every other day for a period of 6 days (4 BrdU injections per animal in each group). There were a total of 6 groups: 0–6, 8–14, 16–22, 24–30, 32–38, and 40–46 dpi; all animals were sacrificed at 62 dpi. The rationale behind the multiple and consecutive doses of BrdU stems from the assumption that new neurons do not differentiate immediately after the division, but that a dividing neuronal precursor will not necessarily express the neuronal markers after the last division. Multiple injections were thought to be necessary to assure that at least some cells were caught at the time of division. Sections of RNCs from the various groups were double labeled against BrdU and markers for different subpopulations (GFS, Galanin, Nurr1) to establish the date of birth of the neurons that were repopulating the new RNC tissue.
Statistical Analyses
Student's t test and ANOVA's were used for statistical analyses. P values of < 0.05 were deemed to be significant.
Declarations
Acknowledgements
The authors would like to thank Dr. V. Mashanov for helpful comments on the manuscript. Funded by NSF (IBN-0110692), NIH-MBRS (S06GM08102), NIH-1SC1GM084770-01), and the University of Puerto Rico. JSMR and ARMS are fellows of the NIH-MARC Program.
Authors' Affiliations
(1)
Department of Biology, University of Puerto Rico, Rio Piedras, Puerto Rico
Copyright
© San Miguel-Ruiz et al; licensee BioMed Central Ltd. 2009
This article is published under license to BioMed Central Ltd. This is an Open Access article distributed under the terms of the Creative Commons Attribution License (http://creativecommons.org/licenses/by/2.0), which permits unrestricted use, distribution, and reproduction in any medium, provided the original work is properly cited.