Research article
Open Access
Metabolomic insights into system-wide coordination of vertebrate metamorphosis
BMC Developmental Biology
2014
14:5
Received: 26 November 2013
Accepted: 3 February 2014
Published: 5 February 2014
Abstract
Background
After completion of embryogenesis, many organisms experience an additional obligatory developmental transition to attain a substantially different juvenile or adult form. During anuran metamorphosis, the aquatic tadpole undergoes drastic morphological changes and remodelling of tissues and organs to become a froglet. Thyroid hormones are required to initiate the process, but the mechanism whereby the many requisite changes are coordinated between organs and tissues is poorly understood. Metabolites are often highly conserved biomolecules between species and are the closest reflection of phenotype. Due to the extensive distribution of blood throughout the organism, examination of the metabolites contained therein provides a system-wide overview of the coordinated changes experienced during metamorphosis. We performed an untargeted metabolomic analysis on serum samples from naturally-metamorphosing Rana catesbeiana from tadpoles to froglets using ultraperformance liquid chromatography coupled to a mass spectrometer. Total and aqueous metabolite extracts were obtained from each serum sample to select for nonpolar and polar metabolites, respectively, and selected metabolites were validated by running authentic compounds.
Results
The majority of the detected metabolites (74%) showed statistically significant abundance changes (padj < 0.001) between metamorphic stages. We observed extensive remodelling of five core metabolic pathways: arginine and purine/pyrimidine, cysteine/methionine, sphingolipid, and eicosanoid metabolism and the urea cycle, and found evidence for a major role for lipids during this postembryonic process. Metabolites traditionally linked to human disease states were found to have biological linkages to the system-wide changes occuring during the events leading up to overt morphological change.
Conclusions
To our knowledge, this is the first wide-scale metabolomic study of vertebrate metamorphosis identifying fundamental pathways involved in the coordination of this important developmental process and paves the way for metabolomic studies on other metamorphic systems including fish and insects.
Keywords
Postembryonic developmentThyroid hormoneMetamorphosisMetabolitesSerumUltra-performance liquid chromatographyQuadrupole time-of-flightMass spectrometryVertebrate
Background
After embryogenesis, many organisms experience obligatory developmental transitions to successfully move from one ecological niche to another. One such transition is through metamorphosis in which an immature larva transforms into a juvenile or adult scarcely resembling the initial form. Classic examples occur in vertebrates and invertebrates alike, and often require the involvement of hormone signaling systems. However, a fundamental question in biology remains in understanding how a fully-differentiated organism coordinates the many tissue- and organ-system changes during the metamorphic process [1, 2].
Frog tadpoles undergo significant morphological changes, resulting in the development of limbs, resorption of the tail, and a shift from gill to lungs in respiratory organs used, hence a shift from purely aquatic to a semi-terrestrial lifestyle and a change in diet. This extensive process involves apoptosis, cell proliferation, and reprogramming and highlights the complexity, tight regulation, and interconnection of biological networks and pathways.
Despite such complexity, anuran metamorphosis is initiated solely by thyroid hormones (THs) and this important postembryonic developmental period can be divided into three specific stages: premetamorphosis, prometamorphosis and metamorphic climax, characterized in part by TH status [2]. Premetamorphosis is the period after embryogenesis in which free-living tadpoles increase in size in the absence of THs. During prometamorphosis, endogenous TH levels start to increase, causing morphological changes such as the growth of the hind limbs. Metamorphic climax is characterized by the highest level of THs and drastic morphological changes including the complete resorption of the tail and the formation of a stomach.
Metabolomics is the comprehensive analysis of the whole metabolome (metabolite profiles) under a given set of conditions [3] and is a burgeoning field that has started to play a crucial role in systems biology and personalized medicine [4, 5]. Metabolomics differs from other "omics" tools in many ways. The metabolome directly represents the phenotype unlike the genome, transcriptome or proteome, the dynamic range is much wider, and the metabolome is far more chemically heterogeneous and complex, thereby producing large, complex datasets that require rigorous computational and statistical analyses [6, 7]. Despite these challenges, the direct link of the metabolome to the phenotype is an advantage because genomic or transcriptomic changes may or may not affect the protein level, and proteomic changes may or may not affect metabolites [8].
To our knowledge, no comprehensive metabolomic study has yet been conducted on metamorphosis [9]. We applied a global, mass spectrometry (MS)-based metabolomics approach, using ultra-performance liquid chromatography (UPLC) coupled to a quadrupole time-of-flight (Q-TOF) mass spectrometer, to identify metabolites in serum samples from Rana catesbeiana (North American bullfrogs) at different postembryonic developmental stages: from tadpoles to froglets. Serum was the tissue of choice to provide an overall view of the dynamic changes experienced by the frog tadpole and enable the identification of metabolites involved in the coordination of metamorphic processes throughout the tadpole. R. catesbeiana were used in the present study because of their large size enabling the analysis of serum from individual animals, their world-wide distribution and availability, and their genetic diversity and life history resemble that of humans more closely than other laboratory frog species [9, 10]. In fact, anuran metamorphosis is developmentally equivalent to postembryonic organogenesis in mammals [11]. Both systems share considerable similarities in general processes (cell proliferation, differentiation, and apoptosis), biochemical and molecular events (a switch from fetal/larval to adult hemoglobin in red blood cells, skin keratinization, and urea cycle enzyme induction) and, most strikingly, the developmental progression of structures and functions in the central and peripheral nervous system [2, 11].
We show herein that substantial fluctuations in metabolite abundance and extensive remodelling in metabolic pathways occur during R. catesbeiana metamorphosis. In particular, we observed metabolites with a significant abundance change in urea cycle, arginine and nucleotide, cysteine/methionine and lipid metabolism pathways suggesting prominent roles of these pathways in the coordination of the metamorphic process.
Results and discussion
To discover metabolites with differential abundance patterns and to investigate the developmental changes in the metabolic pathways of R. catesbeiana during metamorphosis, R. catesbeiana tadpoles were divided into seven different developmental stage ranges based on Taylor and Kollros [12] (TK) stages: VI–X, XII–XV, XVI–XVII, XVIII, XIX–XX, XXI–XXII, and > XXV. Twelve samples, each from an individual animal, were prepared for each range, yielding 84 samples in total. Serum samples from these tadpoles were obtained by dissection, and to gain a comprehensive overview of the profile of metabolites, two types of extracts were prepared for the subsequent MS analyses: "total" (ca. 90% acetonitrile) extracts favoring nonpolar metabolites (using reversed-phase chromatography) and aqueous extracts for polar metabolites (using hydrophilic interaction liquid chromatography). Total extracts were prepared by complete deproteinization of serum samples. For aqueous extracts, liquid-liquid-extraction was performed after deproteination, and the aqueous layer was used. UPLC-MS data acquisition was performed in both electrospray ionization (ESI) positive and negative mode, producing four different datasets: total extract ESI-(+) (Tot+), total extract ESI-(–) (Tot-), aqueous extract ESI-(+) (Aqu+) and aqueous extract ESI-(–) (Aqu-). After preprocessing of the raw UPLC-MS data, major peaks were detected and integrated. These peak area values represented the abundance of metabolites and were used for data analysis. To detect differentially-produced metabolites, the Kruskal-Wallis test was performed, and the p-values were corrected by controlling the false discovery rate (FDR). As a stringent criterion, a significance level of 0.001 was used. To tentatively assign structures to these metabolites, the metabolite masses were searched using MassTRIX database search software as described in the Materials and Methods. The identities (IDs) of selected metabolites were confirmed by running authentic standards and by comparing their masses, chromatograms, MS spectra, and retention times.
Conclusions
Using a validated metabolomics approach, we were able to identify key metabolites and metabolic pathways - arginine and purine/pyrimidine, cysteine/methionine, sphingolipid, and eicosanoid metabolism and the urea cycle - that are significantly remodelled during bullfrog metamorphosis. Of particular note is the prominent role of lipids providing a new mechanistic avenue in the control of this important postembryonic developmental process. Since metamorphosis is hormonally-controlled, the discoveries herein draw attention to systems that present as strong candidates for TH-mediated coordination of organism remodelling.
Methods
Animals and serum collection
R. catesbeiana tadpoles used in the present study were caught locally and were maintained in accordance with the guidelines of the Canadian Council on Animal Care and the University of Victoria (Permit # 2010-030). Euthanasia was performed using buffered tricaine methanesulfonate (MS-222) (Syndel Laboratories Ltd., Vancouver, Canada) at either 0.1% (w/v) for tadpoles or 1% (w/v) for froglets. The solutions contained 25 mM of sodium bicarbonate and were freshly prepared in dechlorinated tap water immediately before use. Animals were individually staged according to TK staging [12]. To obtain blood, a deep, vertical incision was made on the tail musculature close to the abdomen using a sharp razor blade. Blood was collected using a pipettor and transferred to a microcentrifuge tube. The blood was allowed to coagulate for 15 min at room temperature and then centrifuged at 4°C at 16,000 × g for 10 min. The serum was separated from the cell pellet, flash frozen in liquid nitrogen and stored at -80°C until further processing.
Seven different TK stage ranges were used in the present study: VI–X, XII–XV, XVI–XVII, XVIII, XIX–XX, XXI–XXII, and > XXV. For each TK stage range, 12 biological replicates were obtained, hence there were 84 samples in total. Because the volumes of three of the serum samples obtained from metamorphs at TK XXI–XXII were insufficient, these samples were not tested, and the number of biological replicates for stage TK XXI–XXII was 9. Therefore, a total of 81 serum samples were analyzed in the present study.
"Total" metabolite extraction
To reduce the possibility of systematic error, the samples were processed in a randomized order. Twenty-five μL of serum from each tadpole were mixed with 25 μL of water in a 0.65 mL-microcentrifuge tube, and 500 μL of acetonitrile was added. The tube was vortexed vigorously and then placed on ice for 30 min to completely precipitate proteins. Following centrifugation at 4°C at 12,000 × g for 10 min, 500 μL of the supernatant were transferred to a V-tapered sample vial and then dried in a Savant SPD1010 SpeedVac concentrator (Thermo Electron, Milford, MA, USA). The residues were reconstituted in 40 μL of 20% isopropanol, of which 7.5 μL were injected for each UPLC-mass spectrometry (UPLC-MS) run.
Liquid-liquid extraction of polar (aqueous) metabolites
Fifty μL of each tadpole serum sample were mixed with 500 μL of methanol in a 1.5-mL Eppendorf tube. After 15 s × 2 vortex-mixing, the tube was placed on ice for 30 min and centrifuged as above. Following centrifugation, 500 μL of the supernatant were transferred to a 1.5-mL Eppendorf tube and mixed with 175 μL of water and 350 μL of chloroform. Following a brief vortexing, the tube was centrifuged at 4°C at 12,000 × g for 10 min to separate the whole phase into aqueous (upper) and organic (lower) phases. Five hundred μL of the aqueous phase were carefully transferred to a V-tapered sample vial and dried in the same SpeedVac concentrator. The residue was reconstituted in 50 μL of 90% acetonitrile and 5 μL were injected for UPLC-MS.
UPLC-MS
All data files were acquired on an Acquity UPLC system coupled to a Synapt Q-TOF mass spectrometer (Waters, Milford, MA, USA). UPLC-MS was performed using two columns: a Waters BEH C18 (2.1 mm I.D. × 100 mm, 1.7 μm) column for the total metabolite extracts and a Waters BEH Amide (2.1 mm I.D. × 100 mm, 1.7 μm) column for the separation of very polar metabolites. On the C18 column, a binary solvent gradient elution was used to chromatograph the metabolites with 0.01% formic acid in water as mobile phase solvent A and isopropanol-acetonitrile (1:1, v/v) containing 0.01% formic acid as mobile phase solvent B. Column temperature was kept at 45°C, and the flow rate was 0.25 mL/min. The binary gradient was from 8% to 40% solvent B in 5 min, 40% to 100% solvent B in 17 min, and then 100% solvent B for 3 min. The column was re-equilibrated with 8% solvent B for 5 min before the next injection. With the Waters Amide column, a binary solvent gradient elution was used to separate the metabolites with acetonitrile containing 0.01% formic acid as solvent A of the mobile phase and 0.01% formic acid in water as solvent B of the mobile phase. Column temperature was 30°C, and the flow rate was 0.25 mL/min. The binary gradient was 10% to 70% solvent B in 12 min, 70% solvent B for 2 min and then the column was reconditioned with 10% solvent B for 6 min before the next injection.
The eluted metabolites were ionized by electrospray ionization (ESI) and detected in both the positive and negative ion modes over the mass range m/z 100-1000. This resulted in 4 UPLC-MS datasets per sample (i.e., 4 UPLC-MS runs per sample were carried out): total extract ESI(+)(Tot+), total extract ESI(–)(Tot-), aqueous extract ESI(+)(Aqu+), and aqueous extract ESI(–)(Aqu-). The typical ESI-MS parameters included an ESI spray voltage of 3-3.2 kV, desolvation gas (N2) flow of 750-800 L/h, a temperature of 350°C, drying gas (N2) flow of 50 L/h and temperature of 130°C, sampling cone voltage of 35 V, extraction cone voltage of 4 V, and data acquisition rate of 0.25 s. The background argon gas in the collision cell was kept at 0.8 mL/min. A lock-mass spray (50 pg/μL leucine enkephaline in 60% isopropanol at 5 μL/min) was employed to ensure the mass accuracy of the TOF throughout the UPLC-MS runs.
Data preprocessing
Raw UPLC-MS data were converted to the netCDF files using the Waters Databridge translation utility. The resulting data files from each dataset were then processed using the XCMS package [81], an R package which performs non-linear correction of retention time (RT) shifts. Peak detection and integration was performed using the centWave algorithm [82]. RT shift correction was achieved considering at least 200 peak groups. After two iterations of peak grouping, peak filling was done using the "fillPeaks" routine of the XCMS package. Finally, a data matrix was generated from each UPLC-MS dataset and exported into Microsoft Excel. After removal of the significant background noise signals observed in each UPLC-MS blank run and manual de-isotoping, the individual data matrices were saved as two-dimensional (m/z-RT pair vs. peak area) data tables amenable to subsequent statistical analyses.
Statistical analysis
All statistical analyses were performed using the R programming language [
83
]. The data analysis work flow is presented in Figure
14
. The peak area values in the datasets were log
2
transformed to reduce variance and to make the skewed distributions of the data more symmetric. One sample from the Tot
-
set produced poor signal for most metabolites and was removed from the analysis. Box plots were made for all metabolites, and the abundance pattern of each graph was inspected thoroughly. The patterns of the graphs were classified into one of thirteen categories that consistently appeared (Table
3
). To identify metabolites with differential abundance patterns at different TK stages, the Kruskal-Wallis test was performed for each metabolite under the null hypothesis of the same median log
2
peak integration values across all the TK stages. The Kruskal-Wallis test assumes that the distributions of data for each metabolite at different TK stages have identical shapes, implying that these distributions have equivalent variances. Violation of this constant variance assumption results in inaccurate
p-
values, hence unreliable results. To prevent this, each metabolite was tested for equal variance using Levene's test using a median as the central location parameter of a distribution. The
p-
values obtained after Levene's test were adjusted for multiple comparisons by controlling the FDR as proposed by Benjamini and Hochberg [
84
]. After the adjustment, metabolites with
p
adj
<0.01 were determined to have significantly different variances, and these metabolites were separated prior to the Kruskal-Wallis test. After performing the Kruskal-Wallis test, the
p-
values were adjusted by controlling the FDR using the method by Benjamini and Hochberg [
84
], and metabolites showing highly statistically significant abundance changes (
p
adj
<0.001) were chosen for further database search. PCA was performed to display the relationship between TK staging and the abundance profiles of significant metabolites. For a data matrix,
n
×
p
where
n
 = samples (tadpoles) and
p
 = significant metabolites, PCA was performed by centering the data matrix by column-wise medians and then singular value decomposition of the median-centered data matrix. Scaling was not performed because of the wide range of metabolic abundance changes.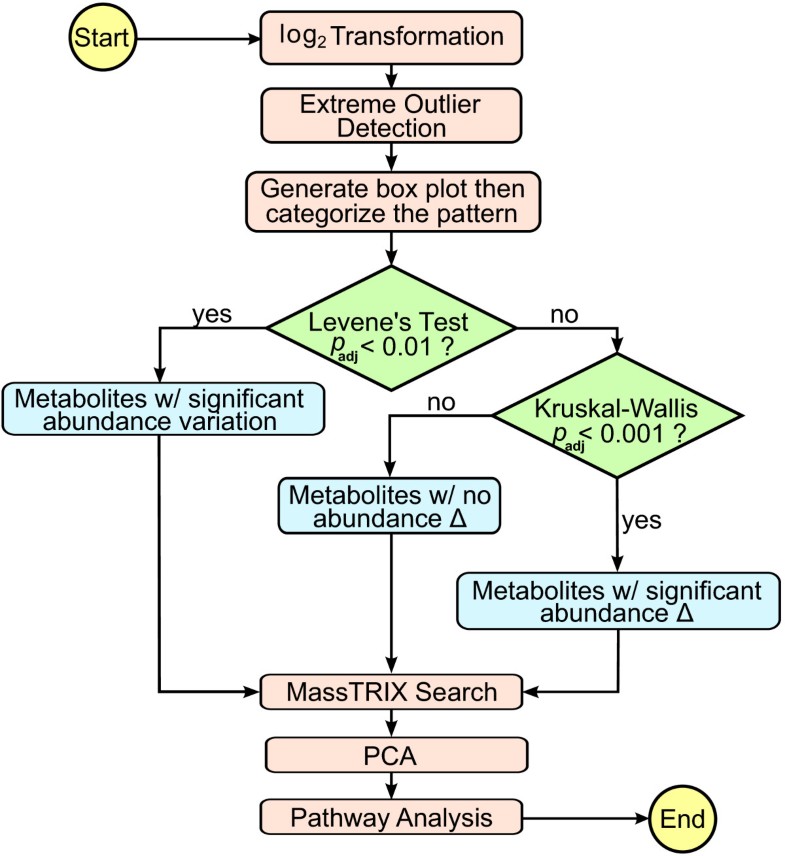 Database search, identification of metabolites and pathway construction
The metabolite features whose abundance profiles showed significant heteroscedacity at a certain TK stage or significant abundance changes were searched against the MassTRIX ver. 3 webserver [85] (http://masstrix3.helmholtz-muenchen.de/masstrix3/). For the ESI+ generated datasets (Tot+ and Aqu+), [M + H]+ and [M + Na]+ were selected as possible adducts while [M-H]- was chosen as a possibility for the ESI- generated data (Tot- and Aqu-). The allowable mass error was set to 0.02 Da, and KEGG/HMDB/LIPID MAPS [86–88] without isotopes was selected as the database. Because Rana catesbeiana was not available as a choice of organism, Homo sapiens was chosen due to the completeness of the database and the similarities in genetic diversity and metabolomic systems. In the optional pathway analysis field, 90 different KEGG pathway IDs were pasted in order to obtain a comprehensive coverage of the possible locations of the metabolites in metabolic pathways. These pathways included the citric acid cycle, fatty acid synthesis, steroid hormone biosynthesis, amino acid metabolism and degradation, etc. When there were multiple hits for the possible IDs of one metabolite, the most likely ID was inferred based on the chemical profile of the metabolite (retention time, ESI mode, existence of similar metabolites, etc.). We focused only on those masses with only one possible ID or where all but one ID had been eliminated by chemical profile evaluation. Using the KEGG pathway maps in which the locations of query metabolites were highlighted, we connected and constructed metabolic pathway maps. For each metabolite, the integration values at the indicated TK stage ranges were compared to the values at the premetamorphic stage as a control, using the nonparametric multiple comparison procedure for unbalanced one-way factorial design proposed by Gao et al.[89]. The p-values were FDR-corrected, and a significance level of 0.05 was used.
Validation of selected metabolites
Authentic compounds for the selected metabolites were obtained as shown in Table 2. These compounds were prepared and diluted to a final concentration of 10 μg/mL in 20% isopropanol for the metabolites observed in total extracts and 90% acetonitrile for the metabolites observed in aqueous extract. The standards were run and analyzed under the same conditions as described in the UPLC-MS section.
Abbreviations
C1P:

Ceramide 1-phosphate
CB1:

Cannabinoid type 1
ESI:

Electrospray ionization
FDR:

False discovery rate
HETE:

Hydroxyeicosatetraenoic acid
HHH:

Hyperammonemia, hyperornithinemia, homocitrullinuria
HPETE:

Hydroperoxyeicosatetraenoic acid
ID:

Identities
L-DOPA:

L-3,4-dihydroxyphenylalanine
LT:

Leukotriene
MS:

Mass spectrometry
NADA:

N-arachidonoyldopamine
NMDA:

N-methyl-D-aspartate
NO:

Nitric oxide
PCA:

Principal components analysis
PG:

Prostaglandin
PRL:

Prolactin
PS:

Phosphatidyl serine
Q-TOF:

Quadrupole time-of-flight
R.:

Rana
RT:

Retention time
S1P:

Sphingosine 1-phosphate
SAH:

S-adenosylhomocysteine
SAM:

S-adenosylmethionine
TH:

Thyroid hormone
TG:

Triglyceride
TK:

Taylor Kollros
TR:

Thyroid hormone receptor
TRPV1:

Transient receptor potential vanilloid type 1
UPLC:

Ultra-performance liquid chromatography.
Declarations
Funding
We would like to thank Linghong Lu for helpful discussions. This work was funded by a Natural Sciences and Engineering Research Council (NSERC) Discovery grant to CH. TI was recipient of a UVic undergraduate research award. The MS analysis was performed at the University of Victoria - Genome BC Proteomics Centre, which is supported by the Genome Canada-funded "The Metabolomics Innovation Centre (TMIC)" for metabolomics research, and funding from Genome Canada and Genome British Columbia through the "Science and Technology Innovation Centre (S&TIC)". The funders had no role in study design, data collection and analysis, decision to publish, or preparation of the manuscript.
Authors' Affiliations
(1)
Department of Biochemistry and Microbiology, University of Victoria, Victoria, Canada
(2)
University of Victoria – Genome British Columbia Proteomics Centre, Victoria, Canada
(3)
Department of Mathematics and Statistics, University of Victoria, Victoria, Canada
Copyright
© Ichu et al.; licensee BioMed Central Ltd. 2014
This article is published under license to BioMed Central Ltd. This is an Open Access article distributed under the terms of the Creative Commons Attribution License (http://creativecommons.org/licenses/by/2.0), which permits unrestricted use, distribution, and reproduction in any medium, provided the original work is properly cited. The Creative Commons Public Domain Dedication waiver (http://creativecommons.org/publicdomain/zero/1.0/) applies to the data made available in this article, unless otherwise stated.