Research article

Open Access
Progesterone-induced changes in the phosphoryl potential during the meiotic divisions in amphibian oocytes: Role of Na/K-ATPase
BMC Developmental Biology
2011
11:67
Received: 8 August 2011
Accepted: 6 November 2011
Published: 6 November 2011
Abstract
Background
Progesterone triggers resumption of the first meiotic division in the Rana pipiens oocyte by binding to the N-terminal external loop of the catalytic subunit of Na/K-ATPase, releasing a cascade of lipid second messengers. This is followed by internalization of specific membrane proteins, plasma membrane depolarization and nuclear membrane breakdown, culminating in arrest at second metaphase.
Results
Progesterone initiates an increase in phosphoryl potential during the first meiotic division, resulting in the accumulation of high energy protein phosphate by second metaphase arrest. 31P-NMR, with saturation transfer, demonstrates that the phosphocreatine level rises ~2 fold and that the "pseudo" first order rate constant for the creatine kinase reaction falls to ~20% of the control by the onset of nuclear membrane breakdown. 32PO4 pulse-labeling reveals a net increase in phosphorylation of yolk protein phosvitin during this period. The increased yolk protein phosphorylation coincides with internalization of membrane Na/K-ATPase and membrane depolarizatio
Conclusions
These results indicate that progesterone binding to the catalytic subunit of the Na-pump diverts ATP from cation regulation at the plasma membrane to storage of high energy phosphate in yolk protein. Phosvitin serves as a major energy source during fertilization and early cleavage stages and is also a storage site for cations (e.g. Na+, K+, Ca2+, Fe2+/3+) essential for embryonic development.
Keywords
31P-NMR
phosvitin
Na/K-ATPase
meiosis
oocytes
bioenergetics
Background
The amphibian ovarian oocyte is blocked in first meiotic prophase until a transient rise in gonadotropin stimulates its surrounding follicle cells to release progesterone [1], which binds to the first external loop of the catalytic subunit of the Na//K-ATPase at the oocyte surface to reinitiate the meiotic divisions [2, 3]. The oocytes then complete one and one-half meiotic divisions, are released from the ovarian follicle, and become blocked at second meiotic metaphase. Sperm penetration results in the completion of meiosis followed by a period of rapid mitoses characteristic of the developing blastula. Rana pipiens ovaries contain a single population of mature oocytes that respond to gonadotropin, in contrast to the multiple growth stages seen in Xenopus laevis when maintained under laboratory conditions [4].
Our previous studies with Rana pipiens oocytes showed that, in vivo, gonadotropin induces phosphorylation of the yolk protein, phosvitin, and that the release of the metaphase block by fertilization and the subsequent synchronous cell divisions coincide with stepwise phosvitin dephosphorylation [5]. In the present study, we have analyzed changes and turnover in high energy phosphates during the meiotic divisions using 31P NMR and 32PO4 pulse labeling techniques in vitro. Rana pipiens oocytes are excellent experimental material for noninvasive NMR studies of cell division because of their large size and the ease of superfusion in an NMR tube, which maintains physiological oxygen levels. Oocytes from each female undergo synchronous meiotic divisions. The prophase-arrested (control) oocytes maintain a sizeable pool of high energy phosphate compounds, including phosphocreatine (PCr), ATP and serine-rich phosphoproteins, for at least 24 h during superfusion [6].
Little has been published about the compartmentation or turnover of high energy phosphates within oocytes or the bioenergetic changes during meiotic division. Using 31P-NMR and the saturation transfer technique, we have examined the effect of the physiological meiotic inducer (progesterone) on both the forward PCr → ATP and the reverse ATP → PCr rates of the creatine kinase reaction in Rana oocytes during the first meiotic division. The 31P-NMR measurements were correlated with in vitro 32PO4 turnover using pulse labeling techniques in oocytes (free of epithelial cells) undergoing synchronous meiotic divisions.
We find that in vitro progesterone initiates an increase in phosphoryl potential and that phosphorylation of the yolk protein phosvitin is accompanied by internalization of the ouabain-sensitive Na/K-ATPase and plasma membrane depolarization. This indicates that a progesterone-induced shift in high energy phosphate utilization from cation pump to phosvitin phosphorylation is necessary for completing the meiotic divisions and early development.
Discussion
The results presented here and elsewhere [2, 3] indicate that progesterone binding to the catalytic subunit of the Na/K-ATPase at the oocyte plasma membrane initiates a sequence of changes in high energy phosphate compounds during the first meiotic division. In Rana pipiens oocytes, breakdown of the nuclear membrane occurs 8-10 hours after exposure to inducing levels of progesterone, followed by arrest at second meiotic metaphase at 15-16 hours (reviewed in [17]). An 80% increase in PCr precedes nuclear membrane breakdown accompanied by a marked decrease in pseudo first order rate constant (kf) for the PCr → ATP reaction (Figure 5). This increase in phosphoryl potential coincides with an increased phosphorylation of the phosphate-rich yolk protein, phosvitin, beginning at the onset of nuclear membrane breakdown (Figure 6).
Conclusions
The pattern emerging from these and related studies indicates that progesterone binding to the N-terminal external loop of the α1-subunit of Na/K-ATPase initiates a cascade of events, facilitated by the internalization of Na/K-ATPase [2] and sequential changes in plasma membrane phospholipids (e.g. [36]). As shown here, progesterone binding initiates a marked rise in phosphocreatine and phosphoryl potential within the first few hours, followed by an accumulation of the highly phosphorylated protein phosvitin by the onset of second metaphase arrest. Continued binding of progesterone to the catalytic-subunit of the Na-pump is essential during the first 4-5 h [37] and leads to a net internalization of 50-60% of the total oocyte plasma membrane [18, 38], which contains more than 95% of both bound progesterone and the ouabain-sensitive Na/K-ATPase [2]. We propose that progesterone binding to the catalytic-subunit of the Na/K-ATPase leads to a shift of Na/K-ATPase to lipid rafts. These rafts contain Na/K-ATPase-progesterone-caveolin-lipid microdomains [34] and undergo selective internalization prior to nuclear membrane breakdown. The resulting diversion of oxidative energy from cation regulation at the plasma membrane to storage as high energy phosphates in yolk phosvitin is essential for the subsequent fertilization and early cleavage.
Methods
Gravid Rana pipiens females from the northeastern United States were purchased from Connecticut Valley Biologicals, Southhampton, MA, and maintained in hibernation at 5-8°C. Steroids were obtained from Steraloids Inc. (Newport, RI). 32PO4 (Disodium phosphate in water, 900-1100 mCi/mmol) was obtained from New England Nuclear (now Perkin Elmer Inc). Modified Ringer's solution contained 111 NaCl, 1.9 mM KCl, 1.1 mM CaCl2, 0.8 mM MgSO4, 2.3 mM NaHCO3, and 0.08 mM NaHPO4. The ionic composition of this amphibian Ringer's solution is based on that of frog plasma [39] and differs from "Barth's" or various Ringer's solutions used in Xenopus laevis experiments. (For example, the Ringer's solution used with Xenopus follicles is phosphate-free and is adjusted to pH 7.8 with Tris-HCl [27]). Progesterone and 17-β-estradiol were dissolved in 95% ethanol; 1.0 μl was added per ml of Ringer's solution with shaking for 30 sec, followed by 1:10 serial dilutions. The final ethanol content was 0.01%. Electron micrographs were prepared from oocytes as described by Weinstein et al. [18].
Use of Rana pipiensoocytes
The Rana pipiens oocyte is particularly appropriate for studies of steroid action at the plasma membrane. Unlike Xenopus laevis ovaries, which contain several stages of growing oocytes [4], the mature Rana pipiens ovary contains 1-3 thousand fully grown oocytes in meiotic prophase arrest, that undergo synchronous meiotic divisions in response to progesterone. Rana pipiens oocytes grow and store yolk during the summer prior to the frog's entry into hibernation in the late fall. Oocytes and/or follicles were obtained from hibernating gravid females from December through April. Each oocyte is a giant cell, 2 - 2.3 mm in diameter. Intact plasma-vitelline membranes can be isolated and used to study ligand binding (e.g. [2]). Several hundred oocytes collected from one female are sufficient to characterize protein phosphorylation, ligand binding, sequential changes in plasma membrane potential and surface area (capacitance). Follicles or denuded oocytes can be superfused with a modified Ringer's solution in NMR tubes to monitor changes in phosphorylation state, reaction kinetics, etc. during the time course of meiosis [6].
Induction of meiosis
Fully grown Rana pipiens oocytes, arrested in first meiotic prophase, are obtained by dissecting out intact ovarian follicles (oocytes enclosed in follicle cell envelopes). Oocytes are then manually stripped of their follicular envelopes and freed from adhering thecal cells [40]. The latter are herein referred to as "denuded oocytes". Denuded oocytes, follicles and ovulated eggs were handled with glass pipettes having a bore slightly larger than the oocyte, and bent about 30 degrees near the pipette tip.
Isolated follicles and/or denuded oocytes were induced to undergo meiosis by incubation in modified Ringer's solution containing progesterone at 20-22°C. Follicles were superfused in aerated NMR tubes (Figure
8
) or in scintillation counting vials (20 oocytes/10 ml). The responsiveness of oocytes from each
Rana
female was determined by incubating groups of 20 oocytes or follicles in modified Ringer's solution and with or without progesterone for 12 h. Oocytes or follicles were then heat-fixed and dissected under a 10-power stereo-microscope. Completion of meiosis was determined by the disappearance of the large (0.5 mm diameter) nucleus. All data presented here were obtained from follicles/oocytes in which >95% of steroid-treated oocytes displayed nuclear membrane breakdown.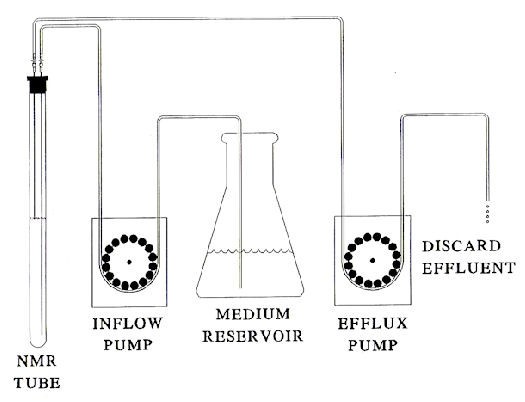 32PO4Uptake and phosphorylation of total oocyte protein.
Untreated (control) and progesterone-stimulated (3.2 μM) denuded oocytes were incubated in 4.0 ml of Ringer's solution containing 80 μM [32PO4] at 20°C. Groups of six denuded oocytes were removed at the times indicated, rinsed with Ringer's solution, and homogenized in 2.0 ml 7% TCA at ice bath temperatures. The homogenate was allowed to stand for 5 min, then centrifuged and both washed precipitate and aliquots of the supernatant were counted. Uptake was corrected for estimated cell water content (50 ± 2%) and the specific activity of the medium expressed as μmoles/liter of cytoplasm.
32PO4Incorporation into yolk phosvitin.
In the phosvitin labeling studies, groups of 400 follicles were labeled with 10 μCi [32PO4] in 20 ml Ringer's solution (with and without 3.2 μM progesterone) for the times indicated at 20-22°C. Follicles were also pulse labeled for 4 h, beginning 5 h after exposure to 3.2 μM progesterone. At the end of the exposure to 32PO4 containing media, the follicles were rinsed with Ringer's solution, homogenized in 5 volumes of 7% TCA at ice bath temperatures and allowed to stand at 4-5°C for 5 min. The suspension was centrifuged, the precipitate washed 2× with 3 volumes of 7% cold TCA, and extracted sequentially with 2 volumes of CHCl3:CH3OH (2:1) and CHCl3:CH3OH:HCl (2:1:0.01). Nucleic acid was extracted with 7% TCA at 90°C for 15 min, and the final precipitate treated with 0.05 N NaOH at 100°C for 10 min to recover the alkali-labile phosphate from the remaining phosphoprotein. Aliquots were counted by liquid scintillation spectrophotometry and analyzed for phosphate as described elsewhere [5]. Protein was measured by the Bicinchoninic acid method of Smith et al. [41].
Phosvitin was prepared from Rana ovarian follicles using a method adapted from Mano and Lipmann [42]. A more recent isolation method by McCollum et al. [43] utilized ferric ion precipitation of "specific" phosvitins. However, Taborsky has reported [44] that ferric ions caused dephosphorylation of egg yolk proteins at alkaline pH. It should be noted that non-heme iron is recovered with purified phosvitin [23] and is present as a contaminant in laboratory grade salts used in protein isolation. To reduce possible protein dephosphorylation during purifcation, 10 mM EDTA was added to all solutions used to isolate oocyte phosvitin.
The highest yields of phosvitin were obtained from Rana follicles as follows: 400 follicles (~900 mg wet weight) were homogenized in 1/2 volume of a solution of 0.15 M KCl, 0.025 M NaHCO3, 0.02 M NaF and 0.01 M EDTA (disodium salt) in a Potter-Elvehjem homogenizer at ice-bath temperatures. The homogenate was diluted with 1.5 volumes of the extraction solution and centrifuged at 13,000 × g for 60 min. 1/10 volume of 1M barium acetate was added to the supernatant and the pH adjusted to about 7.0 with dilute NH4OH. After standing for 30 min at ice-bath temperatures, the precipitate was collected by centrifugation and resuspended in 0.5 volumes of 0.2 M ammonium sulfate containing 0.05 M Tris buffer, pH 7.6. The resulting barium sulfate ppt was removed by centrifugation, and the opalescent solution dialyzed against distilled water for 48 h at 5°C. In an ice-bath, 1.5 volumes of 95% ethanol were added to precipitate the protein, which was washed with CHCl3:CH3OH (2:1), then dried and ground in a mortar. The powder contained 0.75 ± 0.04% alkali-labile phosphorous (N = 3), and represented 59 ± 4% (N = 3) recovery.
Nuclear magnetic resonance procedures
Follicular oocytes were prepared as described above and continuously superfused (1 ml/min) with aerated Ringer's solution at 20°C in a 10 mm NMR tube as illustrated in Figure 8. 31P NMR experiments were carried out using a Varian VXR 500 spectrometer operating at 202 MHz with a spectral width of 20 KHz. Assignment of 31P-peaks were determined as described by Nuccitelli et al. [45]. Saturation transfer experiments were performed by application of a low power radio frequency (RF) pulse for a time >3T1 to either the γATP or PCr resonance [12, 46]. Control spectra were obtained by positioning the saturating pulse off-resonance on the other side of PCr or γATP, respectively, at the same distance from the observed resonance. Both control and appropriately saturated spectra were accumulated in alternate blocks of 100 scans for a total of 1000 scans each. Pseudo first order rate constants were calculated from the extent of the saturation transfer effect measured in the difference spectrum. NMR measures the pseudo first order rate constant kf = k1[ADP], where k1 is the true second order rate constant for the creatine kinase reaction. Quantitation of phosphometabolites was accomplished from 31P NMR of oocytes by comparing the areas of the various fully relaxed resonances with that of a standard phosphate sample, taking into account the fraction of the NMR-sensitive window occupied by intracellular H20 [6].
Conflict of interest
The authors declare that they have no competing interests.
Declarations
Acknowledgements
This research was supported in part by National Institutes of Health research grants HD-10463, GM-071324 and ES-009032. The authors wish to thank Steven P Weinstein for the electron micrograph of the Rana pipiens prophase oocyte.
Authors' Affiliations
(1)
Department of Physiology and Biophysics, Albert Einstein College of Medicine, Bronx, USA
(2)
Department of Chemistry, Brooklyn College of the City University of New York Brooklyn, New York, USA
Copyright
© Morrill et al; licensee BioMed Central Ltd. 2011
This article is published under license to BioMed Central Ltd. This is an Open Access article distributed under the terms of the Creative Commons Attribution License (http://creativecommons.org/licenses/by/2.0), which permits unrestricted use, distribution, and reproduction in any medium, provided the original work is properly cited.