Research article
Open Access
The zebrafish transcriptome during early development
BMC Developmental Biology
2011
11:30
Received: 13 December 2010
Accepted: 24 May 2011
Published: 24 May 2011
Abstract
Background
The transition from fertilized egg to embryo is accompanied by a multitude of changes in gene expression, and the transcriptional events that underlie these processes have not yet been fully characterized. In this study RNA-Seq is used to compare the transcription profiles of four early developmental stages in zebrafish (Danio rerio) on a global scale.
Results
An average of 79 M total reads were detected from the different stages. Out of the total number of reads 65% - 73% reads were successfully mapped and 36% - 44% out of those were uniquely mapped. The total number of detected unique gene transcripts was 11187, of which 10096 were present at 1-cell stage. The largest number of common transcripts was observed between 1-cell stage and 16-cell stage. An enrichment of gene transcripts with molecular functions of DNA binding, protein folding and processing as well as metal ion binding was observed with progression of development. The sequence data (accession number ERP000635) is available at the European Nucleotide Archive.
Conclusion
Clustering of expression profiles shows that a majority of the detected gene transcripts are present at steady levels, and thus a minority of the gene transcripts clusters as increasing or decreasing in expression over the four investigated developmental stages. The three earliest developmental stages were similar when comparing highly expressed genes, whereas the 50% epiboly stage differed from the other three stages in the identity of highly expressed genes, number of uniquely expressed genes and enrichment of GO molecular functions. Taken together, these observations indicate a major transition in gene regulation and transcriptional activity taking place between the 512-cell and 50% epiboly stages, in accordance with previous studies.
Keywords
Gene OntologyGene TranscriptMaternal TranscriptZebrafish DevelopmentStructural Molecule Activity
Background
Zebrafish (Danio rerio) is used as a model system in many different scientific fields due to its rapid development in combination with a relatively short generation time and ease of genetic manipulation [1–6]. However, the most prominent application of zebrafish has probably been within developmental biology. This is due to the ease with which the embryos are obtained, in addition to the transparency of the developing zebrafish embryo, which greatly aids observation of developmental processes.
DNA sequencing has increased tremendously in throughput with the advent of next-generation sequencing (NGS) [7]. Briefly, the technology generates millions of short DNA sequence reads from a sample. The technology has recently been applied to transcriptome profiling [8], in which RNA from a sample is converted into cDNA, fragmented, and sequenced. Denoted RNA-Seq, it offers several advantages as compared to previous profiling applications, such as microarrays or quantitative RT-PCR. Most importantly, RNA-Seq does not rely on predefined probes, and consequently allows for discovery of new transcript variants and for distinction between closely homologous genes [9]. Moreover, alternatively spliced transcripts [10] and non-conding RNAs [11] can be characterized and monitored. In addition, by sustained sequencing, there is virtually no limit in sensitivity, which enables the detection of rare transcripts that may be undetectable in microarray analysis [12].
A more complete characterization of the zebrafish genome, in combination with additional knowledge of the zebrafish transcriptome, would enable access to the full potential of this powerful vertebrate model system. Previous studies have investigated parts of the zebrafish transcriptome during development and in adult tissues [13–20]. In addition, there has been a recent addition of several RNA-Seq tracks of zebrafish early embryos to Ensembl's Zv9. However, the present study is to our knowledge the first study to utilize the new technology of RNA-Seq to compare the transcriptome during early stages of zebrafish development and thereby increasing the known number of developmentally regulated transcripts.
Four early embryonic stages (1-, 16-, 512-cell stage and 50% epiboly) were chosen in order to investigate and compare the transcriptome during early zebrafish development. The newly fertilized egg is in the zygote period until the first cleavage occurs, about 40 minutes after fertilization [21]. At the 1-cell stage the genome is silent and the transcriptome consists by definition of maternal transcripts. The 16-cell stage occurs at 1.5 hours post-fertilization (hpf) and during this time some of the blastomeres are still interconnected. At the 512-cell stage (2.75 hpf) the mid-blastula transition (MBT) begins, the embryo genome is activated and the cell cycles lengthen gradually [22]. In zebrafish development gastrulation starts at the 50%-epiboly stage (5.25 hpf) when the blastoderm margin has moved to 50% of the distance between the animal and vegetal pole [21]. By comparing the 1-cell stage, 16-cell stage, 512-cell stage and 50% epiboly stage gene expression profiles we provide a framework for future investigations of early developmental processes. The aim of this study was to compare the transcriptional profile of four early developmental stages in zebrafish using RNA-Seq, and in addition use these gene expression profiles to identify novel candidate genes with possible key roles during early development. Furthermore, the detection of a number of developmentally interesting gene transcripts in the present study is discussed in relation to previously published observations.
Conclusions
In the present study RNA-Seq was used to describe the expression profiles of 11187 gene transcripts detected during early zebrafish development. With the transition from the 1-cell stage to 50% epiboly a number of gene transcripts with different GO molecular functions from previous stages becomes significantly enriched among the most highly expressed genes indicating a switch in the developmental transcriptome (Figure
4
). In addition, several genes are shown to be present at the 1-cell stage and developmentally regulated during zebrafish early development. A number of gene transcripts detected in this study has been previously implicated in developmental processes thus corroborating our findings. Moreover, we show that RNA-Seq may be used for investigating expression profiles of developmentally uncharacterized gene transcripts as well as screening for putative novel transcribed regions thus providing a descriptive base for developmental studies. The characterization of the zebrafish early transcriptome presented in this study provides a stepping-stone for further studies into the earliest processes taking place during vertebrate development. With the aid of new sequencing technology it is possible to obtain a vast amount of information about the early zebrafish transcriptome and the changes in global gene profiles during development. A potential concern of the current study is the lack of biological replicates. Replicates were performed of the 1-cell stage to assess reproducibility, with technical replicate showing high (r2 = 0.99) reproducibility, and biological replicate somewhat lower (r2 = 0.88) reproducibility (Figure
8
). The pooling of a large number of embryos somewhat remediate this problem, since the detected expression levels are population averages. In addition, both TLDA and semi-quantitative RT-PCR validates the expressional profiles obtained for several gene transcripts present in the RNA-Seq data set. However, small differences in expression should still be interpreted with caution. Despite these issues, our data serve as a valuable resource for further validation and meta-analyses of zebrafish early development. Thus the observations presented in this study may contribute to the many research fields that are using zebrafish as a model system and add knowledge to developmental biology as such. Considering the on-going improvement of RNA-Seq methodology and the recent possibility of sequencing single-embryo transcriptomes [
69
], we will focus future studies on describing zebrafish development on a single-embryo level and combining transcriptome analyses with studies of the early proteome.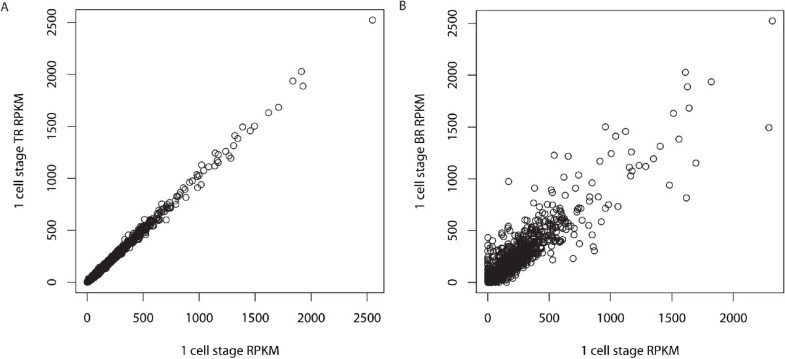 Methods
Embryo collection
The zebrafish were kept on a light-dark cycle of 14h/10h at 28.5°C. The mating was performed in 3-liter aquaria using a net to keep the fish separated from the fertilized eggs. The eggs were collected immediately after fertilization, cleaned and kept in aquaria-system water at 28.5°C. The embryos were staged by developmental time and observations of developmental stage. The developmental stages collected for this study were 1-cell (0.75 hpf), 16-cell (1.5 hpf), 512-cells (2.75 hpf) and 50% epiboly (5.25 hpf) stages. When the specific developmental stage was reached embryos were immediately collected in 1.5 ml screwcap tubes containing RNAlater (Ambion), and subsequently stored at -80°C until RNA extraction. The research protocol was approved by the Swedish Ethical Board (application number N230-10 and S170-08).
RNA extraction and RNA-seq library construction
Total RNA was extracted from approximately 150 embryos per developmental stage using Trireagent (Sigma-Aldrich). The total RNA was then processed further according to the Small RNA Expression Kit (Applied Biosystems). In short, the quality of the total RNA was determined using Agilent Bioanalyzer, and 10 μg total RNA with a RNA integrity number (RIN) of 9.7 or higher was depleted of ribosomal RNA using the Ribominus kit according to the protocol (Invitrogen). RNase III (Ambion) was used for RNA fragmentation. Further RNA-Seq library construction was performed according to the Small RNA Expression Kit protocol (Applied Biosystems) using 200 ng of fragmented RNA as input.
SOLiD system bead library sequencing
Templated bead preparation was made according to the Template Bead Preparation Guide for Applied Biosystems SOLiD 3 Plus System (Applied Biosystems). The templated bead libraries were quantified using the workflow analysis procedure described in the Instrument Operation Guide (Applied Biosystems). The library was sequenced using SOLiD Opti Fragment Library Sequencing kit Master Mix 50 chemistry (Applied Biosystems) giving 50 bp reads. Sequencing was done on a SOLiD System Sequencing platform version 3 plus (Applied Biosystems).
To assess the quality of the sequencing quality value box plots were generated using the FASTX toolkit [70] (Additional file 14).
Read mapping and expression evaluation
RNA-Seq sequencing reads were analyzed using whole transcriptome software tools [71] from Applied Biosystems. Briefly, the reads generated from each sample were subjected to a filtering step to remove other sources of RNA such as ribosomal RNA. All filtered reads were then mapped to the zebrafish genome Zv7 assembly [72] by using the Split Read-Mapper Program. The program splits reads into two fragments starting from either end (25 bp from the left, 30 bp from the right), and each fragment is mapped to the reference genome independently. During the mapping phase up to two mismatches were allowed. The mapping of each anchor was extended as far as possible. The resulting alignments from both left and right ends were merged. The alignment score is the sum of scores at each position in the alignment. The score at each position is +1 for a match and -1 for a mismatch. Matching locations were subsequently used to generate counts for annotated features, exons, transcripts or genes using University of California Santa Cruz (UCSC) RefSeq Genes track for exons genomic locations of known transcripts or coverage files (wiggle format). Only uniquely aligned reads with min score >= 24 were used for read counting based on exon models for zebrafish [73] by using Count Tags Program. Finally, expression of a gene was calculated as the number of reads per kilobase of exon model per million mapped reads (RPKM) [74].
Data mining
For a gene to be detected as expressed, the cutoff was arbitrarily set at more than 1 read per gene, thus genes with 0 or 1 read were considered as not expressed. To find groups of genes with a high degree of similarity in expression profiles across the four developmental stages, RPKM values were clustered using K-means method via GeneSpring (Agilent Technologies). The number of clusters was fixed to 20 and similarity was evaluated by Euclidean measurement. The maximum number of iteration was fixed to 50. Clusters were scored visually as increasing or decreasing, and clusters not grouped into these two categories were assigned as steady state.
Identification of putative novel transcribed regions
Putative novel transcribed regions were identified by clustering mapped reads into seqfrags [29], where a seqfrag contains at least two reads with overlapping coordinates on the same strand. Seqfrags with more than 5 reads located at least 20 kb from known UCSC reference genes and ENSEMBL genes [30] were called as putative novel transcribed regions. The cutoffs were chosen based on previous studies [74]. Seqfrags were grouped into putative transcribed regions based on the size of intervening regions. By classifying these as intronic two consecutive regions would be grouped into a transcribed region. A simple decision boundary was estimated to 17.6 kb by solving the equation ratio p(x|intron)/p(x|intergenic) = 1, where the probability densities were assumed normal. Based on the reference gene annotation file, the mean intronic length in zebrafish was approximated to 2.8 kb (sd 5.6 kb) and mean intergenic length to 97 kb (sd 164 kb). To test this a candidate was selected for further confirmation by visual examination of the chromosomal region (Additional file 8). Primers were designed using Primer3 [75] to recognize the putative novel transcribed regions and the corresponding fragments were amplified from cDNA by PCR. The cDNA was synthesized as described previously. The amplified PCR fragments were subcloned into the PGEM-T vector (Promega) or the pCR®2.1-TOPO vector (Invitrogen) and sequenced (Eurofins mwg GmbH) to confirm identity.
TaqMan low density array (TLDA) analysis of gene expression
A TaqMan® array micro fluidic card (TLDA, Applied Biosystems) was designed in order to study the expression of a subset of genes expressed during development. Total RNA was extracted using Trireagent (Sigma-Aldrich). The integrity of the RNA was determined using nanodrop 8000 (Thermoscientific) and 1 μg of total RNA with a 260/280 ratio above 1.95 were used for cDNA synthesis (Superscript III, Invitrogen). The reaction mixture containing 50 μl cDNA template (200 ng) and an equal volume of TaqMan® universal master mix (Applied Biosystems) was added to each line of TLDA after gentle vortex mixing. The samples were run on a 79000HT Fast-Real-Time PCR System (Applied Biosystems) and the cycling conditions were as follows: 2 min at 50°C, 10 min at 94.5°C and 30 s at 97°C, and 1 min at 59.7°C for 40 cycles. The threshold cycle Ct was automatically given by SDS2.2 software package (Applied Biosystems). The TLDA contains 18s rRNA and beta actin (actb) gene assays for control. Data derived from the TLDA were normalized against the average values of the two control genes. Biological duplicates for the studied developmental stages were analyzed. Gene expression results are presented as delta Ct values (dCt) and delta delta Ct values (ddCt). The dCt values were obtained by subtracting the Ct values of target genes from Ct values of the average Ct from controls. For ddCt values, additional subtractions were performed by comparison values at 1 cell stage as reference. Relative quantities (RQ) were determined using the equation: RQ = 2-ddCt. All sample were generated two times (separate TLDA cards) and expressed as mean +/- SE.
Gene expression analysis using semi-quantitative RT-PCR
RNA was extracted as before and a total of 3 pools of 100 embryos from each developmental stage were used for expression analysis. 1 μg total RNA from each of the developmental stages was used for cDNA synthesis. The cDNA reactions were made in a volume of 20 μl using random hexamers and oligo (dT)20 primers (Superscript III First-strand synthesis system, Invitrogen). Gene transcript specific primers for eif1b, foxA1, foxA2, foxA3, klf4, plk1, pou5f1, sfxn2, slc39a7, slc39a9, tia1l, tra2a and zgc:136359 (Additional file 15) were designed using Primer 3 [75]. Primer pairs were designed in different exons and purchased from Sigma-Aldrich. Primers were used at a final concentration of 100 nM, after proven equally efficient by calibration curves. Semi-quantitative RT-PCR was done using Fast SYBRGreen master mix (Applied Biosystems). Melting curve analysis, agarose gel electrophoresis and sequencing (Eurofins mwg GmbH) were performed to ensure the correct PCR products from each primer pair. Semi-quantitative RT-PCR measurements of individual cDNAs were performed on the 7500 Fast Real-Time PCR system (Applied Biosystems) using a 10 μl mixture containing SYBR green PCR master mix (Applied Biosystems), 1 μl cDNA and forward and reverse primers. Gene transcripts were assayed using duplicate reactions and biological triplicates in MicroAmp Fast Optical 96-well reaction plates (Applied Biosystems). Relative expression of the different gene transcripts was calculated by the delta-delta-Ct (ddCt) method and converted to the relative expression ratio (2-ddCt). All data were normalized to the endogenous reference genes actb or rpl13a. Fold change was calculated using expression at 1-cell stage to 1. Values are presented as average fold change. The Ct-values for the reference genes in the cDNA samples varied from 15 to 18.
Gene molecular function enrichment
Gene molecular function enrichment in different gene subsets was determined using Generic Gene Ontology (GO) Term Finder [24]. GO Term Finder finds significant GO terms in a list of genes and each gene product may be represented by three independent structured, controlled vocabularies; namely molecular function, biological process and cellular component.
Abbreviations
hpf:

hours post fertilization
MBT:

mid-blastula transition
RPKM:

reads per kilobase of exon model per million mapped reads
RT-PCR:

real-time polymerase chain reaction
TLDA:

TaqMan low density array.
Declarations
Acknowledgements
We wish to thank Monika Andersson Lendahl and Kent Ivarsen for help with mating zebrafish and for the use of aquaria facilities. In addition, we would like to express our gratitude to Kelly Day for proofreading the manuscript.
Authors' Affiliations
(1)
Department of Biosciences and Nutrition, and Science for Life Laboratory, Karolinska Institutet, Stockholm, Sweden
(2)
Clinical Research Centre, Karolinska University Hospital, Huddinge, Sweden
(3)
Department of Clinical Science, Intervention and Technology, Karolinska Institutet, Karolinska University Hospital, Huddinge, Sweden
(4)
Department of Medical Genetics, Hartman Institute, University of Helsinki, and Folkhälsan Institute of Genetics, Helsinki, Finland
Copyright
© Vesterlund et al; licensee BioMed Central Ltd. 2011
This article is published under license to BioMed Central Ltd. This is an Open Access article distributed under the terms of the Creative Commons Attribution License (http://creativecommons.org/licenses/by/2.0), which permits unrestricted use, distribution, and reproduction in any medium, provided the original work is properly cited.