Research article
Open Access
The asymmetric cell division machinery in the spiral-cleaving egg and embryo of the marine annelid Platynereis dumerilii
BMC Developmental Biology
BMC series – open, inclusive and trusted
2017
17:16
Received: 10 May 2017
Accepted: 23 November 2017
Published: 11 December 2017
Abstract
Background
Over one third of all animal phyla utilize a mode of early embryogenesis called 'spiral cleavage' to divide the fertilized egg into embryonic cells with different cell fates. This mode is characterized by a series of invariant, stereotypic, asymmetric cell divisions (ACDs) that generates cells of different size and defined position within the early embryo. Astonishingly, very little is known about the underlying molecular machinery to orchestrate these ACDs in spiral-cleaving embryos. Here we identify, for the first time, cohorts of factors that may contribute to early embryonic ACDs in a spiralian embryo.
Results
To do so we analyzed stage-specific transcriptome data in eggs and early embryos of the spiralian annelid Platynereis dumerilii for the expression of over 50 candidate genes that are involved in (1) establishing cortical domains such as the partitioning defective (par) genes, (2) directing spindle orientation, (3) conveying polarity cues including crumbs and scribble, and (4) maintaining cell-cell adhesion between embryonic cells. In general, each of these cohorts of genes are co-expressed exhibiting high levels of transcripts in the oocyte and fertilized single-celled embryo, with progressively lower levels at later stages. Interestingly, a small number of key factors within each ACD module show different expression profiles with increased early zygotic expression suggesting distinct regulatory functions. In addition, our analysis discovered several highly co-expressed genes that have been associated with specialized neural cell-cell recognition functions in the nervous system. The high maternal contribution of these 'neural' adhesion complexes indicates novel general adhesion functions during early embryogenesis.
Conclusions
Spiralian embryos are champions of ACD generating embryonic cells of different size with astonishing accuracy. Our results suggest that the molecular machinery for ACD is already stored as maternal transcripts in the oocyte. Thus, the spiralian egg can be viewed as a totipotent yet highly specialized cell that evolved to execute fast and precise ACDs during spiral cleaving stages. Our survey identifies cohorts of factors in P. dumerilii that are candidates for these molecular mechanisms and their regulation, and sets the stage for a functional dissection of ACD in a spiral-cleaving embryo.
Keywords
Maternal contributionSpiral cleavageCortical domainsPAR genesSpindle orientationCell polarityCrumbs complexPlanar cell polarityNeural adhesion complexesTranscriptional profiles
Background
Asymmetric cell division (ACD) is the fundamental process that subdivides a mother cell into two daughter cells that exhibit differences in cell fate, cell size, and/or cell position. As such, it constitutes a central developmental mechanism essential for cell lineage diversification during early embryogenesis, formation of organs, and division of stem cells (reviewed in [1–4]). Much of our current knowledge about ACD has been established over the last two decades exploiting two genetic invertebrate model organisms, the nematode worm Caenorhabditis elegans (C. elegans) and the arthropod fruit fly Drosophila melanogaster (Drosophila). In both systems, a detailed understanding of embryonic and postembryonic processes on a cellular level, and the use of forward and reverse genetic tools, has led to the identification of mostly conserved cohorts of genes. These genes execute ACDs in various developmental contexts including the formation of diversified cell lineages within embryos, the nervous system, sensory organs, wing development, and epithelia.
The significance of ACD becomes unmistakable when considering the earliest steps during metazoan embryogenesis. Mitotic cell divisions subdivide the fertilized egg into embryonic cells with different fates and defined positions that foreshadow the three emerging body axes of the embryo. This process has been studied on the molecular level extensively, in C. elegans, where all three body axes anterior/posterior (A/P), dorsal/ventral (D/V), and right/left (R/L) are determined by the third round of embryonic cell divisions [2, 5]. Complementary studies in Drosophila, and in various vertebrate models including frog and mouse embryos, have identified similarities on the molecular level [4, 6, 7]. However, comparisons are complicated by the derived nature of the molecular machinery for ACD in C. elegans and/or the divergence of early developmental processes between metazoan models. Although studies on ACD in various new models are emerging [8, 9], there are still large gaps in our understanding of the nature, utilization, conservation, and evolution of the ACD mechanisms; especially in regards to establishing cellular asymmetries and cell lineages during metazoan embryogenesis.
Here we introduce the marine annelid Platynereis dumerilii as a model to study ACD in a spiral-cleaving embryo [10]. Spiral cleavage is a widespread developmental mode among approximately one-third of all animal phyla including mollusks (snails and clams), and annelids (leeches and earthworms) [11]. This mode is characterized by a series of asymmetric cell divisions that subdivide the fertilized egg into embryonic cells of different size and fates with an invariant, stereotypic spiral arrangement. Indeed, early observations of spiral cleaving embryos and their cell size asymmetries were instrumental for the development of early cellular theories on egg-to-embryo development nearly 140 years ago [12]. Although cellular aspects of ACD, including the role of the cytoskeleton, have been studied in annelid embryos by the Shimizu and Weisblat laboratories [13–17], surprisingly little is known about the molecular machinery that executes ACD in spiralians, even though these embryos exhibit some of the most readily observable and extreme cell size asymmetries in all metazoans.
Developing P. dumerilii embryos produce the typical hallmarks of spiral cleavage. Every cell division, beginning with the one-celled zygote, is asymmetric. ACD continues through early cleavage stages and beyond generating daughter cells of different sizes [18, 19]. For example, the first mitotic division always generates the smaller AB and the larger CD blastomeres [10, 19, 20]. This first division defines the D/V axis. As in other spiral cleaving embryos, the developmental program in P. dumerilii is recognizable through the pattern of cell divisions based upon the stereotypic orientation of the mitotic spindle. Starting with the 3rd cell division the alternating mitotic spindles are oriented either clockwise or counter clockwise, with respect to the animal pole, generating animal-pole and vegetal-pole sister cell pairs [10, 18–20]. Thus, the embryonic cells of differing size and position are assembled in a stereotypic and invariant pattern in each stage.
The generation of the spiral cleavage pattern along the animal-vegetal axis requires an asymmetric cue, cellular polarization, and/or some initial symmetry-breaking event in oocyte or zygote that leads to subsequent ACDs. In some organisms, the unfertilized egg/oocyte is polarized as observed in the intrinsically well-defined polarity axes within the Drosophila egg [21]. In other organisms, early asymmetric cues are introduced through fertilization e.g. the sperm entry point defines the future A/P axis in C. elegans [22, 23], and the D/V axis in Xenopus laevis [24]. Currently, it is not known if internal polarity of the oocyte exists in P. dumerilii. However, dramatic reorganization of the egg upon sperm contact, termed ooplasmic segregation, has been described [18, 19].
After sperm contacts the egg, cortical streaming pushes yolk granules and lipid droplets towards the future vegetal pole. At the same time, an area of clear cytoplasm forms at the future animal pole, harboring the oocyte nucleus. About one-hour post fertilization (hpf), the oocyte nucleus completes meiotic cell divisions, via two extreme ACDs, that lead to the extrusion of two polar bodies. The site of polar body extrusion defines the animal pole and determines the animal/vegetal (A/V) axis [
10
,
19
] (Fig.
1
). Subsequently, the male pronucleus migrates towards the female pronucleus (now located at the animal pole). Pronuclear fusion and duplication of the male centrioles mark the beginning of the first mitotic cell division of the zygote [
25
]. The mitotic spindle pole located nearest the animal pole (nearest to the polar bodies) maintains its proximity to the animal pole membrane as the nucleus migrates vegetally [
25
]. This creates an asymmetric mitotic spindle arrangement leading to the cell size asymmetry generated during the first cell division. Therefore, the capture of the mitotic spindle pole that remains near the cortex, through association with a distinct animal pole associated cortical domain, may be causative for the subsequent first zygotic ACD.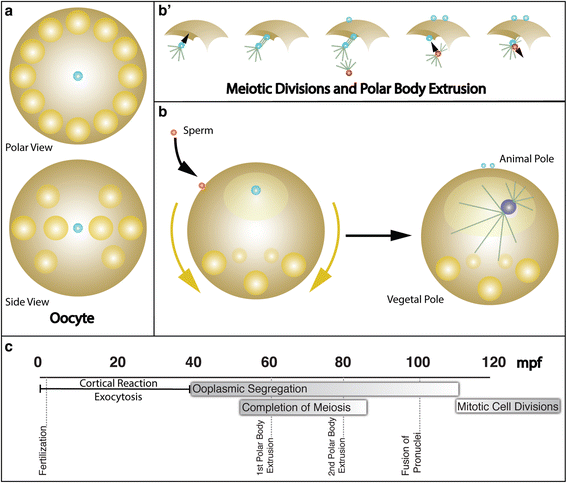 The first ACD, occurring in a plane parallel to the A/V axis, generates the larger CD blastomere (71% of the egg volume) and the smaller AB blastomere (29% of the egg volume) [
19
] establishing the secondary D/V axis with CD demarcating dorsal and AB ventral (Fig.
2a
). The second round of cell divisions, generates four founder cells (A, B, C, D). The AB blastomere cleaves almost equally, whereas CD cleaves asymmetrically with the D blastomere retaining the largest volume [
19
]. Although the cleavage planes are parallel to the A/V axis, the mitotic spindle poles in A and C are slightly closer to the animal pole, producing slightly tilted mitotic spindles (Fig.
2b
) [
18
,
19
]. Therefore, this cleavage has been suggested as 'spiral' [
18
,
19
]. The third round of cell divisions in A, B, C and D occurs perpendicular to the A/V axis, generating four sister cell pairs (8 cells), with large cell size asymmetries, producing the smaller animal-pole micromeres 1a, 1b, 1c, and 1d, and the much larger vegetal-pole macromeres 1A, 1B, 1C, and 1D, respectively (Fig.
2c
) [
18
,
19
]. Viewing from the animal pole, all four mitotic spindles are rotated dextrally, which offsets the micromeres from the macromeres in a clockwise manner [
18
]. The mitotic spindle orientations are flipped stereotypically in subsequent cell divisions [
18
]. During the fourth cell division, the four micromere mitotic spindles assume a counter clockwise orientation, generating four daughter cell pairs with precisely defined asymmetric cell sizes, and with the animal-pole daughter cells assuming sinistral positions relative to the four vegetal-pole daughter cells. Similarly, the four macromeres at the vegetal pole orient their mitotic spindles dextrally when viewed from the animal pole, producing a counterclockwise rotation of the most vegetal-pole daughters of the macromeres (clockwise for the more animal pole daughters of the macromeres) [
18
,
19
]. 'Spiral' cleavages continue through the fifth and sixth cell division after which embryonic cells transition towards producing more bilaterally symmetric spindle orientations [
19
,
26
]. However, stereotypic and invariant ACDs continue throughout early embryogenesis in
P. dumerilii
, continuing to generate cell size asymmetries.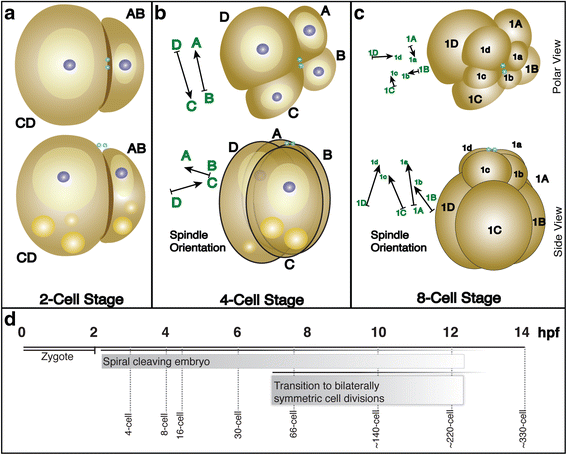 Thus, the observed early symmetry breaking events including the meiotic divisions and the precise execution of ACDs during the spiral cleavage program implicate the activities of molecular machinery that (1) generates asymmetric spatial cues to establish distinct cortical domains, (2) direct meiotic and mitotic spindle orientation, (3) act upon various polarity cues to determine cell size, and (4) maintain cellular polarities via diverse cell-cell adhesion systems with early embryonic cells. As mentioned above, previous investigations in other model systems have identified strong candidates for each of these four ACD machineries. These include the well characterized Partitioning defective (Par) polarity network proteins, Par3 and Lethal (2) giant larvae (L(2)gl) that function both in establishing polarity in one-celled zygotes and mediate polarity events in other polarized tissue environments such as epithelial tissues (reviewed in [
2
,
4
,
27
]). Cellular asymmetries are also generated through mitotic spindle orientation proteins, including Nuclear Mitotic Apparatus (NuMA), Inscuteable (Insc), and Partner of Inscuteable (Pins) that asymmetrically orient the mitotic spindle along an existing polarity axis (reviewed in [
28
–
31
]). Molecular machinery, well characterized in epithelial tissues, includes the polarity complex proteins Crumbs and Scribble, which maintain subcellular domains (reviewed in [
32
–
36
]). Finally, cell adhesion proteins such as Van Gogh Like (Vangl), the adhesion G-protein coupled receptor (GPCR) Flamingo (Celsr1), Fat, and Dachsous are also implicated in the establishment and maintenance of cell polarity in epithelial tissues (reviewed in [
37
–
40
]). Candidates for each of these four ACD machineries, based upon studies in other model systems, were considered here. Other modules that generate ACDs exist [
41
], however, these four categories and our non-exhaustive list of 50 candidates within have been chosen based upon the rationale below, and are described here and summarized in Additional file
1
:
To gain insight into the molecular machinery that contributes to ACDs in a spiral-cleaving embryo, we exploited recently established comprehensive RNA-seq based transcriptome data for the zygote, and spiral cleavage stages of the annelid Platynereis dumerilii [56]. Here we use various Gene Ontology (GO) term analyses and BLAST searches to identify mRNAs that code for proteins implicated in ACD. Interestingly, we found that transcripts of most ACD implicated genes exhibit a strong maternal contribution, and subsequently, slow decrease in later stages during the transition to bilaterally symmetric cell divisions. Intriguingly, a few core candidate genes exhibit early zygotic onset of expression suggesting potential regulatory roles. This analysis also discovered high levels of co-expressed 'neural' adhesion complexes during early embryogenesis previously described to have specialized functions in cell-cell recognition in the nervous system. Overall, our analyses suggest that this spiralian oocyte constitutes a highly specialized cell that contains extremely elevated transcript levels for ACD factors; presumably to facilitate rapid ACDs during subsequent early spiral cleavage stages.
Conclusion
Our survey for various ACD and adhesion components in P. dumerilii, and the establishing of their stage specific expression profiles during early spiral cleavages by RNA-seq enabled us to determine a comprehensive inventory and quantify their presence in early P. dumerilii embryos. Remarkably, most components are highly maternally provided suggesting a requirement for this spiralian egg to contain most of the ACD components for the subsequent rapid succession of ACDs in spiralian development. Additionally, comparison of expression profiles of the ACD machinery enabled a systems-level analysis of each contributing module identifying several key regulatory components that are zygotically expressed, and others that are absent. Intriguingly, several cell adhesion modules including the PCP pathway and several neuronal recognition system complexes, are highly maternally provided; also suggesting early embryonic functions in this spiral-cleaving embryo. Therefore, this survey of ACD components may serve as a fertile ground, and starting point, to investigate the particular contribution of each ACD module for their ability to execute the spiral cleavage program, and to generate the accuracy in cell size asymmetries, cell position, and cell fate specification including its link to the global asymmetric β-catenin-mediated cell fate specification module in the P. dumerilii embryo.
Abbreviations
A/P:

Anterior/posterior
A/V:

Animal/vegetal
ACD:

Asymmetric cell division
aGPCR:

Adhesion GPCR
AJ:

Adherens junction
BLAST:

Basic Local Alignment Search Tool
cDNA:

complementary DNA
CRIB:

Protein domain: Cdc42/RAC interactive binding
D/V:

Dorsal/ventral
F-actin:

filamentous actin
FERM:

Protein domain: 4.1 protein, ezrin, radixin, moesin
FLRT:

Protein domain: fibronectin leucine-rich transmembrane.
FPKM:

Fragments Per Kilobase per Million mapped reads
GAP:

GTPase activating protein
GEF:

Guanine exchange factor
GO:

Gene ontology
GPCR:

G-protein coupled receptor
GPI:

Protein domain: glycosylphosphatidylinositol
Hpf:

Hours post fertilization
Ig:

Immunoglobulin
Kb:

Kilobase pairs
MT:

Microtubules
PAR:

Partitioning defective
PB1:

Protein domain: phox, bem1
PCP:

Planar cell polarity
PCR:

Polymerase chain reaction
PDZ:

Protein domain: postsynaptic density, discs large, zonula adherens
PIP2 :

Phosphatidyl inositol diphosphate
PIP3 :

Phosphatidyl inositol triphosphate
R/L:

Right/left
RNA-Seq:

RNA sequencing
Ser/Thr:

Serine/Threonine
SJ:

Septate junction
TBLASTN:

Translated nucleotide BLAST
TM:

Transmembrane
TPR:

Protein domain: tetratricopeptide repeat
WMISH:

Whole-mount in situ hybridization
Wnt:

Wingless
Declarations
Acknowledgements
We would like to thank Kali Levsen and Amanda Heeren for handling the polychaete culture, and Ben Bastin and Emmanuel Halliot for advice and assistance performing WMISH. We would also like to thank the anonymous reviewers for comments on the manuscript.
Funding
Funding for this work was provided by the National Science Foundation (Award ID 1455185) to SQS.
Author's contributions
ABN and SQS conceived of the study. ABN researched, identified, cloned, and carried out in situ hybridizations of the ACD genes in P. dumerilii. HCC performed the bioinformatics tasks to assemble, annotate, and map RNA-seq data. SQS designed and coordinated the study. ABN and SQS wrote the manuscript. All authors read, corrected and approved the final manuscript.
Ethics approval and consent to participate
Not applicable.
Consent for publication
Not applicable.
Competing interests
The authors declare that they have no competing interests.
Publisher's Note
Springer Nature remains neutral with regard to jurisdictional claims in published maps and institutional affiliations.
Open AccessThis article is distributed under the terms of the Creative Commons Attribution 4.0 International License (http://creativecommons.org/licenses/by/4.0/), which permits unrestricted use, distribution, and reproduction in any medium, provided you give appropriate credit to the original author(s) and the source, provide a link to the Creative Commons license, and indicate if changes were made. The Creative Commons Public Domain Dedication waiver (http://creativecommons.org/publicdomain/zero/1.0/) applies to the data made available in this article, unless otherwise stated.
Authors' Affiliations
(1)
Department of Genetics, Development and Cell Biology, Iowa State University, Ames, USA
(2)
current address: Center for Cancer Research, National Institutes of Health, Bethesda, USA