Research article

Open Access
Representation of anatomy in online atlases and databases: a survey and collection of patterns for interface design
BMC Developmental Biology
BMC series – open, inclusive and trusted
2016
16:18
Received: 11 January 2016
Accepted: 9 May 2016
Published: 21 May 2016
Abstract
Background
A large number of online atlases and databases have been developed to mange the rapidly growing amount of data describing embryogenesis. As these community resources continue to evolve, it is important to understand how representations of anatomy can facilitate the sharing and integration of data. In addition, attention to the design of the interfaces is critical to make online resources useful and usable.
Results
I first present a survey of online atlases and gene expression resources for model organisms, with a focus on methods of semantic and spatial representation of anatomy. A total of 14 anatomical atlases and 21 gene expression resources are included. This survey demonstrates how choices in semantic representation, in the form of ontologies, can enhance interface search functions and provide links between relevant information. This survey also reviews methods for spatially representing anatomy in online resources. I then provide a collection of patterns for interface design based on the atlases and databases surveyed. These patterns include methods for displaying graphics, integrating semantic and spatial representations, organizing information, and querying databases to find genes expressed in anatomical structures.
Conclusions
This collection of patterns for interface design will assist biologists and software developers in planning the interfaces of new atlases and databases or enhancing existing ones. They also show the benefits of standardizing semantic and spatial representations of anatomy by demonstrating how interfaces can use standardization to provide enhanced functionality.
Keywords
Atlas
Database
Interface
Ontology
Anatomy
Background
Developmental biology is a data-intensive science. During the last two decades the primary means of archiving and accessing experimental results has shifted from traditional printed publications to digital repositories and web sites [1, 2]. This transition was driven by the need to mange the rapidly growing amount of data describing embryogenesis, integrate heterogeneous data, represent this data within the context of space and time, and enable cross-species comparisons.
Development of the first digital atlas took place in the early 1990s. These authors constructed a 9-day mouse embryo in 3D using serial sections at histological resolution, with plans to later incorporate spatially-based gene expression data [3]. Since that time, many anatomical atlases and gene expression databases have been developed for a number of species, by both individual laboratories and multi-institution teams.
Development of these resources has required partnering with computer science and informatics researchers. Areas of partnership include not only designing interactive web-based tools and improving methods of image capture and analysis, but also developing standards for data integration. Efforts to standardize elements of research (such as gene nomenclature, experimental protocols, descriptions of phenotypes, and the organisms themselves) began decades before the introduction of digital repositories [4, 5]. But standards are particularly important for digital repositories because the ability of users to find information relevant to their needs—and to make sense of what they find—is determined by the quality and consistency of the data and its annotations.
The Gene Ontology (GO) is a prominent example of an effort to develop semantic standards for molecular biology. GO allows biologists to describe the role of gene products shared across eukaryotic organisms [6]. It is widely used to cluster results of large-scale differential gene expression studies into functional categories, and has an important role in representing and aiding the discovery of gene regulatory networks [7, 8].
The representation of anatomy often receives less attention than the representation of genes, but is crucial because studies of gene expression must document not only the genes studied but also the anatomical location(s) of the expression. These annotations are most useful when they represent anatomy in ways that are explicit, standardized, and can be understood by researchers without expert knowledge of the species represented.
Methods for curating information about the anatomy of model organisms have evolved in parallel with methods for disseminating experimental data. Traditional print-based atlases have long been used to document anatomy and standardize terminology for structures and developmental stages. Online atlases provide additional benefits because they (a) allow data such as high-resolution two-dimensional (2D) images, three-dimensional (3D) reconstructions, and movies to be shared, (b) can be updated frequently, and (c) can link to external resources or incorporate content maintained by other sites.
The task of representing an organism's anatomy during development is inherently complex. As shown in Fig.
1
, a complete description would account for three-dimensional structure at scales spanning gross, histological, and molecular anatomy, each throughout the time of development. Managing knowledge and data within this space-scale-time matrix presents a tremendous challenge. But it is also an opportunity to develop online atlases that not only provide anatomical descriptions, but also use anatomy as a framework for organizing and sharing data [
9
].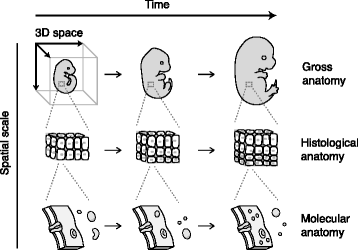 In order to develop atlases that will successfully serve as data portals for developmental biologists, research in a number of areas is crucial. These include development of web technologies for delivering volumetric image data over the web [10] and tools to support comparing data from disparate sources within a common spatial environment [11, 12]. Work related to gene expression data includes capture of quantitative expression data [13], mapping expression data to 3D graphics [14], visualization of data across time and space [15], and automating annotation of expression patterns with anatomical terms [16]. Atlases could also provide tools to aid researchers in analysis of their own data, such as feature for more precisely describing a specimen's stage based on interpolating between reference stages [17, 18].
Atlases serving as data portals will require tightly integrated spatial and semantic representations as users alternate between image-based and term-based navigation and data retrieval. Therefore, in addition to research rooted in the fields of computer science and informatics, expertise is also needed from the fields of interaction design (to develop intuitive interfaces and effective visualizations) and knowledge representation (to provide semantic representations to enable data integration).
As shown in Fig.
2
, the type of semantic representation determines the level of meaning captured within the representation. A controlled vocabulary is a list of terms within a specific domain. A taxonomy is a controlled vocabulary with hierarchical
is_a
relationships. An ontology is a taxonomy with additional relationships such as
has_part
and
develops_into
. The information provided by these relationships is necessary for developing atlases that link together data across space and time.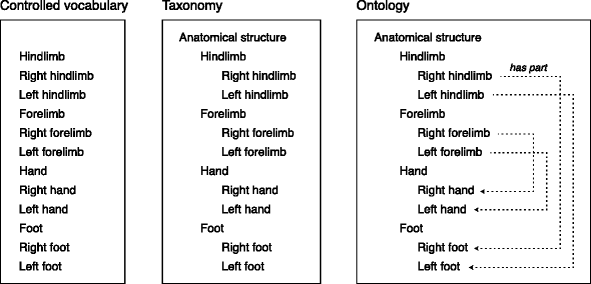 This article examines online resources for developmental biologists with an emphasis on semantic and spatial representation and interface design. I first survey 14 anatomical atlases and 21 gene expression resources for methods of anatomical representation. I then present a collection of patterns for interface design that demonstrate the variety of approaches used for anatomical representation, user interaction, and navigation with the atlases and databases. The purposes of this work are to (a) assist biologists and software developers in planning the interfaces of new atlases and databases or enhancing existing ones, and (b) demonstrate the benefits of standardizing semantic and spatial representations of anatomy.
Discussion
This collection of design patterns can be used as a catalyst for conversations between biologists and software developers. Because they provide a user-focused perspective, they can support discussions of methods for exploring and retrieving anatomically-based information and can serve as building blocks for interface specifications.
The patterns also help to clarify how interface functionality is constrained by the investment in semantic and spatial standardization. For example, one of the most intuitive ways to query a gene expression pattern database is by specifying a point or region on a standardized image, but this requires that the expression data have been mapped to a spatial standard.
This work documents the variety of ways anatomical information has been communicated in online atlases and databases. Part of this variability is due to differences in the types of data available, purposes of the resources, and the characteristics of the organism. But it also reflects the large number of design solutions that are possible. Because this survey did not include resources presented as downloadable software, there are likely to be additional patterns for representing anatomy.
Using the patterns to support user needs
When applied to developing or expanding a particular online resource, this work should be considered in the context of two important considerations: "What are the information needs of the users?" and "What information assets are available to use in building the resource?" The patterns act as intermediaries between the users' questions and the information assets. Figure
9
provides a scenario that uses ten of the patterns in an imagined resource. This resource provides an anatomical atlas and gene expression database, and uses information assets including an ontology (serving as the semantic standard), spatial standards, a graphics collection, and gene expression data. In this scenario, user needs include obtaining information about the meaning of anatomical terms and finding data related to development of a particular anatomical structure.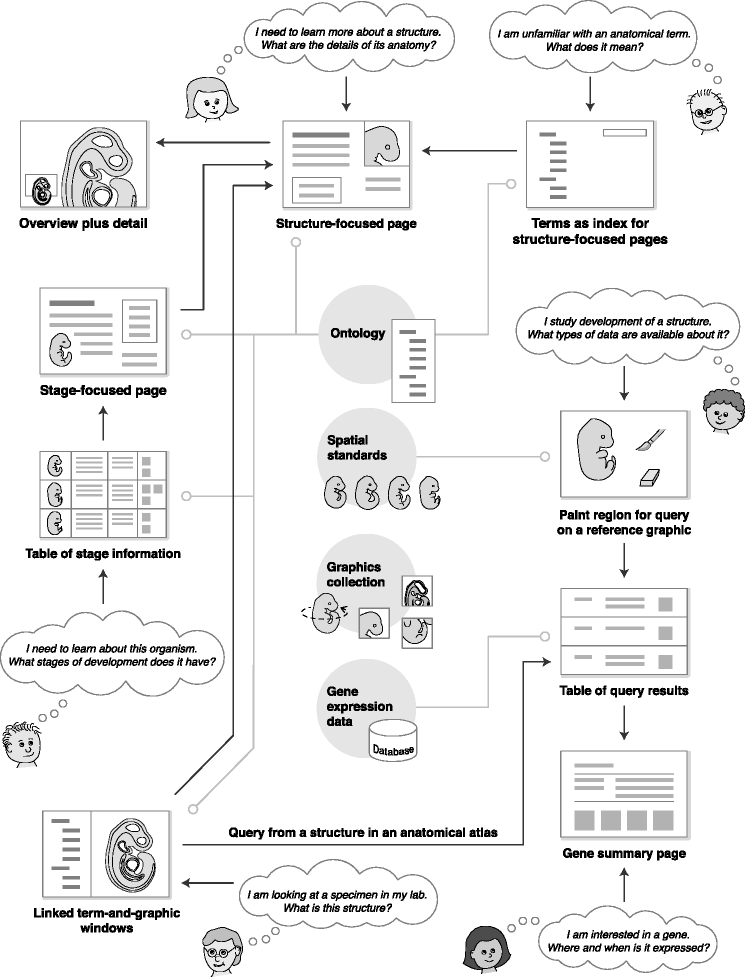 Designing for new types of data
Looking to the future, standardized spatial representations will be key to communicating and integrating new types of data. Emerging techniques for "spatially resolved omics" [43] provide high-throughput measurements of gene expressions while preserving detailed spatial information. For example, microtomy sequencing provides gene expression data from individual cryosections of a specimen. Recent work with zebrafish embryos extends this approach by analyzing data from embryos sectioned along orthogonal body axes using image reconstruction algorithms to produce 3D expression patterns—a technique called RNA tomography (or tomo-seq) [44].
The detailed spatial data produced by large-scale gene expression studies are unlikely to correspond to traditionally defined regions of anatomy. Therefore, standardized spatial representations of model organisms will need to serve as a mediator between the data collected by laboratories and the users of community databases. In this scenario, investigators will not annotate their data with semantic annotations. Rather, they will map their data to standard spatial representations. The role of semantic representations will be to serve as references to regions of the models and logical links between models at different stages or at different spatial scales. This will integrate disparate data at the level of spatial representation, while preserving the usefulness of semantic representations for filtering, searching, and browsing data.
Conclusions
This work highlights issues important for the continued evolution of online resources for developmental biology. If resources are to be effective in helping researchers to locate data relevant to their questions and to generate hypotheses, they must provide a structure that allows researchers to navigate within the space-scale-time matrix depicted in Fig. 1, as well as to explore homologous structures across different species. This next generation of resources—perhaps better described as web portals—will provide access to not only information from different laboratories stored within a single repository, but to information distributed across different repositories. These web portals (and perhaps networks of interlinked web portals) will rely on tightly integrated semantic and spatial representation, using anatomy as a framework for data integration, organization and navigation.
As model organism communities move toward the goal of building a comprehensive understanding of development, the role of these web portals is crucial. They will serve both to document collective knowledge from previous work and to provide the infrastructure that enables future work. Achieving this vision will require not only advances in web and imaging technology, but careful consideration of semantic and spatial representation and research to design usable and intuitive interfaces. In order for these tools to meet the needs of biologists, biologists must partner with computer science, informatics, and design researchers.
Methods
The atlases and databases surveyed in this work were identified through keyword searches of the Science Direct, Scopus, and PubMed databases. The keywords used were atlas or database in combination with Arbacia, Caenorhabditis elegans, chick, chicken, Ciona, Danio rerio, Drosophila, fly, frog, Gallus gallus, medaka, mouse, Mus musculus, nematode, Oryzias latipes, rat, Rattus norvegicus, sea squirt, sea urchin, Strongylocentrotus, Xenopus, or zebrafish. Several additional atlases and databases were identified based on URL links within these resources. Keyword searches were performed on 26 July 2014 and 9 Oct 2015.
Resources included in this survey are (a) described in a peer-reviewed journal article, (b) publicly available, (c) delivered on the web without requiring download, and (d) in English. In addition, a resource must have been available on at least one of the dates of testing (26 July 2014, 4 Aug 2014, 6 Sept 2014, and 9 Oct 2015). If a resources consists of both online material and downloadable material, only the online material was included in this survey. Two resources became unavailable during the course of this project (EMBRYS and GEMS). These are included in the survey, but their unavailability is noted with their URLs in Table 3.
Resources were excluded if they are primarily (a) databases of microarray data, (b) collections of figures from journal articles, (c) collections of graphics or movies with little or no annotation of anatomical structures, or (d) textbook-like resources with limited navigation structure. This work is limited to model organisms, and therefore resources for human anatomy and development are excluded.
All resources were viewed using operating system Mac OSX 10.9.5 with Java 1.8.0 and the Firefox 41.0 browser. Components provided as self-signed Java applications were excluded from this survey due to security risks.
Ethics approval and consent to participate
Availability of data and material
This study did not generate datasets.
Abbreviations
2D:

two dimensional
3D:

three dimensional
DIC:

differential inference contrast
OPT:

optical projection tomography
ssTEM:

serial section transmission electron micrograph
TEM:

transmission electron micrograph
Declarations
Funding
The author received no funding for this work.
Open AccessThis article is distributed under the terms of the Creative Commons Attribution 4.0 International License (http://creativecommons.org/licenses/by/4.0/), which permits unrestricted use, distribution, and reproduction in any medium, provided you give appropriate credit to the original author(s) and the source, provide a link to the Creative Commons license, and indicate if changes were made. The Creative Commons Public Domain Dedication waiver (http://creativecommons.org/publicdomain/zero/1.0/) applies to the data made available in this article, unless otherwise stated.
Authors' Affiliations
(1)
Department of Biological Structure, School of Medicine, University of Washington, Seattle, USA