Research article
Open Access
Role of the Skp1 prolyl-hydroxylation/glycosylation pathway in oxygen dependent submerged development of Dictyostelium
BMC Developmental Biology
2012
12:31
Received: 28 June 2012
Accepted: 11 October 2012
Published: 25 October 2012
Abstract
Background
Oxygen sensing is a near universal signaling modality that, in eukaryotes ranging from protists such as Dictyostelium and Toxoplasma to humans, involves a cytoplasmic prolyl 4-hydroxylase that utilizes oxygen and α-ketoglutarate as potentially rate-limiting substrates. A divergence between the animal and protist mechanisms is the enzymatic target: the animal transcriptional factor subunit hypoxia inducible factor-α whose hydroxylation results in its poly-ubiquitination and proteasomal degradation, and the protist E3SCFubiquitin ligase subunit Skp1 whose hydroxylation might control the stability of other proteins. In Dictyostelium, genetic studies show that hydroxylation of Skp1 by PhyA, and subsequent glycosylation of the hydroxyproline, is required for normal oxygen sensing during multicellular development at an air/water interface. Because it has been difficult to detect an effect of hypoxia on Skp1 hydroxylation itself, the role of Skp1 modification was investigated in a submerged model of Dictyostelium development dependent on atmospheric hyperoxia.
Results
In static isotropic conditions beneath 70-100% atmospheric oxygen, amoebae formed radially symmetrical cyst-like aggregates consisting of a core of spores and undifferentiated cells surrounded by a cortex of stalk cells. Analysis of mutants showed that cyst formation was inhibited by high Skp1 levels via a hydroxylation-dependent mechanism, and spore differentiation required core glycosylation of Skp1 by a mechanism that could be bypassed by excess Skp1. Failure of spores to differentiate at lower oxygen correlated qualitatively with reduced Skp1 hydroxylation.
Conclusion
We propose that, in the physiological range, oxygen or downstream metabolic effectors control the timing of developmental progression via activation of newly synthesized Skp1.
Keywords
Prolyl 4-hydroxylaseGlycosyltransferaseOxygen sensingHypoxiaHydroxyprolineCellular slime mold
Background
Cells, whether free-living or residing within multicellular organisms, continuously monitor environmental O
2
and integrate this information with other cues to regulate their metabolism, growth and development. Cytoplasmic prolyl 4-hydroxylases (P4Hs) are key O
2
sensors in animals [
1
,
2
], owing to their ability to distribute the atoms of molecular O
2
between the target Pro and the metabolite α-ketoglutarate. The transcriptional co-factor hypoxia inducible factor-α (HIFα) is a main target (Figure 
1
A), and hydroxylated HIFα is subject to polyubiquitination by the VHL (von Hippel-Lindau protein/cullin-2/elongin B/elongin C) type of E3 ubiquitin ligases leading to subsequent degradation in the 26S-proteasome [
2
]. Thus low O
2
is thought to rapidly induce the expression of new genes appropriate to hypoxia. In contrast, a P4H in the social amoeba
Dictyostelium
and the human parasite
Toxoplasma gondii
, known as PhyA (previously referred to as P4H1), appears to solely hydroxylate Skp1 (Figure 
1
B), at Pro143 [
3
,
4
]. Hydroxylation does not affect Skp1 stability [
5
] but may regulate poly-ubiquitination activity of the SCF (Skp1/cullin-1/F-box) class of E3 ubiquitin ligases, of which Skp1 is an adaptor subunit [
6
,
7
]. The 4(
trans
)-hydroxyproline (Hyp) can then be sequentially modified by 5 sugars whose additions are catalyzed by 5 glycosyltransferase activities encoded by 3 genes [
5
,
8
,
9
]. Reverse genetic analyses demonstrated that hydroxylation and glycosylation of
Dictyostelium
Skp1 are essential for normal O
2
regulation of development [
10
,
11
], and recent studies showed its importance for optimal growth of
Toxoplasma
[
4
].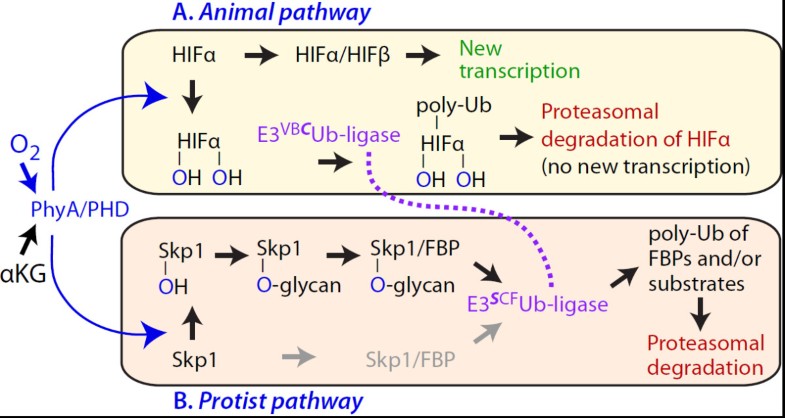 Dictyostelium
development is ultrasensitive to O
2
making it a good model for understanding the mechanism of O
2
sensing by other organisms that conserve the Skp1 modification pathway. Development is induced by starvation, which signals the normally solitary phagocytic amoebae to form a multicellular fruiting body, which consists of a cellular stalk that aerially supports thousands of spores for potential dispersal to other locations (see Figure 
2
A in Results) [
12
–
14
]. Initially, the amoebae chemotax together to form a multicellular aggregate, which polarizes in response to environmental cues and elongates into a migratory slug consisting of prestalk cells mostly at its anterior end and prespore cells in the remainder. The slug responds to environmental signals that direct its migration and regulate the slug-to-fruit switch– the process of culmination leading to formation of the fruiting body. Signals include light, low NH
3
, low moisture, higher temperature, and high O
2
which, in the native environment of the soil, draw the subterranean slug to above ground where culmination is most productive [
11
,
12
,
15
–
20
]. In the laboratory, the process takes place over the course of 24 h after deposition of amoebae on moist agar or filter surfaces wetted with low salt buffers. Whereas amoebae grow and form slugs at an
air-water
interface in the presence of as little as 2.5% O
2
, ~10% is required for culmination [
21
], and slugs immersed in mineral oil require atmospheric hyperoxia to culminate [
20
]. Overexpression of Skp1 or absence of pathway activity drives the O
2
requirement up to 18-21% (near ambient level), whereas decreased Skp1 or overexpression of PhyA drives the O
2
requirement down to 5% or less [
5
,
10
,
11
]. These genetic manipulations also revealed effects on timing of slug formation and on sporulation. Together with studies on a Skp1 mutant lacking the modifiable Pro143 residue, and double mutants between Skp1 and pathway enzyme genes, the findings suggested that the Skp1 modification pathway mediates at least some O
2
responses. However, O
2
contingent modification of the steady state pool of Skp1 has not been demonstrated.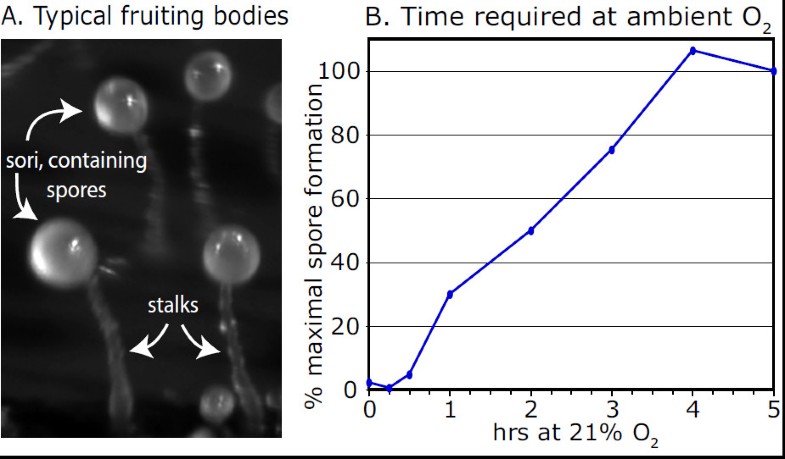 To address this issue, and to investigate the generality of O2 regulation of development, we turned to a previously described submerged development model in which terminal cell differentiation depends on high (≥70%) atmospheric O2[22, 23]. The wider range of O2 concentrations presented to cells in this setting may facilitate analysis of the dependence of Skp1 hydroxylation on O2, and absence of the morphogenetic movements of culmination might reveal later developmental steps that are dependent on Skp1 and its modifications. In a static adaptation of the previous shaking cultures, we observed that terminal cell differentiation occurs in a novel radially symmetrical fashion in multicellular cyst-like structures. Under these conditions, we find that O2 is apparently rate-limiting for Skp1 hydroxylation, and that cyst formation and terminal spore differentiation that require high O2 also depend on normal levels of Skp1 and both its hydroxylation and glycosylation. This expands the role of Skp1 and its modifications in developmental regulation, and supports the model that O2 regulates its modification in cells.
Discussion
Three novel observations regarding development under submerged conditions are presented here: i) In the presence of high O2 and absence of stirring, cell differentiation occurs in a radially symmetrical rather than the typical linearly polarized pattern. With their outer husk-like cortex and interior germinative cells, these structures have the organization of multicellular cysts as occur in animal tissues. The cyst-like structures are distinct from other terminal states formed by Dictyostelium, including the dormant unicellular microcyst and the multinucleated macrocyst [36]. Although conditions leading to the formation of cyst-like structures are not known to occur naturally, its O2 dependence is likely to be relevant to interpreting O2 signaling in normoxia as outlined below. ii) Skp1 hydroxylation is limited by O2 availability. iii) Certain developmental transitions that occur during submerged development, including tight aggregate formation and terminal spore differentiation, critically rely on hydroxylation and glycosylation of Skp1. Together, these findings reinforce a role for environmental O2 for influencing polarity and key developmental transitions, and strongly implicate the Skp1 modification pathway in decoding the O2 signal.
Conclusions
In an isotropic submerged environment under high O2, starved Dictyostelium cells form cyst-like structures in which terminal differentiation occurs in a radially symmetrical pattern consisting of external stalk cells and internal spores. Low O2 is rate-limiting for the hydroxylation and subsequent glycosylation of Skp1, which correlates qualitatively with inhibition of spore differentiation. Genetic perturbations indicate the importance of Skp1 hydroxylation and glycosylation for activating Skp1 activity in regulating cyst formation and sporulation, in addition to previous evidence for its inhibition in regulating culmination at an air-water interface. The findings support a model in which environmental control of Skp1 modification differentially influences sequential developmental transitions via polyubiquitination and degradation of F-box proteins and their respective regulatory factor substrates.
Abbreviations
Hyp:

(4R,2S)-hydroxyproline (aka 4(trans)-hydroxy-L-proline)
mAb:

Monoclonal antibody
pAb:

Polyclonal antibody
PhyA:

Prolyl 4-hydroxylase-1 from D. discoideum
PKA:

Protein kinase A
SCF:

E3 ubiquitin ligase sub-complex consisting of Skp1, a cullin-1, an F-box protein, and Rbx1
SEM:

Standard error of the mean
Ub:

Ubiquitin.
Declarations
Acknowledgments
We are grateful to Jim Henthorn at the Flow & Image Cytometry Lab at OUHSC for assistance in the confocal imaging. Haitham Abd El-Moaty provided valuable assistance early in the project. Funding was provided by NIH grants RO1 GM037539 and R01 GM084383, grant HR10-181 from the Oklahoma Center for the Advancement of Science and Technology (OCAST), and a grant to the Summer Undergraduate Research Program (SURE) program from the OUHSC Graduate School and the Provost's Office.
Authors' Affiliations
(1)
Department of Biochemistry and Molecular Biology, Oklahoma Center for Medical Glycobiology, University of Oklahoma Health Sciences Center, Oklahoma City, USA
(2)
Department of Molecular Microbiology, Washington University Medical School Campus, St. Louis, USA
Copyright
© Xu et al.; licensee BioMed Central Ltd. 2012
This article is published under license to BioMed Central Ltd. This is an Open Access article distributed under the terms of the Creative Commons Attribution License (http://creativecommons.org/licenses/by/2.0), which permits unrestricted use, distribution, and reproduction in any medium, provided the original work is properly cited.