Research article
Open Access
Analysis of the dynamics of limb transcriptomes during mouse development
BMC Developmental Biology
2011
11:47
Received: 4 May 2011
Accepted: 29 July 2011
Published: 29 July 2011
Abstract
Background
The development of vertebrate limbs has been a traditional system to study fundamental processes at work during ontogenesis, such as the establishment of spatial cellular coordinates, the effect of diffusible morphogenetic molecules or the translation between gene activity and morphogenesis. In addition, limbs are amongst the first targets of malformations in human and they display a huge realm of evolutionary variations within tetrapods, which make them a paradigm to study the regulatory genome.
Results
As a reference resource for future biochemical and genetic analyses, we used genome-wide tiling arrays to establish the transcriptomes of mouse limb buds at three different stages, during which major developmental events take place. We compare the three time-points and discuss some aspects of these datasets, for instance related to transcriptome dynamics or to the potential association between active genes and the distribution of intergenic transcriptional activity.
Conclusions
These datasets provide a valuable resource, either for research projects involving gene expression and regulation in developing mouse limbs, or as examples of tissue-specific, genome-wide transcriptional activities.
Keywords
Intergenic RegionImprint GeneTiling ArrayLimb DevelopmentEnsembl Annotation
Background
Limb development has fascinated biologists for a century, mostly because of the importance of these structures in the evolution of land vertebrates and due to their spectacular morphological diversity. From an experimental viewpoint, limbs are quite easily accessible at various stages of their ontogenesis and can thus be manipulated, to some extent. Genetically speaking, limb phenotypes can be easily detected and usually do not impair survival too strongly. For all these reasons, limbs have been excellent model structures to study vertebrate patterning and morphogenesis.
Tetrapods limbs bud out from the lateral plate mesoderm and establish early on the bases of a three-dimensional pattern. The growth along the proximo-distal axis largely depends on FGFs signaling emanating from the apical ectodermal ridge (AER) and acting over the mesenchyme. On the other hand, the anterior to posterior (AP) axis is specified essentially by Hand2, the Shh pathway and posterior Hoxd genes. Amongst the known regulators of the dorso-ventral (DV) patterning are Wnt7a, expressed in dorsal ectoderm, and Engrailed, in ventral ectoderm, as well as Lmxb1, a gene transcribed in dorsal mesenchyme. These signaling cascades act together in a highly coordinated manner [1–3].
At later stages of development, e.g. starting from E11.5 onwards in mice, mesenchymal condensations form and establish the future skeletal pattern, following a tightly regulated process. The first elements to appear are those of the future stylopod (humerus, femur), then of the zeugopod (radius, ulna, tibia, fibula) and, finally, the autopod (hands and feet). This period of limb development, referred to as 'proliferative expansion, determination and differentiation' [2], is a very dynamic phase, where differences amongst tetrapods start to be translated from the genetics (the transcription, maintenance and silencing of regulatory genes and their readouts) to species-specific morphologies. Such differences in the shapes of tetrapod limbs, may rely upon slight variations in these 'genetic' parameters, such as transcriptional heterochronies or quantitative effects of key developmental molecules [4–6].
While many of those genes critical for limb development were described over the past 15 years, additional players, such as regulatory RNAs, have come into play more recently. There is indeed increasing evidence that long non-coding RNAs (ncRNAs) may be crucial for some developmental processes [7] due to their involvement in various functions including gene regulation, both at the transcriptional and post-transcriptional levels, in the organization of epigenetic modifications [8] as well as during gene activation and silencing [9]. Surprisingly, inter-species sequence conservation does not seem to be essential [10], even in the cases of the Xist, Air or Evf-2 RNAs where important functions were demonstrated [11–13]. The best-studied long ncRNAs are associated with imprinted gene clusters, where many of them act by repressing neighboring genes via a cis-effect [13, 14].
As a resource for research projects involving gene expression and regulation in developing mouse limbs, we set up to produce and analyze whole genome expression data for E11.5, E13.5 and E15.5 forelimbs. We selected these three stages of embryonic limb development not only because these days are very dynamic, in terms of growth and organogenesis, but also because the transcriptional activation of several known genes occurs during this time-period, giving us both an idea of the relevance of the datasets, and the possibility to look at the vicinities of these loci to evaluate a potential clustering of transcriptional activities. Within this time-window indeed, the muscular and skeletal systems develop in parallel with massive vascularization, innervations and skin formation, implying large amounts of new cell types and tissue interactions. We selected three different ontogenetic stages to see how global transcriptional activity evolves along with development of a complex structure, not only by considering protein coding genes, but also intergenic transcription and non-coding RNA expression.
Results and discussion
We sampled mouse embryonic forelimbs at days 11.5, 13.5 and 15.5 postcoïtum, by cutting off the entire forelimb buds from the body wall (Figure
1A
). The particular morphogenetic events occurring at these stages have been largely described earlier (
e.g.
[
15
]). Briefly, E11.5 limb buds consist of a rather poorly differentiated inner mesenchyme, located within an epidermal envelope. Despite this apparent uniformity, mesenchymal cells at this stage can be already differentiated as belonging to denser, centrally located regions where condensation of the future cartilage rods starts to occur [
2
]. These condensations appear with a time sequence that follows a proximal to distal progression. At the same stage, the first nerve fascicles become apparent, originating from the brachial plexus.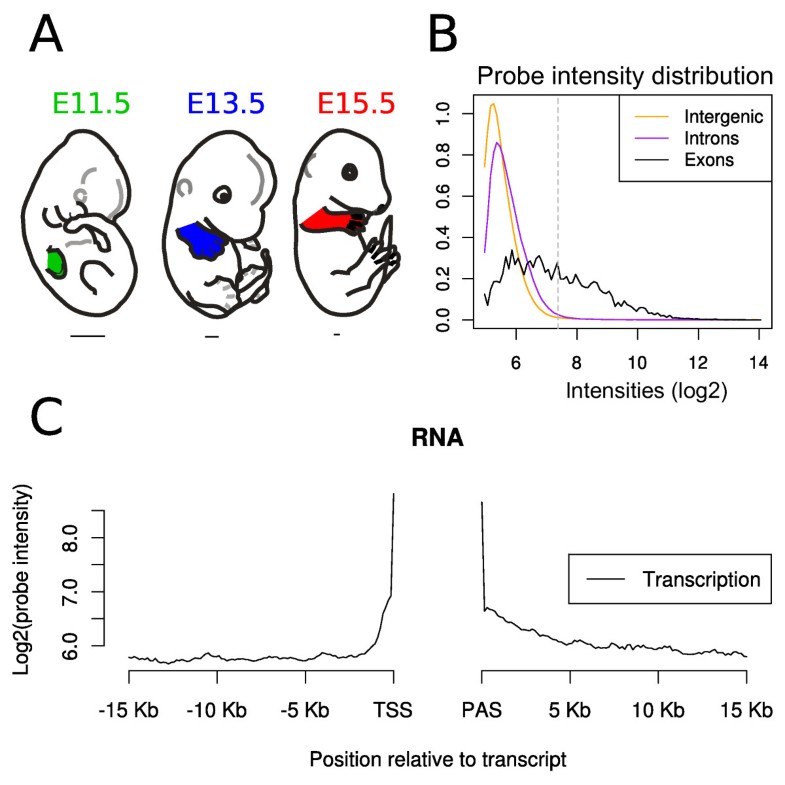 By day 13.5, the cartilage primordia of the future limb skeleton are already well defined, the digits start to separate from one another as a result of inter-digital cell death. There is massive deposition of muscle elements (already initiating in late E11.5 buds), nerves extend into the hand plates and few hair buds are already apparent. The limbs are fully vascularised and the skin starts to stratify. Embryonic forelimbs at day 15.5 have completely separated digits. The ossification process, which starts around E14.0, is in progress even in the most distal phalanges. Most of the tendons are now well defined and there is strong progression of skin stratification.
Conclusions
These datasets provide a valuable resource, either for research projects involving gene expression and regulation in developing mouse limbs, or as examples of tissue-specific, genome-wide transcriptional activities. More specifically, we found that expression signals are frequently confined to known transcript boundaries but tend to extend past the 3'ends of genes. Also, about 40 percent of known genes were found expressed in limbs of 11.5, 13.5 and 15.5 days old foetuses. We observed extensive intronic transcription, since about 50 percent of expressed genes also contained signals covering intronic sequences. After filtering, more than 4,000 intergenic regions remained clearly transcribed during the three developmental stages. Finally, we identified 49 long ncRNAs that were differentially expressed in our samples.
Methods
Sampling and microarray hybridization
C57Bl/6J embryonic forelimbs at stages 11.5 (20 limbs), 13.5 (8 limbs) and 15.5 (2 limbs) were dissected along the body wall and kept in RNAlater. Total RNA was extracted using RNeasy-mini columns (Qiagen), DNaseI digested on-column, treated with RNase free DNase I once more (Roche), and further processed according to the Affymetrix GeneChip WT Double-Stranded Target Assay manual. Briefly, ribosomal RNAs were depleted and samples were reverse transcribed. These cDNAs served as templates for cRNA synthesis (amplification), which were then reverse transcribed again. The products were fragmented, labeled and hybridized onto Genechip Mouse Tiling 1.1R arrays. The qualities of all initial steps were monitored by Bioanalyzer 2100 (Agilent). All microarray-related experiments were done in duplicate.
All experiences involving animals were carried according to the Swiss law, under the authorization number 1008/3482/0 (to DD).
Microarray data processing
The tiling array set consisted of 14 chips. For each of these chips and each of the six samples (3 time-points × 2 duplicates), standard background correction and quantile normalization was performed; mismatch probes were not used. The correlation of probe intensities (log2) on all replicated arrays ranged form 0.84 and 0.91. Probe coordinates were converted to the July 2007 build of the mouse genome using the UCSC liftOver software http://hgdownload.cse.ucsc.edu/admin/exe/. For each chromosome on a chip, a summary procedure was then performed as follows. Known gene annotations were downloaded from UCSC http://genome.ucsc.edu/cgi-bin/hgTables and complemented by miRNA, snRNA and snoRNA annotations from ensemble http://www.ensembl.org. All probes in an exon were considered as a single block. In introns and intergenic regions, blocks were defined using a sliding window of 500 bp width. For each block, a linear model identical to that in the RMA method [44] was used to estimate the three condition-specific expression levels from the six samples. This regression was done after log transformation of the normalized intensity data. Thresholds for expression of exons were defined by the 99th percentile of the distribution of expression levels in the regions annotated as intergenic. Transcripts with 80% or more expressed exons were considered to be expressed. Genes with 50% or more expressed exons were considered to be expressed. Small RNAs were only considered if they were larger than 100 bp.
Identification of differentially expressed genes
Differences in expression were calculated by taking the median (log-scale) expression level across the exons of a gene, and then calculating the differences between pairs of experimental conditions. A permutation method was used to define significance thresholds on differential expression: probes were permutated locally along the genome as follows: a random variable drawn from a Gaussian distribution (standard deviation = 1 Mb) for each probe and was added to the probe coordinates. The probes were then ranked according to their new coordinates. In the permutated dataset, the intensity of a probe was then replaced by the intensity of the probe with equal rank in the randomized coordinates. Five permutated datasets were generated and differential expression levels of genes were calculated as above. Expression differences greater than the 99th percentile or smaller than the first percentile of the expression differences in the combined permutated datasets were considered as significant.
Intronic and intergenic signal analyses
Intronic signals were defined as continuous regions above threshold of at least 300 bp length and containing no unspotted regions (regions without hybridization probes) of more than 100 bp. Intergenic signals were defined as continuous regions above threshold of at least 300 bp lengths. Once identified, intergenic signals were classified as flanking UCSC annotations if they were within 100 bp of a UCSC known gene annotation. Wherever possible, intergenic signals not classified as flanking UCSC annotations were identified from Ensembl annotation, differentiating between Ensembl overlap, where an overlap of at least 200 bp existed between an intergenic signal and an Ensembl annotation, and Ensembl flanking, where the intergenic signal was within 100 bp of the Ensembl annotation. The remaining signals were considered and termed unexplained. expressed intergenic regions (orange) at E11.5 were annotated as 'close to' an expressed gene (red), 'close to' a non-expressed (blue), 'not close to' a gene (green). For Figure 3, the distance cut-off to assign 'close' varied form 1 Kb to 1 Mb (x-axis) using bin size increasing by 1 Kb from 1 Kb to 20 Kb, by 10 Kb from 20 Kb to 100 Kb and by 100 Kb from 100 Kb to 1 Mb.
Conservation of ncRNA sequences
PhastCons conservation scores [45] were downloaded from UCSC website using 29 vertebrate genomes alignments with the Mouse (mm9-PhasCons30way). Mean conservation scores were calculated for genomic regions covering the selected ncRNAs.
Whole mount in situ hybridization and quantitative PCR
Whole mount in situ hybridizations were performed according to standard protocol. Amplified cDNA products were ligated into pTopo-BluntII (Invitrogen) vector. Digoxigenin (Roche) labeled riboprobes were produced using T7 or Sp6 RNA polymerase (Promega). Hybridizations were carried out overnight at 68°C. Hybridizations were detected using NBT/BCIP solutions (Roche). Real-time qPCRs were done in triplicate with Express Sybr GreenER premix (Invitrogen) using CFX96 Real-Time system (Biorad). Primers are compiled in the supplementary material (Additional file 8).
Abbreviations
AER:

Apical Ectodermal Ridge
AP:

Anterior to Posterior
DV:

Dorsal to Ventral
ncRNAs:

Non-coding RNAs
lncRNAs:

Long non-coding RNAs
TSS:

Transcription start site
UTR:

Untranslated region
TF:

Transcription factor.
Declarations
Acknowledgements and Funding
We thank the members of the NCCR genomics platform for their help with tiling arrays as well as members of the Duboule laboratories for discussions. This work was supported by funds from the Ecole Polytechnique Fédérale, Lausanne, the University of Geneva, the Swiss National Research Fund, the National Research Center (NCCR) "Frontiers in Genetics", the EU program "Crescendo" and the ERC grant Systems Hox.ch (to D.D.).
Authors' Affiliations
(1)
School of Life Sciences, Ecole Polytechnique Fédérale, Lausanne, Switzerland
(2)
Swiss Institute of Bioinformatics, Batiment Génopode, University of Lausanne, Switzerland
(3)
Department of Genetics and Evolution, University of Geneva Quai Ernest Ansermet, Geneva, Switzerland
Copyright
© Gyurján et al; licensee BioMed Central Ltd. 2011
This article is published under license to BioMed Central Ltd. This is an Open Access article distributed under the terms of the Creative Commons Attribution License (http://creativecommons.org/licenses/by/2.0), which permits unrestricted use, distribution, and reproduction in any medium, provided the original work is properly cited.