Research article
Open Access
Heat shock factor-1 intertwines insulin/IGF-1, TGF-β and cGMP signaling to control development and aging
BMC Developmental Biology
2012
12:32
Received: 8 August 2012
Accepted: 16 October 2012
Published: 1 November 2012
Abstract
Background
Temperature affects virtually all cellular processes. A quick increase in temperature challenges the cells to undergo a heat shock response to maintain cellular homeostasis. Heat shock factor-1 (HSF-1) functions as a major player in this response as it activates the transcription of genes coding for molecular chaperones (also called heat shock proteins) that maintain structural integrity of proteins. However, the mechanisms by which HSF-1 adjusts fundamental cellular processes such as growth, proliferation, differentiation and aging to the ambient temperature remain largely unknown.
Results
We demonstrate here that in Caenorhabditis elegans HSF-1 represses the expression of daf-7 encoding a TGF-β (transforming growth factor-beta) ligand, to induce young larvae to enter the dauer stage, a developmentally arrested, non-feeding, highly stress-resistant, long-lived larval form triggered by crowding and starvation. Under favorable conditions, HSF-1 is inhibited by crowding pheromone-sensitive guanylate cyclase/cGMP (cyclic guanosine monophosphate) and systemic nutrient-sensing insulin/IGF-1 (insulin-like growth factor-1) signaling; loss of HSF-1 activity allows DAF-7 to promote reproductive growth. Thus, HSF-1 interconnects the insulin/IGF-1, TGF-β and cGMP neuroendocrine systems to control development and longevity in response to diverse environmental stimuli. Furthermore, HSF-1 upregulates another TGF-β pathway-interacting gene, daf-9/cytochrome P450, thereby fine-tuning the decision between normal growth and dauer formation.
Conclusion
Together, these results provide mechanistic insight into how temperature, nutrient availability and population density coordinately influence development, lifespan, behavior and stress response through HSF-1.
Keywords
Heat shock factor-1C. elegansDauer developmentAgingSignaling crosstalk
Background
In the nematode
Caenorhabditis elegans
the insulin/IGF-1 and TGF-β signaling pathways co-regulate metabolism, aging, stress tolerance and development [
1
–
5
]. Harsh environmental conditions (e.g., starvation, high population density or high temperatures) and mutations that reduce the activity of either of these pathways cause lipid accumulation in the adipose tissues, lifespan extension, an enhanced tolerance against heat stress, and a switch in the developmental program from normal reproductive growth to dauer development (the dauer is an alternative third larval stage, a developmental diapause, in which the animal shifts metabolism and alters behavior in order to maximize survival and dispersal) [
6
,
7
]. The membrane bound receptor guanylate cyclase (GC) DAF-11 (dauer formation constitutive; Daf-c) is an upstream regulator of both pathways. It generates the messenger molecule cGMP, which activates the TGF-β ligand DAF-7 and the insulin/IGF-1 ligand DAF-28 (Figure
1
A) [
8
]. Interestingly, mutations blocking insulin/IGF-1 or TGF-β signaling promote dauer development in a temperature-dependent fashion. For example, at 20°C mutant animals defective for DAF-2 (the worm IGF-1 receptor) or DAF-7 develop as dauer larvae with a relatively moderate penetrance. At 25°C, however, both single mutants develop exclusively as dauer larvae. Thus, expression of the Daf-c phenotype in
daf
2
(−) and
daf
7
(−) mutants relies on the perception of the ambient temperature. This implies that the effects of nutrient supply, population density and temperature are somehow orchestrated in the animal to influence reproductive growth, longevity, stress resistance and metabolism.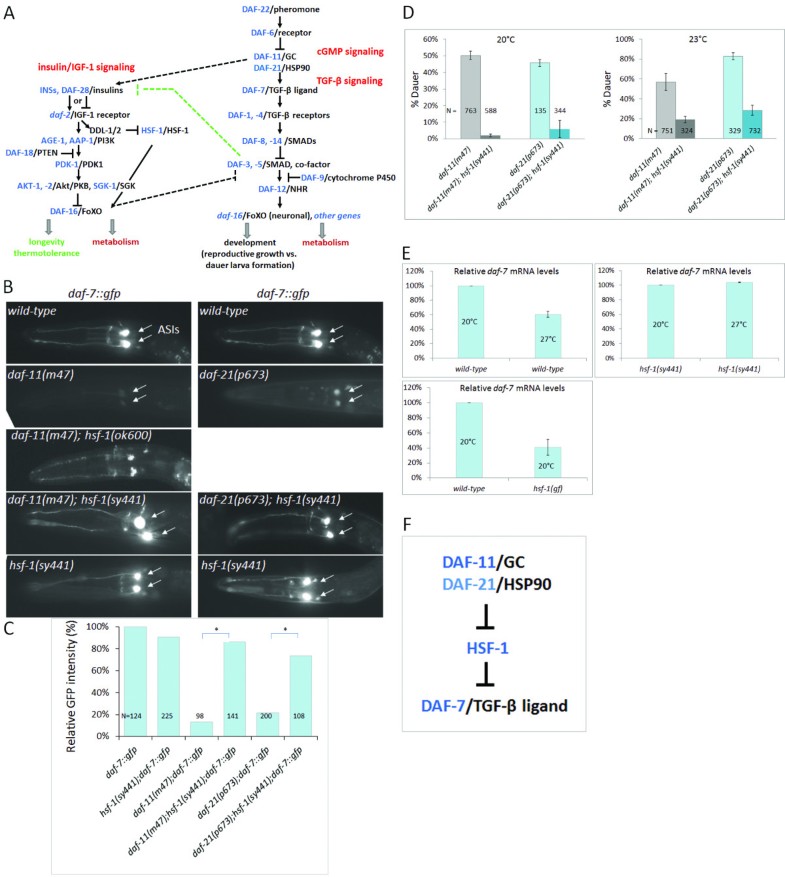 In divergent eukaryotic species, the transcription factor HSF-1 adjusts various cellular processes in response to heat stress through initiating a conserved transcriptional program [9–11]. Upon temperature increase, HSF-1 becomes activated via trimerization and phosphorylation, then translocates into the nucleus to promote the transcription of genes that encode heat shock proteins (HSPs) such as Hsp70, Hsp72, and Hsp90 [12–14]. These factors largely contribute to the protection of cells from protein-damaging stress. In C. elegans, insulin/IGF-1 signaling inhibits HSF-1 activity [9, 15]; DAF-2 was recently shown to inhibit phosphorylation of DDL-1 (DAF-16-dependent longevity) and DDL-2, two negative regulators of HSF-1, in order to keep HSF-1 in an inactive (the DHIC protein complex bound) form [15]. When insulin/IGF-1 signaling is attenuated, HSF-1 and the insulin/IGF-1 signaling target DAF-16/FoXO (Forkhead box-O) stimulate the expression of genes required for longevity and stress resistance (Figure 1A) [1]. Among their common targets, several small heat shock protein encoding genes can be found [1].
Discussion
Most of the HSF-1 targets identified so far encode heat shock proteins protecting cells from protein-damaging agents [10]. A few examples where HSF-1 transcriptionally represses non-heat shock proteins were also reported [24, 25]. In this study we identified two C. elegans TGF-β pathway-related genes, daf 7/TGF-β and daf 9/cytochrome P450, whose regulatory regions contain a conserved binding site for HSF-1 (Figures 2A, B and 4B, C), and whose expression highly depends on HSF-1 activity (Figures 1B, C, 2D and 4D). daf 7 and daf 9 are likely to be under the direct control of HSF-1. daf 7 expression is repressed, while daf 9 expression is upregulated, by HSF-1, resulting in opposite effects on dauer formation. The overall impact of (dual) HSF-1 activity on this developmental choice (reproductive growth vs. dauer larva formation) is to promote dauer development in the wild type at high temperatures (over 27°C) with only a moderate percentage. Consistent with these results, another cytochrome P450 encoding gene, cyp35B1/dod 13, was recently identified as a HSF-1 target gene [26]. HSF-1 also upregulates cyp35B1/dod 13 expression in intestinal cells [26]. Taken together, our present results further suggest that the HSF-1-initiated transcriptional program involves up- and downregulation of "metabolic" genes, the protein products of which have no chaperone function. Rather, these proteins operate as key components of signal transduction pathways implicated in metabolism, development and lifespan control. In the light of these data, one can mechanistically explain how upshift in the ambient temperature affects—in addition to protein homeostasis—diverse cellular processes such as growth, proliferation, fat metabolism, differentiation and aging. Nevertheless, once the developmental decision favoring dauer larva formation is made, several hsp genes become also upregulated by HSF-1, and their products contribute to increased stress resistance in the animal.
Our data presented here indicate that HSF-1 represses daf-7 through a direct transcriptional interaction (Figure 2). daf-7 codes for a TGF-β ligand that activates the TGF-β signaling axis promoting reproductive growth. daf-7 regulation by HSF-1 elucidates why nematodes can enter into the dauer stage at high (27°C) temperature even when they are well-fed and not crowded. Moreover, HSF-1 activity is influenced by the receptors DAF-11 and DAF-2 (Figures 1, 5 and 6). DAF-11 is responsive to concentration of the dauer pheromone (i.e., to population density), while DAF-2 senses the animal's nutritional status. Nematodes deficient in either of these proteins form dauer larvae and age in a temperature-dependent manner. For example, daf-2(−) mutant animals develop reproductively at 15°C, but develop as dauer larvae at 25°C. More significantly, daf-2(−) mutants that reach the adulthood live much longer at 15°C than at 25°C. Thus, a complex regulatory interaction mediated by HSF-1 among the TGF-β, guanylate cyclase/cGMP and insulin/IGF-1 signaling systems exists to affect development and lifespan in response to various environmental factors, including population density, nutrient availability and temperature.
HSF-1 stimulates daf 9/cytochrome P450 activity (Figure 4B-E), implying that it acts both upstream and downstream of DAF-7 to control nematode development (Figures 4E, 7D). daf 7 repression by HSF-1 promotes, while daf 9 upregulation by HSF-1 suppresses dauer formation under a given condition. Why is a dual function of HSF-1 needed for dauer formation control? At 27°C, only a minor portion (<2-5%) of C. elegans populations enters the dauer stage [21]. Without stimulating daf 9 activity, HSF-1 would completely inhibit reproductive growth. Actually, this occurs in sensitized [e.g., daf 2(−) and daf 11(−)] mutant genetic backgrounds. Since in the temperate and tropical zones the temperature is often above 27°C, nematode populations would frequently exist as non-reproducing dauer larvae under these conditions. This way, HSF-1 regulates both a dauer-inhibiting (daf 7) and a dauer-inducing (daf 9) TGF-β pathway component in order to allow the populations to survive (some dauer larvae) and propagate (many reproductive adults) simultaneously under environmental stress, thereby maximizing the chance of the population to survive.
Finally, here we revealed that HSF-1 mediates the regulatory effect of DAF-11 on C. elegans development. DAF-11 is a receptor guanylate cyclase that is implicated in chemosensation and behavior [8]. Interestingly, several behavioral patterns in various animal species depend on the ambient temperature. Our present finding that guanylate cyclase acts through HSF-1 in controlling C. elegans dauer formation may help to understand how heat stress, food deprivation or crowding also affects behavior in humans.
Conclusions
Fundamental insights into how genes and environmental factors influence metazoan metabolism, development and aging have emerged from a genetic dissection of the C. elegans dauer diapause, which is an arrested (non-reproductive), long-lived, and highly stress-resistant larval form triggered by starvation and crowding. Identified molecular pathways that regulate the developmental choice between reproductive growth and dauer larva formation include the insulin/IGF-1, TGF-β and guanylate cyclase/cGMP neuroendocrine systems. Here we show that heat shock factor-1 (HSF-1), a major player in cellular response to heat stress, intertwines these signaling systems in development and aging control. Under adverse environmental conditions HSF-1 promotes dauer larva development through repression of daf-7, which encodes a TGF-β ligand. When conditions are favorable, HSF-1 is inhibited by crowding pheromone-sensitive guanylate cyclase/cGMP and systemic nutrient-sensing insulin/IGF-1 signaling; loss of HSF-1 activity allows DAF-7 to induce reproductive growth. These results provide mechanistic insight into how temperature, nutrient availability and hormonal factors coordinately influence development, stress response, behavior and lifespan through HSF-1. In humans, an orthologous HSF-1-mediated signaling system may be dysregulated in diabetes, cancer and obesity.
Methods
Strains and alleles
The wild-type strain corresponds to var. Bristol (N2). The following mutant and transgenic strains were used in this study: PS3551 hsf-1(sy441)I, FX04607 hsf-2(tm4607)I, CB1370 daf-2(e1370)III, CB1372 daf-7(e1372)III, RB2302 daf-7(ok3125)III, DR62 daf-7(m62)III, DP38 unc-119(ed3)III, DR47 daf-11(m47)V, PR673 daf-21(p673)V, CB169 unc-31(e169)IV, CB151 unc-3(e151)X, FK181 ksIs2[pdaf-7::gfp + rol-6(su1006)], VC3071 hsf-1(ok600)/hIn1[unc-101(sy241)]I, CF1824 muEx265[hsf-1p::hsf-1cDNA + myo-3::GFP], TTV200 bjIs10[hsf-1p::hsf-1cDNA + myo-3::GFP] backcrossed 4x, TTV201 hsf-2(tm4607)I backcrossed 4x, TTV116 bjEx1[pdaf-7::daf-7::gfp + unc-119(+)], TTV117 bjEx9[pmutdaf-7::daf-7::gfp + unc-119(+)].
Generation of pdaf-7::gfp and pmutdaf-7::gfptransgenic strains
To generate a pdaf-7::gfp reporter, a genomic fragment containing 3,8 kb of the 5' regulatory region and the first exon of daf-7 was amplified by the following forward and reverse primers: 5'-aaa tcc gag tcc gtg aaa tg-3' and 5'-aaa cac cgg gag tga aga tg-3'. The resulting fragment was cloned into pGEM®-T Easy vector and subcloned into the vector pPD95.75, using the SphI and SalI restriction enzymes. QuikChange® II Site-Directed Mutagenesis Kit (Stratagene) was used to generate the mutant version of this reporter, with the primers: 5'-caa ttc cgc aaa att ttc tgg ctt ttc tct acg gta tag atg-3' and 5'-cat cta tac cgt aga gaa aag cca gaa aat ttt gcg gaa ttg-3'. These daf-7 genomic fragments were inserted in frame with gfp in these constructs. Transgenic strains were generated by biolistic transformation using Biolistic PDS-1000/He particle delivery system (BioRad). 10-15μg linearized plasmid DNA was bombarded onto unc-119(ed3) mutant L4/adult hermaphrodites. Fluorescent images were taken by an Olympus BX51 epifluorescence microscope.
Quantification of GFP expression intensity
Measurements were performed by the Image J software. Briefly, images were captured with Olympus BX51 epifluorescence microscope with a given exposure time. Cells of interest were selected, and mean grey values were measured. Fluorescent intensity of selected area was calculated by subtracting mean grey value of the background from mean grey value of the object of interest (the same size of areas was selected).
Lifespan assay
Life span assays were carried out at 25°C, as described previously [27]. Briefly, all strains were maintained at 20°C until the L4 larval stage, then transferred at 25°C, and scored for mean life span. For synchronization, 20–30 gravid well-fed adults were transferred to a new agar plate containing nematode growth medium (NGM) seeded with E. coli OP50 to lay eggs for 4–5 hours, and then removed. F1 young adults were transferred to NGM plates supplemented with 300μg/μl FUDR (5-fluoro-2'-deoxyuridine). Animals were considered dead when they stopped pharyngeal pumping and responding to touching. SPSS software was used to calculate mean life span and perform statistical analysis. P values for comparing Kaplan-Meyer survival curves between two groups were determined using log-rank (Mantel-Cox) tests.
Quantification of daf-7mRNA levels (qRT-PCR)
RNA samples were extracted from 100–200 synchronized L1 larvae, using a PureLink™ Micro-to-Midi Total RNA Purification System (Invitrogene). RNase-free DNase I (Fermentas) was used to eliminate genomic DNA contamination. DNA-free RNA samples were then converted to cDNA, using random hexamers by RevertAid First Strand cDNA Synthesis Kit. Amplification reactions were carried out in a total volume of 20 μl, using LightCycler® FastStart DNA Master SYBR Green I. The reaction conditions for the LightCycler® 2.0 Instrument (Roche) were: 95°C for 5 min, followed by 45 cycles of 95°C for 10s, 60°C for 5s, 72°C for 10s. Fluorescence was measured at each cycle at 72°C. Melting curve analysis was performed after PCR to assess the presence of a unique final product. Gene expression data are presented as the fold change in mRNA transcript abundance in mutant strains, normalized to one endogenous reference gene (pmp-3), relative to the wild-type strain. Primers for the housekeeping gene pmp-3: 5'-gtt ccc gtg ttc atc act cat-3'and 5'-aca ccg tcg aga agc tgt aga-3', and for daf-7: 5'-caa caa tgt gat agg caa cga-3'and 5'-aac tac gca cgc aca gac ac-3'. The results represent the mean of 3 independent experiments. To compare the means of dauer progeny, variables were analyzed by Student's t-test. Results are expressed as mean ± S.E.M.
Dauer assay
5–10 gravid adults were allowed to lay eggs for 4–6 hours at 20°C to obtain a synchronous population. Plates were placed to the assaying temperatures (20°C, 23°C, 26,5°C), and percentage of dauer larvae was scored typically after 72, 60 and 44 hours, respectively. At least three plates per strain were assayed. Results are expressed as mean ± S.E.M. Data were analyzed by one-way ANOVA and student t-test.
RNA interference
An hsf-1 cDNA clone (yk1245f10, a gift of Yuji Kohara) was cut by HindIII and KpnI, and the resulting 1333bp-long cDNA fragment was cloned into the L4440 "feeding" vector. The construct was then transformed into the bacterial strain Escherichia coli HT115(DE3).
Declarations
Acknowledgements
We thank A. Antebi, the Caenorhabditis Genetics Center funded by NIH and Shohei Mitani (National Bioresource Project, Japan) for nematode strains. This work was supported by the OTKA Hungarian Scientific Research Fund (Grants NK78012 and K75843) and the Central Hungary Operational Program (KMOP_1.1.1.-09/1-2009-0045). K. T-V. and T.V. are grantees of the János Bolyai Scholarship of the Hungarian Academy of Sciences.
Authors' Affiliations
(1)
Department of Genetics, Eötvös Loránd University, Budapest, Hungary
Copyright
© Barna et al.; licensee BioMed Central Ltd. 2012
This article is published under license to BioMed Central Ltd. This is an Open Access article distributed under the terms of the Creative Commons Attribution License (http://creativecommons.org/licenses/by/2.0), which permits unrestricted use, distribution, and reproduction in any medium, provided the original work is properly cited.