Research article
Open Access
Pdlim7 is required for maintenance of the mesenchymal/epidermal Fgf signaling feedback loop during zebrafish pectoral fin development
BMC Developmental Biology
2010
10:104
Received: 23 March 2010
Accepted: 15 October 2010
Published: 15 October 2010
Abstract
Background
Vertebrate limb development involves a reciprocal feedback loop between limb mesenchyme and the overlying apical ectodermal ridge (AER). Several gene pathways participate in this feedback loop, including Fgf signaling. In the forelimb lateral plate mesenchyme, Tbx5 activates Fgf10 expression, which in turn initiates and maintains the mesenchyme/AER Fgf signaling loop. Recent findings have revealed that Tbx5 transcriptional activity is regulated by dynamic nucleocytoplasmic shuttling and interaction with Pdlim7, a PDZ-LIM protein family member, along actin filaments. This Tbx5 regulation is critical in heart formation, but the coexpression of both proteins in other developing tissues suggests a broader functional role.
Results
Knock-down of Pdlim7 function leads to decreased pectoral fin cell proliferation resulting in a severely stunted fin phenotype. While early gene induction and patterning in the presumptive fin field appear normal, the pectoral fin precursor cells display compaction and migration defects between 18 and 24 hours post-fertilization (hpf). During fin growth fgf24 is sequentially expressed in the mesenchyme and then in the apical ectodermal ridge (AER). However, in pdlim7 antisense morpholino-treated embryos this switch of expression is prevented and fgf24 remains ectopically active in the mesenchymal cells. Along with the lack of fgf24 in the AER, other critical factors including fgf8 are reduced, suggesting signaling problems to the underlying mesenchyme. As a consequence of perturbed AER function in the absence of Pdlim7, pathway components in the fin mesenchyme are misregulated or absent, indicating a breakdown of the Fgf signaling feedback loop, which is ultimately responsible for the loss of fin outgrowth.
Conclusion
This work provides the first evidence for the involvement of Pdlim7 in pectoral fin development. Proper fin outgrowth requires fgf24 downregulation in the fin mesenchyme with subsequent activation in the AER, and Pdlim7 appears to regulate this transition, potentially through Tbx5 regulation. By controlling Tbx5 subcellular localization and transcriptional activity and possibly additional yet unknown means, Pdlim7 is required for proper development of the heart and the fins. These new regulatory mechanisms may have important implications how we interpret Tbx5 function in congenital hand/heart syndromes in humans.
Keywords
Fgf10 ExpressionApical Ectodermal RidgeLateral Plate MesodermTbx5 ExpressionLimb Mesenchyme
Background
The basic morphological and genetic mechanisms underlying vertebrate limb formation are highly conserved, from pectoral and pelvic fins in fish to arms and legs in humans [1–3]. Along the flank of the embryo the primordial limb fields are established at specific sites in the lateral plate mesoderm (LPM) [1]. The limb first appears as an outgrowth of mesenchyme from the LPM, which is covered by a sheet of ectoderm. The distal ectoderm covering the limb mesenchyme specializes and thickens to form a transient structure called the apical ectodermal ridge (AER). Reciprocal communication between the AER and underlying mesenchyme promotes cell proliferation and limb outgrowth. Physical removal of the AER, for example in the chicken embryo, results in cessation of limb growth and truncation of distal elements [4, 5].
In all vertebrates, one of the earliest determinants defining the forelimb field is the T-box transcription factor Tbx5 [6–10]. Expressed in the limb mesenchyme, Tbx5 is required for forelimb development and its functional disruption in zebrafish, chicken, and mouse results in a complete loss of the limb [11–13]. Tbx5 transcriptionally activates Fgf10 in the forelimb mesenchyme [12], and its secreted gene product then signals to the AER to induce the expression of ectodermal Fgfs such as Fgf4 and Fgf8 [14–16]. Fgf8 in turn signals back to the underlying mesenchyme to maintain Fgf10 expression, thereby creating a feedback loop needed to support limb outgrowth and establish the proximal-distal limb axis.
The Fgf signaling pathway is critical for limb initiation and outgrowth [17]. Genetic disruption of Fgf10, Fgf8, or Fgf4/Fgf8 results in severely malformed or truncated limbs [15, 16, 18–21]. The secreted Fgf ligands can bind to four Fgf receptors (Fgfr), with Fgfr1 and Fgfr2 being essential for limb development [17]. Fgfr1 is expressed in the limb mesenchyme and is required for distal limb and digit formation [22, 23]. Fgfr2 in the mouse is alternatively spliced into two isoforms, Fgfr2b and Fgfr2c, which are expressed in the ectoderm and mesenchyme, respectively [24]. Knock-out of both Fgfr2 isoforms results in a failure of limb induction [25, 26] and deletion of isoform Fgfr2b causes limb defects due to a loss of AER maintenance [27, 28]. While critical for proximal-distal limb patterning, Fgf signaling is also an integral part of patterning the other limb axes. The expression of Shh, a central signal in anterior-posterior axis patterning, as well as Wnts and Bmps, which participate in dorso-ventral axis formation, are all dependent on Fgf signals from the AER (reviewed in [29]).
We previously identified a member of the PDZ-LIM protein family, Pdlim7, to be co-expressed with and bind to the transcription factors Tbx5 and Tbx4 [30]. PDZ-LIM proteins contain an N-terminal PDZ domain and one or three C-terminal LIM domains. PDZ and LIM domains are both protein interaction modules, providing this multi-domain protein family with diverse interaction opportunities [31]. Functional roles for PDZ-LIM proteins have been reported in signal transduction, cell migration, and differentiation [32–35, 31]. In cell cultures and chicken and zebrafish embryos we have shown that Pdlim7 regulates Tbx5 nuclear/actin cytoskeleton-associated localization and activity during cardiac atrioventricular boundary and valve formation [36–38]. Work in zebrafish revealed that Pdlim7 is also required for proper skeletal muscle development and maintenance [38, 31]. However, the common or distinct functional roles Pdlim7 and related PDZ-LIM proteins have in organ formation in the developing vertebrate embryo remain poorly understood.
In the zebrafish, pdlim7 is co-expressed with tbx5 during cardiac and pectoral fin development [38]. Loss of either Pdlim7 or Tbx5 function leads to a similar cardiac phenotype, a non-looped heart, although by opposing molecular mechanisms [38, 11]. Elimination of Tbx5 results in a loss of Tbx5 responsive gene activation while reduction of Pdlim7 leads to an upregulation of Tbx5 target genes at the atrio-ventricular boundary. Along with the heart problems observed at later developmental stages, compromised Pdlim7 activity also results in pectoral fin defects early in embryogenesis [38]. However, detailed analysis of the fin phenotype has not been performed. Here we analyze the pectoral fin phenotype induced by morpholino knock-down and mRNA overexpression of pdlim7 and provide the first evidence of a critical role for PDZ-LIM proteins in vertebrate limb development.
Discussion
Pdlim7 functions to regulate Tbx5 transcriptional activity
T-box proteins including Tbx5 contain nuclear localization and nuclear export sequences, enabling these transcription factors to relocate between nuclear and cytoplasmic cell compartments [54–56]. We have previously shown that Pdlim7 is necessary for dynamic shuttling of Tbx5, sequestering the transcription factor to actin filaments outside the nucleus and thereby regulating Tbx5 target gene expression both in vitro and in vivo [30, 36, 38]. For example, tbx2b and nppa are downstream targets of Tbx5 during zebrafish heart valve development and can be indirectly regulated by Pdlim7 levels in cells of the atrio-ventricular (AV) boundary [38]. Loss of Pdlim7 function by morpholino knock-down results in increased tbx2b and nppa expression with excess valve tissue, while overexpression of Pdlim7 by synthetic mRNA injection into the embryo causes downregulation of these Tbx5 target genes and reduced valve tissue. These experimental results lead to a model in which a balance of Pdlim7 and Tbx5 within the cell regulates transcription factor activity. Does a similar molecular mechanism function during forelimb development? Fgf10 has been shown to be a transcriptional target of Tbx5 using in vitro reporter assays and in vivo during mouse forelimb development [12]. In addition, in cultured cells, Pdlim7 can regulate Tbx5 activation of an Fgf10-luciferase reporter construct [36]. Work from this study in the developing zebrafish pectoral fins, however, suggests that misregulation of Pdlim7 does not cause significant changes in fgf10 expression. Knock-down of pdlim7 did not result in an obvious upregulation or ectopic expression of fgf10 and respective overexpression of Pdlim7 did not lead to an apparent decrease in fgf10 expression (Fig. 3, 4, 7), however, the smaller fin size in the morphant embryos may obscure a correct assessment and contribute to this observation. Interestingly, the zebrafish specific Fgf24 has been placed in a pathway between Tbx5 and Fgf10 during pectoral fin induction (Fig. 8A; [41, 43]). fgf24 is expressed in the presumptive pectoral fin cells in the LPM at 18 hpf and is maintained in the fin mesenchyme until 28 hpf, before the gene is downregulated and then activated in the AER by 32 hpf (Fig. 6 and 7; [41]). Of note, we could detect induction of pdlim7 mRNA by 32 hpf in the budding fin, the time point when fgf24 mesenchymal expression is turned off. The switch between mesenchymal to AER expression of fgf24 does not occur in pdlim7 knock-down embryos; however, we could demonstrate ectopic expression of fgf24 in the fin mesenchyme up to 48 hpf (Fig. 5 and Fig. 6). The fact that Pdlim7 function can influence fgf24 expression in the fin mesenchyme, coupled with previous findings that loss of Tbx5 results in a loss of fgf24 expression [41], suggests that Fgf24 may be the critical Fgf target of Tbx5 in the zebrafish fin.
Based upon this suggestion we asked whether overexpression of pdlim7 would inhibit mesenchymal fgf24 expression before the normal appearance of pdlim7. Pdlim7 mRNA injection, however, did not yield an obvious reduction of fgf24 or fgf10 expression levels at 24 hpf in the fin mesenchyme, a time window before endogenous pdlim7 appears (Fig. 7A, B, I, J). This may be because expression of Pdlim7 and Tbx5 in a cell does not automatically result in binding and sequestration of the transcription factor. This notion is supported by co-expression of Pdlim7 and Tbx5 in undifferentiated cultured chicken epicardial cells that have strict nuclear localization of Tbx5, suggesting that the interaction of both proteins is regulated by yet unknown mechanisms, possibly posttranslational modifications [37]. Thus, early ectopic expression of pdlim7 may not be sufficient to result in failure of fgf24 expression. During the later stages (32-48 hpf) of limb outgrowth, pdlim7 overexpression also did not result in significantly perturbed fgf24 or fgf10 expression. The reason for this may lie in the possibility that Tbx5 is not required for maintenance of fgf24 and fgf10 expression. Recent experiments in the mouse have shown that Tbx5 is only required for induction of Fgf10 during limb initiation but not for maintenance during limb outgrowth [53]. If a similar regulation operates in the zebrafish, overexpression of Pdlim7 in the fin mesenchyme, during stages after 32 hpf when Tbx5 nuclear activity may not be critical, will have little to no affect on Tbx5 target gene expression. This could explain why fgf24 and fgf10 are maintained after pdlim7 mRNA injection. In contrast, loss of Pdlim7 may act as a gain-of-function with regard to Tbx5 activity resulting in ectopic fgf24 in the fin mesenchyme. Consistent with this hypothesis, the genomic sequence just upstream of the fgf24 gene contains a putative consensus Tbx5 binding element ([57], data not shown), which would provide a mechanism for fgf24 regulation by Pdlim7/Tbx5 interactions. Additional experiments at the genomic DNA level will be needed to fully resolve this point.
Knock-down of
pdlim7
causes persistent high levels of nuclear Tbx5 and continued ectopic expression of
fgf24
in mesenchymal fin cells, which likely accounts for
fgf10
maintenance despite the loss of AER genes such as
fgf8
. The expression of
fgfr2
, which appears to be in a parallel pathway downstream of Tbx5 during fin induction [
43
], is induced normally in
pdlim7
MO2 injected embryos but becomes lost at post-induction stages possibly due to the absence of reciprocal AER signaling. We hypothesize that the signal required in the AER to maintain
fgfr2
expression during fin outgrowth is Fgf24.
fgf24
is never activated in the AER of
pdlim7
morphants and the downregulation of
fgfr2
appears to begin when
fgf24
is supposed to switch from mesenchymal to ectodermal expression. This new information adds to our understanding of vertebrate limb induction and outgrowth and allows the extension of current models (Fig.
8A, B
). During limb induction Tbx5 operates in at least two feed-forward parallel pathways. In one branch of the pathway, Tbx5 activates transcription of
fgf24
, which then leads to the expression of
fgf10
and signaling to the AER. The other branch regulates via a genetic cascade leading to
fgfr2
activation (Fig.
8A
). During limb outgrowth after 32 hpf, Pdlim7 in the fin mesenchymal cells control Tbx5 activity by removing the transcription factor from the nucleus (Fig
8B
). As a consequence,
fgf24
becomes down-regulated, allowing a switch from mesenchymal to AER expression. Fgf signaling molecules, including Fgf24 and Fgf8, emanating from the AER maintain
fgf10
and
fgfr2
expression in the underlying mesenchyme. The reciprocal signaling between the AER and mesenchyme becomes independent of Tbx5 activity during limb outgrowth (Fig.
8B
; [
53
]). Although the new data presented here clearly demonstrate that appropriate regulation of Tbx5 via Pdlim7 is necessary for establishment of a functional AER through Fgf24 expression, future investigations confirming this hypothesis may reveal the mechanistic details for Pdlim7 regulating Tbx5 balance and transcriptional activity in the developing forelimbs.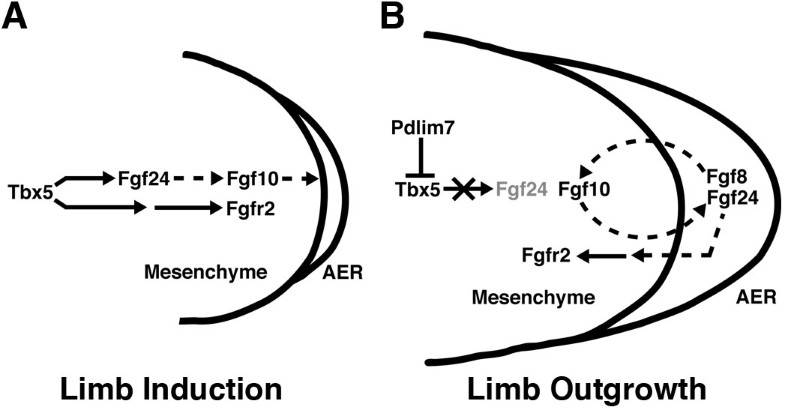 Pdlim7 in cell migration and compaction
Tbx5 has been shown to be required for proper pectoral fin cell migration during zebrafish development [39]. We also found evidence for defective cell migration in pdlim7 MO2 injected embryos (Fig. 3). tbx5 expressing pectoral fin cells display delayed migration and disrupted compaction of the fin field. This defect does not appear to be due to an overall developmental delay in pdlim7 morphants, as the heart begins to beat in a comparable time window as uninjected controls. A similar phenotype is also seen in ikarus (ika) zebrafish mutants, which lack fgf24 function [41]. In these mutant embryos, tbx5 expressing cells fail to undergo appropriate compaction at the pectoral fin field. The primordial fin cells at 18-somites express tbx5, pdlim7 as well as fgf24 (Fig. 3, [10, 41]). Considering fgf24 is a target of Tbx5, it is possible that Pdlim7/Tbx5 protein interactions regulate fgf24 expression already in the 18-somite-stage embryo. Increased nuclear Tbx5, by loss of Pdlim7, would result in misregulation of fgf24. This idea is supported by the similar compaction defects observed after pdlim7 knock-down and in fgf24 ika mutants (Fig. 3; [41]). Overexpression as well as loss of Tbx5 causes defects in cell migration in cultured chicken proepicardial cells [58]. It is plausible that Pdlim7 functions at an initial stage of migration, in part by regulating Tbx5 balance in the nucleus and cytoplasm.
An alternative view would be that Pdlim7 itself, by its nature as an actin-associated protein, may modulate actin cytoskeleton dynamics and in this way directly influence cell migration [30, 36]. In this context it is of interest that members of the PDZ-LIM protein family have been reported to be involved in cell migration [59–61]. However, more direct experimentation is required to fully elucidate this intriguing possibility.
Pdlim7 may be involved in Fgf signal transduction
In zebrafish, knock-down of pdlim7 by morpholino injection results in severely stunted pectoral fins, decreased cell proliferation in the fin region, and a loss or altered expression of Fgf pathway genes. Fgf signal transduction from the AER is required for limb outgrowth and proliferation of the undifferentiated limb mesenchyme [17, 62]. How might Pdlim7 be involved in Fgf signaling in the developing pectoral fin? The delayed migration of cells into the pectoral fin field, coupled with the reduced ability of the cells in the limb field to compact after loss of Pdlim7 function, may contribute to decreased Fgf signaling. The lower proliferation rate in the budding fins further equates to fewer cells secreting and responding to signaling molecules, lowering the signaling potential. Thus, it is possible that a certain minimum threshold needed for signal propagation is not reached and the mesenchyme/epithelial reciprocal interactions required for limb outgrowth are not established or maintained. This scenario may account for the maintenance of mesenchymal Fgfs but loss of Fgf expression in the AER.
A second possibility could be that Pdlim7 plays a more direct role in Fgf signal transduction. Pdlim7 can interact with transmembrane receptor tyrosine kinases [31, 63, 64] as well as with protein kinase C (PKC; [65]), a component downstream of the Fgf receptor signal transduction pathway [17]. Pdlim7 may be necessary as an adapter, bringing together transmembrane proteins and intracellular signal transducers. Without Pdlim7 function, the fin mesenchyme may not be competent to respond to either paracrine signals from the AER or autocrine signals, despite the expression of fgf10 and fgfr1 in the fin mesenchyme. The eventual loss of fgfr2 and misexpression of pea3 and erm, coupled with the lack of fgf8 expression, suggest a breakdown of Fgf response in the fin mesenchyme.
However, the Fgf pathway genes that remain active in the fin, such as fgf10 and fgf24, may be a consequence of Tbx5 misregulation caused by knock-down of Pdlim7. The ectopic activity of Tbx5 could account for the loss of specific mesenchymal and AER genes. Work by others has shown Tbx5 to function upstream of Fgf24, which may be a direct target, and Fgf10 during pectoral fin development (Fig. 8; [11, 41]). fgf10 expression may be maintained in the fin mesenchyme by ectopic expression of fgf24 as a result of increased nuclear Tbx5 levels, despite the loss of AER signaling.
Conclusion
Here we provide the first evidence for a role of a PDZ-LIM family member in vertebrate limb development. Pdlim7 is expressed in developing zebrafish pectoral fins and is required for normal outgrowth. In line with the model that Pdlim7 regulates Tbx5 transcriptional activity by altering its subcellular location, during fin development this regulation appears to have direct consequences on fgf24. Loss of Pdlim7 function results in ectopic fgf24 expression in the fin mesenchyme but lack of fgf24 induction in the AER, resulting in a breakdown of the Fgf signaling loop required for fin mesenchyme proliferation and outgrowth.
Methods
Zebrafish
Wild-type (TU) stocks were maintained at 28.5°C. Embryos were staged according to Kimmel et al. [66]. Embryos were cultured in 0.0045% phenylthiourea in Danieau buffer beginning at 24 hpf to inhibit pigmentation.
Morpholino and mRNA injection
Antisense morpholino (MO) oligonucleotides were obtained from Gene Tools (Gene Tools, LLC, Philomath, OR). Pdlim7 MO2 was targeted to the splice donor site of exon 2 and detailed MO controls are described in Camarata et al. [38]. Embryos were injected at the one-cell stage and fixed at appropriate time points with 4% formaldehyde prepared from paraformaldehyde. Uninjected sibling embryos were fixed along with morpholino injected embryos as controls.
Zebrafish pdlim7 mRNA was synthesized using the mMessage mMachine kit (Ambion), as described [38]. Embryos were injected with 100 pg of pdlim7 mRNA at the one-cell stage and fixed at appropriate time points with 4% formaldehyde prepared from paraformaldehyde. Uninjected sibling embryos were fixed along with mRNA injected embryos as controls.
In situ hybridization
Whole mount in situ hybridization was performed as previously described [38] using an Intavis Insitu Pro VSi (Koeln, Germany). Antisense RNA probes used were pdlim7, tbx5 [38], hand2 [42], shh, msxc, msxd [49], fgf24 [41], pea3, erm [67], fgfr1, fgfr2 [68], versican [69], and fgf8. fgf10 cDNA was cloned into Bluescript KS+ using primers previously described [18]. Embryos were imaged on a Leica MZ16 stereomicroscope fitted with a Leica DFC490 color camera using ImagePro MC (MediaCybernetics) software. Images were processed using Adobe Photoshop CS3.
Embryo sectioning
Whole mount in situ hybridization using pdlim7 probe was performed on embryos fixed at 48 hpf. Embryos were allowed to sink in 30% sucrose, embedded in O.C.T. Compound (Tissue-Tek), and 10 micron sections obtained using a Leica CM3050 S cryostat. Sections were imaged on a Leica DMR upright microscope fitted with a QImaging Retiga-4000R Fast 1394 color camera using OpenLab software. Images were processed using Adobe Photoshop CS3.
Immunohistochemistry and TUNEL
For detecting proliferating cells and developing somites simultaneously, 28-48 hpf fixed embryos were incubated in a block solution consisting of 10% sheep serum, 2 mg/mL BSA, and 0.2% saponin in PBS with Tween-20 (PBT) for 1 hour at room temperature. Next, the Anti-phospho-histone-h3 antibody (Anti-p-H3) (Millipore) was used at a 1:20 dilution, while the MF20 antibody was used at a 1:40 dilution in PBT with 0.2% saponin. Embryos were incubated in the primary antibody solution for 1 hour at room temperature or at 4 degrees Celcius overnight. Embryos were then washed in PBT multiple times before incubation for 1 hour at room temperature in secondary antibodies diluted at 1:100 in PBT with 0.2% saponin. For detection of apoptotic cells in whole mount embryos TUNEL staining was performed essentially as previously described [70]. Briefly, 28-48 hpf fixed embryos were incubated in proteinase K for 5 - 10 minutes, subjected to several washes of PBT, and subsequently incubated at 37°C in a TUNEL cell death detection reagent for 1 hour (in situ cell death Detection Kit-TMR Red, Roche Diagnostics). Embryos were then washed multiple times in PBT and then incubated for 1 hour at RT in the block solution prior to incubation with the MF20 antibody (developed by D. A. Fischman), which was obtained from the Developmental Studies Hybridoma Bank (University of Iowa), to visualize somites. Antibody block was made as previously described and MF20 was diluted to 1:40 in PBT with 0.2% saponin as described above. Confocal microscopy was performed on a Zeiss LSM510. Statistical significance between wild-type and MO2 injected embryos was determined using two-tailed student's t-test.
Alcian blue staining
For cartilage analysis, zebrafish larvae were fixed at 96 hpf and treated with Alcian blue solution dissolved in 80% ethanol/20% glacial acetic acid (acid alcohol) for several hours or overnight. Larvae were destained in several washes of acid alcohol before being transferred to a 1% KOH:3% hydrogen peroxide solution for further clearing of pigment cells. Larval tissue was then digested in trypsin, followed by dissection of pectoral fin cartilages, which were then flat mounted and visualized on a Leica MZ16F.
Declarations
Acknowledgements
We are grateful to Drs. D. Yelon, C. Neumann, and K. Poss for sharing in situ hybridization probes. We would like to thank J. Krcmery for expert technical advice and critical reading of the manuscript. This work is supported by NIH grant R01HL085834 (to H.-G. Simon).
Authors' Affiliations
(1)
Department of Pediatrics, Northwestern University, The Feinberg School of Medicine, Children's Memorial Research Center, Chicago, USA
(2)
Nephrology Division, Massachusetts General Hospital, Harvard Medical School, Charlestown, USA
(3)
Division of Biology, Kansas State University, Manhattan, USA
Copyright
© Camarata et al; licensee BioMed Central Ltd. 2010
This article is published under license to BioMed Central Ltd. This is an Open Access article distributed under the terms of the Creative Commons Attribution License (http://creativecommons.org/licenses/by/2.0), which permits unrestricted use, distribution, and reproduction in any medium, provided the original work is properly cited.