Erratum to: In vivo role of different domains and of phosphorylation in the transcription factor Nkx2-1
BMC Developmental Biology
BMC series – open, inclusive and trusted
2016
16:29
Received: 17 August 2016
Accepted: 17 August 2016
Published: 23 August 2016
After the publication of this work [
1
] we became aware that Panel D of Fig.
1
included an incorrect panel. In the original figure for mouse thyroid the +/ΔCOOH lane was duplicated in the +/ΔNH
2
lane. The correct figure is now included in this document as Fig.
1
.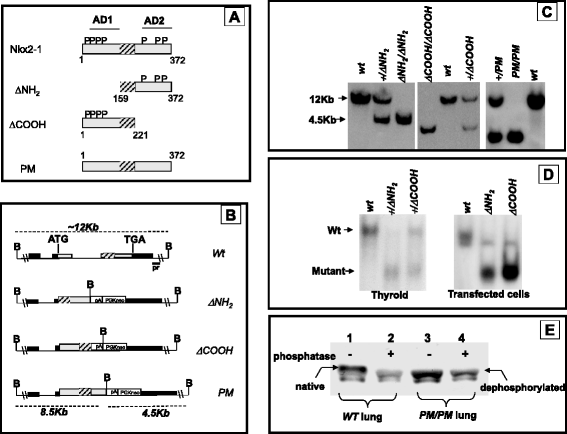 We regret any inconvenience that this may have caused.
Open AccessThis article is distributed under the terms of the Creative Commons Attribution 4.0 International License (http://creativecommons.org/licenses/by/4.0/), which permits unrestricted use, distribution, and reproduction in any medium, provided you give appropriate credit to the original author(s) and the source, provide a link to the Creative Commons license, and indicate if changes were made. The Creative Commons Public Domain Dedication waiver (http://creativecommons.org/publicdomain/zero/1.0/) applies to the data made available in this article, unless otherwise stated.
(1)
Stazione Zoologica Anton Dohrn, Villa Comunale, 80121 Napoli, Italy
(2)
IRGS, Biogem, Via Camporeale, 83031 Ariano Irpino (AV), Italy
(3)
Dipartimento di Biologia e Patologia Cellulare e Molecolare, Università Federico II, Via Pansini 5, 80131 Napoli, Italy
(4)
Institute of Experimental Endocrinology and Oncology "G. Salvatore", National Research Council, Via Pansini 5, 80131 Napoli, Italy
Silberschmidt D, Rodriguez-Mallon A, Mithboakar P, Calì G, Amendola E, Sanges R, Zannini M, Scarfò M, De Luca P, Nitsch L, Di Lauro R, De Felice M. In vivo role of different domains and of phosphorylation in the transcription factor Nkx2-1. BMC Dev Biol. 2011;11:9.View ArticlePubMedPubMed CentralGoogle Scholar
Guazzi S, Price M, De Felice M, Damante G, Mattei MG, Di Lauro R. Thyroid nuclear factor 1 (TTF-1) contains a homeodomain and displays a novel DNA binding specificity. EMBO J. 1990;9:3631–9.PubMedPubMed CentralGoogle Scholar
Zannini MS, Acebron A, Felice MD, Arnone MI, Martin J, Santisteban P, Di Lauro R. Mapping and functional role of phosphorylation sites in the Thyroid Transcription Factor 1 (TTF-1). J Biol Chem. 1996;271:2249–54. doi:10.1074/jbc.271.4.2249.View ArticlePubMedGoogle Scholar