Erratum to: Histamine is a modulator of metamorphic competence in Strongylocentrotus purpuratus (Echinodermata: Echinoidea)
BMC Developmental Biology
2013
13:30
Received: 6 June 2013
Accepted: 12 June 2013
Published: 23 July 2013
In Figure six (Figure
1
here) of the original manuscript [
1
] panels B-H are representative images from which measurements were taken and then graphed in Figure six panel I. In the original submission of the manuscript panel C and H ended up showing identical images. We corrected this error by replacing panel C with the correct representative image. Note that this error occurred when preparing the original figure and it does not affect the data presented in any way.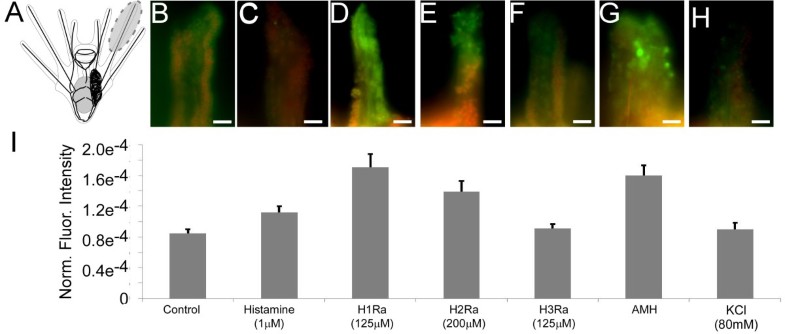 (1)
University of Guelph, Integrative Biology, Guelph, ON, N1G-2 W1, Canada
(2)
Brown University, MCB, Providence, RI 02912, USA
(3)
Present address: U.S. Naval Medical Research Unit No.6, Lima, Peru
Sutherby J, Giardini JL, Nguyen J, Wessel G, Leguia M, Heyland A: Histamine is a modulator of metamorphic competence in Strongylocentrotus purpuratus (Echinodermata: Echinoidea). BMC Dev Biol. 2012, 12: 14-10.1186/1471-213X-12-14.PubMed CentralView ArticlePubMedGoogle Scholar
© Sutherby et al.; licensee BioMed Central Ltd. 2013
This article is published under license to BioMed Central Ltd. This is an Open Access article distributed under the terms of the Creative Commons Attribution License (http://creativecommons.org/licenses/by/2.0), which permits unrestricted use, distribution, and reproduction in any medium, provided the original work is properly cited.