Research article

Open Access
The mouse anterior chamber angle and trabecular meshwork develop without cell death
BMC Developmental Biology
2001
1:3
Received: 22 November 2000
Accepted: 14 February 2001
Published: 14 February 2001
Abstract
Background
The iridocorneal angle forms in the mammalian eye from undifferentiated mesenchyme between the root of the iris and cornea. A major component is the trabecular meshwork, consisting of extracellular matrix organized into a network of beams, covered in trabecular endothelial cells. Between the beams, channels lead to Schlemm's canal for the drainage of aqueous humor from the eye into the blood stream. Abnormal development of the iridocorneal angle that interferes with ocular fluid drainage can lead to glaucoma in humans. Little is known about the precise mechanisms underlying angle development. There are two main hypotheses. The first proposes that morphogenesis involves mainly cell differentiation, matrix deposition and assembly of the originally continuous mesenchymal mass into beams, channels and Schlemm's canal. The second, based primarily on rat studies, proposes that cell death and macrophages play an important role in forming channels and beams. Mice provide a potentially useful model to understand the origin and development of angle structures and how defective development leads to glaucoma. Few studies have assessed the normal structure and development of the mouse angle. We used light and electron microscopy and a cell death assay to define the sequence of events underlying formation of the angle structures in mice.
Results
The mouse angle structures and developmental sequence are similar to those in humans. Cell death was not detectable during the period of trabecular channel and beam formation.
Conclusions
These results support morphogenic mechanisms involving organization of cellular and extracellular matrix components without cell death or atrophy.
Keywords
Ciliary BodyTrabecular MeshworkTrabecular Meshwork CellIridocorneal AngleIntertrabecular Space
Background
Abnormal anterior segment development is often associated with elevated intraocular pressure (IOP), an important risk factor for the blinding disease glaucoma [1]. The anterior segment of the eye is filled with a clear fluid known as the aqueous humor or aqueous. Maintenance of IOP is dependent on a balance between aqueous formation and aqueous outflow. The primary source of aqueous is blood flowing through the arteries of the ciliary body [2]. The aqueous is secreted by the ciliary body into the posterior chamber between the iris and lens. It then flows into the anterior chamber, the space between the cornea and iris, before draining from the eye at the iridocorneal junction [3]. The iridocorneal junction is located in a region known as the iridocorneal angle because of the aqueous filled angular recess between the iris root and cornea. One drainage route consists of a trabecular meshwork (TM) of connective tissue covered by endothelial like trabecular cells and a Schlemm's canal (SC). The aqueous percolates through channels or intertrabecular spaces in the TM before entering SC. The fluid collected by SC drains into aqueous veins that connect to the canal. This route is generally accepted to be the major drainage pathway for the aqueous [3]. Egress via the loose connective tissue meshwork and blood vessels of the uvea (choroid, iris and ciliary body) and the outer wall of the eye (sclera) also contributes to aqueous drainage [3, 4]. Primary access of aqueous to the uveoscleral route is likely deep in the angle recess at the iridocorneal junction. The resistance to aqueous flow presented by the tissues of the TM, SC, and likely uvea and sclera are important determinants of the rate of aqueous outflow and IOP.
The molecular mechanisms responsible for normal or abnormal development of the iridocorneal angle, its structures, and increased resistance to aqueous drainage in glaucoma are not well defined. Cell migration, proliferation, and differentiation are important for the development of this ocular region. Cells of the periocular mesenchyme migrate into the developing eye and differentiate into various anterior segment structures including components of the ciliary body, the TM, iris stroma, corneal endothelium and corneal stroma. The origin of the periocular mesenchyme was originally suggested to be the paraxial mesoderm [5]. Later fate mapping studies using quail-chick chimeras show extensive cranial neural crest contribution to this tissue [6, 7]. Based on these avian studies, the mammalian periocular mesenchyme is generally accepted as neural crest derived [8, 9]. Recent cell grafting and cell labeling studies of craniofacial morphogenesis in mouse embryos confirm a neural crest derivation of the mammalian periocular mesenchyme [10]. Additionally, however, they demonstrate the presence of cranial paraxial mesoderm-derived cells in this tissue. Thus, aberrations of both neural crest and mesoderm cell migration or differentiation may contribute to anterior segment dysgenesis and glaucoma.
After the migrating mesenchymal cells reach the anterior margin of the developing optic cup they must form the tissues of the iridocorneal angle. The iridocorneal angle is initially occupied by a densely packed mass of mesenchymal cells. As TM development proceeds the cellular mass differentiates, organizes and develops channels to produce the mature meshwork. The developing TM and iris separate forming the deep angle recess through which the aqueous passes to access the TM. The mature meshwork consists of trabecular beams separated by intertrabecular spaces through which the aqueous percolates. The trabecular beams are covered on both surfaces by endothelial-like trabecular cells and the cores of the beams are composed of extracellular matrix components such as collagen and elastic tissue [11].
How the complex TM develops and how spaces form in the initially continuous cellular tissue is not clear. Several theories have attempted to explain the differentiation and morphogenesis of the mesenchyme that forms the tissues of the iridocorneal angle (see [12,13 ,14,15,16 ,17]). Some of these theories propose atrophy or resorption of the mesenchyme as development progresses to create the structures and spaces important for aqueous drainage while others propose a reorganization of cells with no cell death or atrophy. Whether cell death or atrophy occurs during TM and iridocorneal angle development remains controversial. Cell death was prominent in rat, but not in monkey, human or dog eyes [17,18,19,20,21]. It is not clear if different mechanisms are important in rodents as compared to these other species, if there is something unusual about the studied rat strain, or if cell death occurs in the other species but was not detected due to inadequate tissue sampling or the stages analyzed.
The mouse represents an important experimental model for understanding mammalian development and diseases caused by its abnormalities. In studied mammalian species, iridocorneal angle development is incomplete at birth. Although various studies have characterized in detail the prenatal development of the mouse eye there is very little published about the normal structure or postnatal development of the mouse iridocorneal angle [22 ,23,24,25 ,26,27]. The aims of this work were to determine the developmental profile of the mouse iridocorneal angle to its mature form and to assess the role of cell death in modeling the angle recess and TM. We present a light and electron microscopic (EM) evaluation of iridocorneal angle development in staged embryos and through eight postnatal weeks, when the angle structures have reached full maturity. The mouse and human TM and SC have similar structures, and the developmental progression is similar except for the accelerated time frame in mice. Extensive use of light microscopy, EM and a cell death assay (on sections spanning complete eyes) failed to identify cell death at all tested ages in various mouse strains. These results substantiate models of iridocorneal angle mesenchymal differentiation and modeling that involve organization of cellular and extracellular matrix components without cell death or atrophy, and they suggest a conservation of developmental mechanisms between mice and non-rodent mammals.
Results
The following descriptions reflect the most common situation at a specific time as determined from the analysis of multiple animals and sections of different locations around the eyes. Important developmental stages are summarized in Figure
1
. Figure
2B
to
2D
shows important changes during embryonic development. Figure
2E
to
2I
and Figure
3A
to
3D
show postnatal development. Figure
3E
to
3H
shows the mature angle structure in four different strains.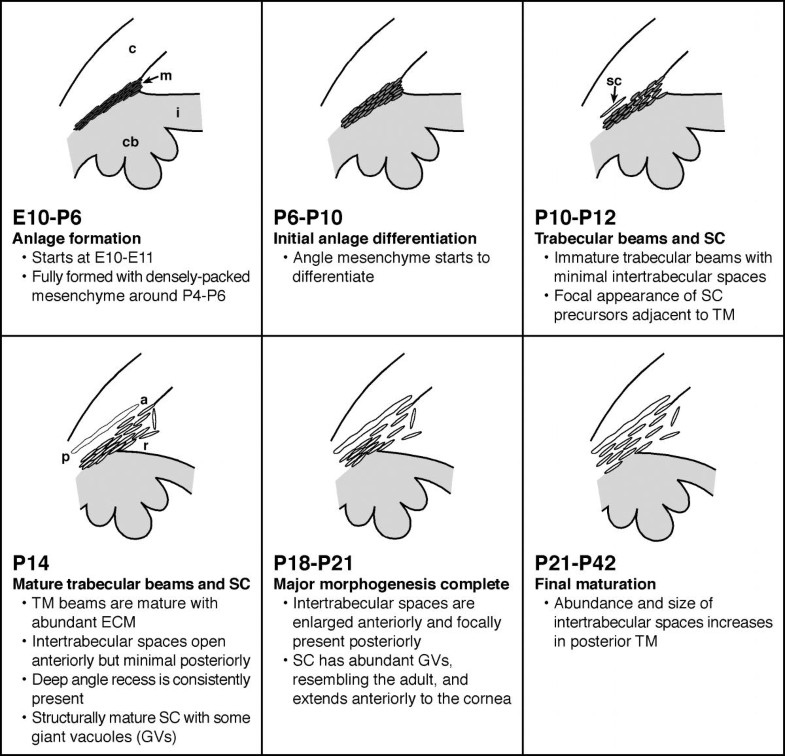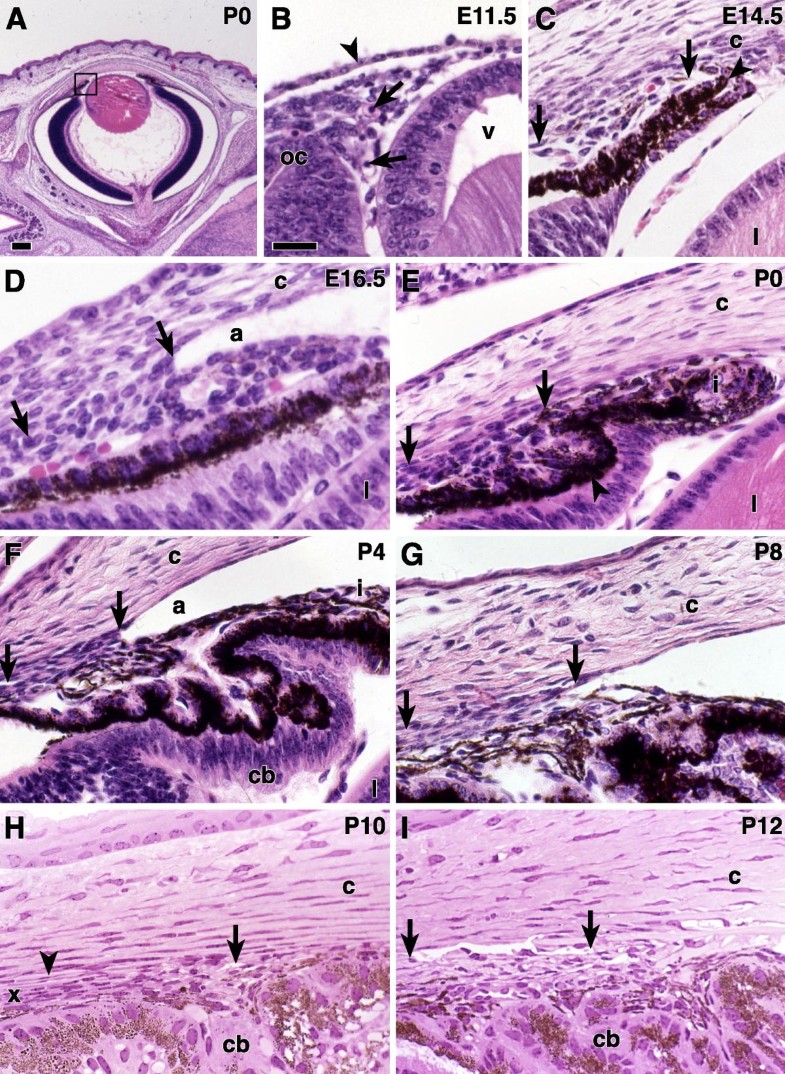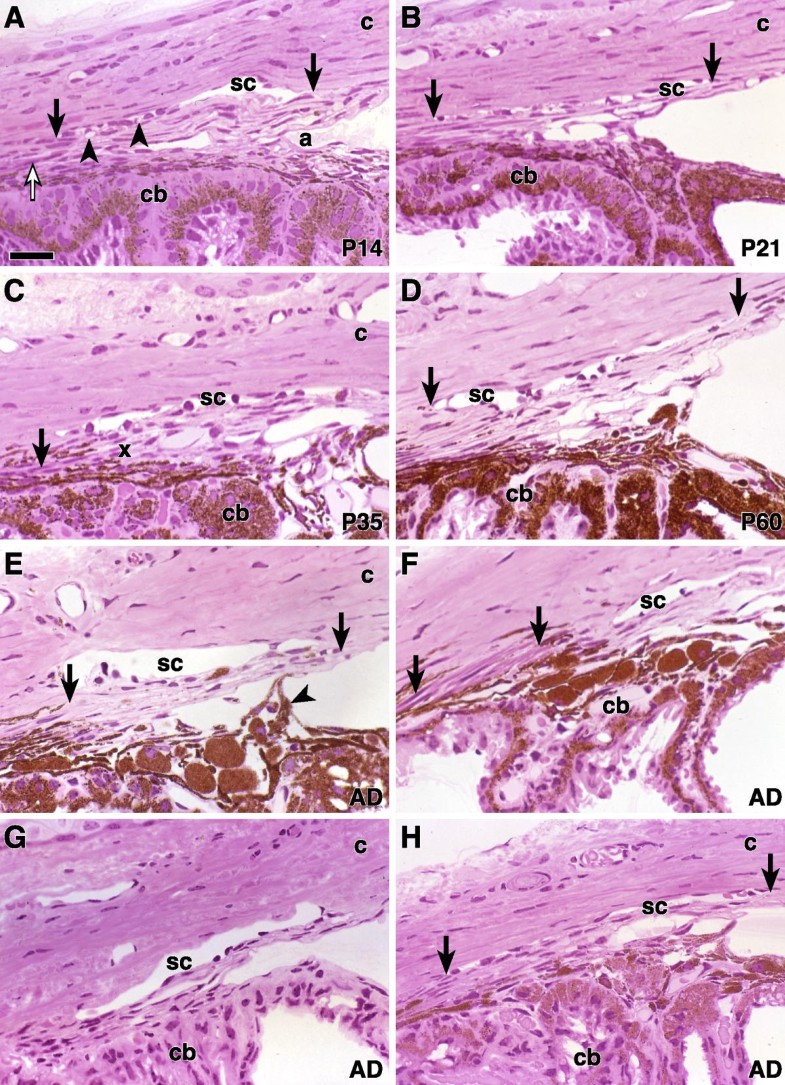 Conclusions
Our results support a model of mesenchymal differentiation and iridocorneal angle development that involves reorganization of cellular and extracellular matrix components without cell death or atrophy. The use of genetically different mouse strains indicates that the absence of cell death is typical in mice and not unique to an individual strain. The lack of cell death, similar developmental profile, and similarities in mature angle structure in both humans and mice suggests a conservation of general developmental mechanisms between mice and non-rodent mammals. For general anterior segment development, this is supported by the observations that genetic deficiency of transcription factors such as PAX6, PITX2, FOXC1 [44,45], and LMX1B that are expressed in the periocular mesenchyme results in anterior segment dysgenesis in both humans and mice [46,47,48,49,50,51,52,53,54]. In general, however, previous mouse studies have not examined the effects of mutations on the TM and SC. This is partly due to limited documentation of the sequence of events underlying iridocorneal angle development and limited documentation of the mature angle structures in mice. The current study provides important baseline information for mechanistic studies of angle development in the existing mouse models of anterior segment dysgenesis. Additionally, it will facilitate experiments with mutant mice to determine how newly identified genes function in angle development and how the pathways in which they participate overlap or interact with each other. These experiments will enhance understanding of the developmental processes involved in anterior segment formation, and glaucomas associated with anterior segment dysgenesis.
Materials and Methods
All experiments were performed in compliance with the ARVO statement for use of animals in vision research.
Light microscopy
At least three mice C57BL/6J (B6) were evaluated for each postnatal time period: newborn, P2, 4, 6, 8, 10, 12, 14, 21, 28, 35, 42, 49, and P56. Adult B6 mice ranging from P60 to 12 months and prenatal B6 stages E10.5 to E18.5 were also examined. Additionally, progressive developmental stages in the strain A.BY/SnJ were evaluated (P1, 7, 14, 21, 28, 35 42, and P60, with 2 to 6 mice at each age). A.BY/SnJ were normal mice derived from the A.BY/SnJ-corn1 strain. At least 2 mice (7 to 9 weeks old) were used for each of the following strains or mixed backgrounds: DBA/2J, BALB/cByJ, 129P3/J (former name 129/J), 129SvEvTac, 129SvB6F2, 129P3B6F1 and 129BS (129SvEvTac X Black Swiss >F2). Four week old DBA/2J and SB/Le mice also were studied. To determine if absence of the cell death mediators FAS and FASL alter iridocorneal angle development and morphology, we assessed five mice (approximately P70) of each of the mutant strains B6.MRL-Fas lpr and B6Smn.C3H-Fasl gld , which respectively lack functional FAS and FASL [55,56,57,58].
For stages E11.5 through P6, whole heads were fixed in Bouin's solution, paraffin embedded and sectioned at 5 μm thickness. Eyes from mice of ages P8 and older were fixed with a glutaraldehyde-paraformaldehyde solution [53], plastic embedded, sectioned at 1.5 μm thickness and stained with hematoxylin and eosin. For both paraffin and plastic-embedded B6 eyes, 25 to 40 sections were collected from each of 3 different ocular locations, using the lens as a landmark, resulting in 75 to 120 sections per eye. Collected regions included the lens periphery, central lens, and a region halfway between the center of the lens and the lens periphery. Iridocorneal angle development is somewhat variable both temporally and spatially within a single eye and between eyes. This necessitated careful scanning of all sections. The eyes of other strains were processed identically, except that 30 to 40 sections through the pupil and optic nerve were typically collected and analyzed. This also was true for some of the adult eyes from B6 mice that were P60 or older. Developmental changes had to be consistently present in multiple sections from the same region to be regarded as real, and conclusions were drawn only from high quality sections. This approach guarded against the potential for distortion artifacts in the delicate tissues analyzed.
Electron microscopy
To assess developmental stages and to check for cell death, we studied eyes from three or more B6 mice at P10, 14, 18, 21, 35, and P60; from 2 DBA/2J and 2 SB/LE mice at 4 weeks of age; and from at least two 7 to 9 week old DBA/2J, BALB/cJ, 129P3/J, 129SvEvTac, 129B6F1 and 129BS mice. Eyes were processed as previously described [53]. Tissue blocks from 6 to 8 different locations around the eye were sectioned and analyzed for each eye.
Fluorescent programmed cell death (PCD) assays
B6 eyes at P10, 12, 14, 18, 21, 29 and P36, were immediately fixed in 4% paraformaldehyde in 0.1 M phosphate buffer pH 7.2 for 3 hours, transferred to 0.4% paraformaldehyde in 0.1 M phosphate buffer for 48 hrs, and infiltrated with paraffin. Eyes from two different mice in each age group were sectioned at 5 μm thickness and sections were collected at 20 μm intervals through the entire eye, except for very peripheral locations that did not contain iridocorneal angle. Depending on the size of the eye between 30 and 81 sections were collected per eye. We analyzed approximately 600 sections and estimate that considering all ages there was on average 100 cells in each angle region of our sections. Thus, we analyzed approximately 120,000 developing TM and SC cells (100 cells X 600 sections X 2 angle regions per section). A modified double labeling protocol that involved in situ end-labeling of fragmented DNA (using BODIPY fluorophores, Molecular Probes, Eugene, Or.) and detection of condensed chromatin (with the dimeric cyanine dye YOYO-1, Molecular Probes) was used to analyze all of these sections [59]. Samples were analyzed with a confocal microscope and cells were identified as apoptotic only when they were double labeled. The occurrence of PCD was evaluated in the iris, ciliary body and TM.
Declarations
Acknowledgments
We thank Janice Martin and Carol Ficket for animal husbandry; Lesley Bechtold; Priscilla Jewett and other members of The Jackson Laboratory Scientific Services for technical assistance; Felicia Farley for help with references; Jennifer Smith for help with figures; Joseph Cohen for support, and members of the John Lab, Thomas Gridley, Timothy O'Brien and Barbara Knowles for critical reading of the manuscript. We are also grateful to Nadine Tatton and William Tatton for their assistance with the fluorescent PCD assays and Alexander Chervonsky for the Lpr and Gld mice. Supported in part by CORE grant CA34196. SWMJ is an Assistant Investigator of The Howard Hughes Medical Institute.
Authors' Affiliations
(1)
The Howard Hughes Medical Institute, USA
(2)
The Jackson Laboratory, Maine, USA
(3)
The Department of Ophthalmology, Tufts University School of Medicine, Boston, USA
Copyright
© Smith et al, licensee BioMed Central Ltd. 2001
This article is published under license to BioMed Central Ltd. This is an Open Access article: verbatim copying and redistribution of this article are permitted in all media for any purpose, provided this notice is preserved along with the article's original URL.