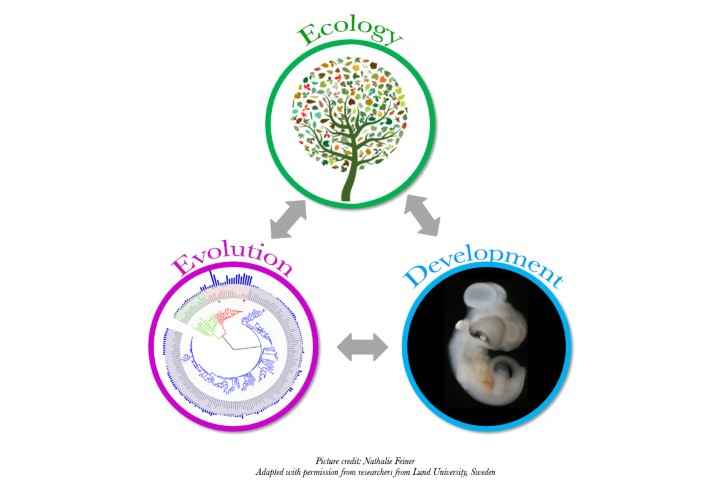 In 2001, Scott Gilbert introduced the concept of Ecological developmental biology as the effect of the environment influencing the establishment of a phenotype. The field has taken its time to grow and define what really undermines Ecological development and now nearly two decades later, a new niche of Eco-evo-devo has expanded its reach and continues to grow, getting ecologists, developmental and evolutionary biologists to think of the environmental impact on growth and sustenance of life.
In such exciting times, to recognise this new growing field of research, BMC Developmental biology, BMC Ecology and Evolution and EvoDevo jointly announce the launch of the thematic series (special issue) on ecological and evolutionary developmental biology (Eco-evo-devo for short).
We invite researchers working on eco-evo-devo to submit to this thematic series. It considers all aspects of eco-evo-devo that includes but not limited to the effect of nutrition, predators, competitors, climate and other environmental cues on development. The special issues accepts manuscripts on all model systems (Plants, animals and microbes) on topics including epigenetics inheritance, methylation and development, endocrine signalling and hormone biology, genomic and transcriptomic analyses, developmental plasticity, ancestral developmental potential, stochastic variation, speciation, social interactions and others, as crosstalk between ecology and developmental biology influencing evolution theory.
This series is a collection of primary research articles and any methods that researchers wish to establish to this exciting and growing field.
Please submit directly to the relevant journal via the 'Submit manuscript' link on the journal homepages, stating in your cover letter that it is for the "Ecological and evolutionary developmental biology" collection. Alternatively you can email your pre-submission queries to the Editors (ecology and evolutionary biology queries should be sent to alison.cuff@biomedcentral.com; developmental biology queries should be sent to akila.sridhar@springernature.com; evodevo queries should be sent to emi.kirilova@springernature.com).